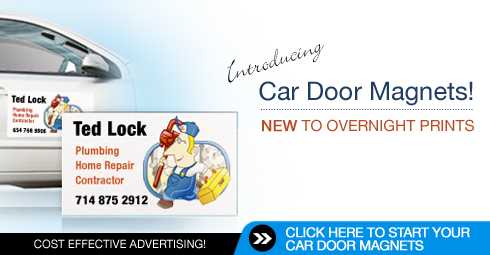 Overnight Prints has released Car Door Magnets. The following article outlines the huge benefits for small business owners using this product to make a big brand impression around town!

A Cost Effective Marketing Tool for Local Businesses
Magnetic signs are one of the most budget savvy ways you can market your business to a huge audience.
Put a magnetic sign on your vehicle and you get almost "zero" wasted impressions – bringing in brand-new customers could be as easy as getting in your car! For businesses such as plumbers, construction workers, real estate agents, decorators, landscapers, pet groomers, pizza delivery restaurants, handymen, carpet cleaners, maid services, party entertainers and just about anyone else who has a local business, a magnetic sign is the easiest way to get your business name and number seen. Most people viewing your sign live in the area of your business and are therefore potential customers.
Read more