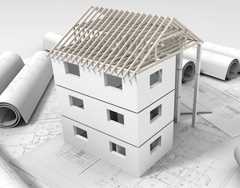 You know who uses 3D printing?
Jay Leno of the Tonight Show. He uses a 3D printer to make hard to find and custom parts for his collection of classic cars.
Bespoke Innovations. They have created some of the most intricate prototypes for prosthetics for those who have lost limbs while serving in the US military.
Nike. They use 3D printers to develop multi-colored shoe prototypes.
So, that's the power of 3D printing…
Traditional Printing
You know what traditional printing is. Business cards, brochures, flyers and a host of other printed material help brand a business. The quality of the printed material reflects on the quality of the business so it makes sense to enlist a professional printer for all of your print media and marketing material. Save your personal printer for non-critical print items.
But, recently there has been a lot of talk about 3D printing and it's possible emergence in the personal and small business sector as a tool of choice.  It sounds like something out of the Jetsons's or a far-fetched sci-fi thriller, but the new technology is making headlines. And it's being utilized to create everything from plastic snowboards, to model ships.
What exactly is 3D printing?
A Mini-Manufacturer
Manufacturers have used 3D printers in the prototype design process for decades. In the near future customized products may be printed using this technology. In fact, 3D printing is really a mini-manufacturer.
The 3D printer works with a computer aided design (CAD) file which is created with a 3D modeling program or scanned in with a 3D scanner.  Software then divides the design into thousands of layers. That's when the 3D printer takes over. It reads the file and creates each layer to spec. As they print, the layers blend together and form a three dimensional plastic object.
How does 3D Printing work:
3D Printing turns all who use the technology into creators. It allows the user to transform a 3D digital file into an actual  physical part that you can hold in your hand. 3D files can be downloaded from the internet or you can design your own 3D part. The technology can be used to print teaching aids, common household items, and even IPhone cases.
Disadvantages of 3D Printing
However, like much technology in its infancy when it comes to mass consumer use, there are hurdles to overcome for the typical user.
Desktop 3D printers can spew a considerable amount of harmful chemicals into the environment. One landmark study  suggests that 3D printing may be as harmful as cigarette smoking.
The printers can be difficult to use unless you're a techie with a specific interest in the technology.
The software programs that create the object are very difficult to learn. While there are less complicated versions of 3D software becoming available (Google SketchUp for one), they may not produce the results you're seeking.
All that can be printed is plastic, which, while it may be ideal for prototypes,is not always practical since screws, springs, gears, etc. are usually needed to make a total product.
There are legal issues to consider. For example, if you want to print a crate of Legos for your kids, do you think that the Lego Company will allow that? Probably not. At least without a cut of the action.
It's expensive to print plastic.
3D printing may eventually go the mainstream. Until then, unless you dabble in it as a hobby, it might be best to examine the possible uses of 3D printing for your business later down the road, when the process is a little more user friendly and geared toward small business.
In the meantime, if you're looking for creative ideas on how to grow your small business with print marketing, this gallery is a great resource.