We Should All Choose Greener Printing!
January 26, 2010 January 26, 2010 - Green Printing
Birds are singing. The trees are swaying gently in the breeze. A "longhaired beardy-weirdy", dressed in a white gown is placing a daisy in the hair of his "flowery maiden". Is this is the dawning of the Age of Aquarius? Don't let this stereotypical image of "environmentalists" stop you from being concerned about green issues! Being environmentally aware doesn't make you "a tree-hugger". In order to create a sustainable future for ourselves and for everyone else, we all have a duty to learn more about the products that we buy and the companies we do business with.
Personally, I am very concerned about environmental issues, and yet I have never grown my hair too long or worn any kind of flower in it! Imagine that! Green issues are no longer the domain of "beatniks" and "sandal-wearing-hippies". All responsible people should be worried about diminishing global resources and the future of our planet?
The business world, especially, has to take responsibility for its actions in regard to the environment. US businesses are still one of the world's largest consumers of natural resources! It's imperative that US businesses start adapting to more green methods of production before it's too late! I can't speak for other industries, but I have worked in the print industry for around 8 years now, and in that time, I have seen only a minority of print companies change their operating procedures to adapt to customer concerns over green issues. As customers we have the means to change this.
Although there are thousands of print companies that could give a "hoot" about the environment and sustainable resources, there are a growing number of print companies that are putting strict environmental practices and policies into place! By choosing a green printer you are not only helping the environment but you are also putting pressure on other print companies to change their operating procedures. Whether you're a designer or a corporate end-user, you wield a great deal of influence over how the industry should respond to today's environmental agenda.
There are many recycling, energy, emission, and other environmental print concerns that a customer should be aware of before choosing a company to print with. But I believe that the major questions that should be asked before choosing a printer are as follows:
Is this print company FSC approved? Does it use paper that has come from sustainable forestry resources? Look for this symbol (below) when choosing paper stock or ask your printer if it is FSC approved. The following link searches the stock providers that are FSC approved. Make sure that your printer is using one of these brands.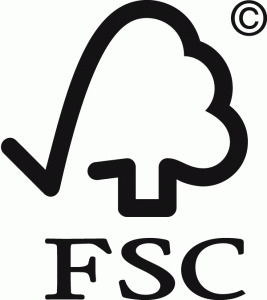 Are you Chlorine-free? Chlorine free paper is an environmentally preferable alternative to paper bleached with chlorine. Chlorine and its derivatives (such as chlorine dioxide)—the most common bleaching agents used by the pulp and paper industry—are really harmful to the environment, particularly the aquatic environment. Look for this symbol (below) when choosing paper stock or ask your printer if they're chlorine free!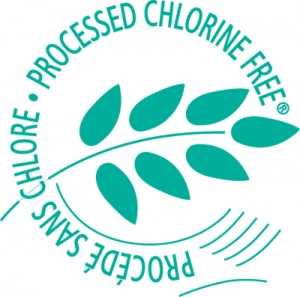 Are you, or your paper supplier part of Sustainable Forest Initiative? The Sustainable Forest Initiative represents a forest-recycling program that ensures the replanting and replacement of trees that are used in the paper industry – replanting thousands of hectares of forest. Furthermore, in the area of paper recycling, companies bearing the Sustainable Forestry Initiative badge must have a paper recovery rate that exceeds the high level of 60%. These initiatives help prevent global warming and reduce both fossil energy consumption and fossil fuel-based CO2 emissions by 20%. Look for this symbol (below) when choosing paper stock or ask your printer if they are aware of the Sustainable Forest Initiative.

Are you a Waterless Printer? Less Chemicals and no water – this is probably the greenest way to print. Offset printers that have not switched to these production methods are using astonishing amounts of water and toxic chemicals to produce their print products.
An explanation of Waterless Printing
Traditionally, printing is a huge consumer of resources, including chemicals, water and energy. Many large presses can consume hundreds of thousands of liters of water per year as part of the normal printing process. Waterless printing uses stat-of-the-art technology to reduce these environmental impacts. Notably, it uses Computer to plate (CtP) and silicon plate technology, instead of chemicals and water to produce a printed image. Many waterless printers also use Direct Ink (DI) technology and water-washable/vegetable-based inks to further reduce resource use.
Waterless printing eliminates the need for chemical usage in the offset print dampening process. These harmful chemicals, known as, volatile organic compounds (VOC's) have been linked to the deterioration of the ozone layer! Many offset color print companies are now switching to water-washable inks so that their waterless pressroom can be virtually VOC-free.
As it's name suggests, the process uses less water. Printing has historically been a leading industrial consumer of water. According to data supplied by industry inspection company, JL Lennard, a conventional printing press operating only one shift can use 3,175 gallons (12,019 liters) of water per year, and a heatset web press will generate around 23,810 gallons (90,131 liters) per year. That's a ludicrous amount of water wastage! Some conventional web presses require more than 25,000 gallons monthly, which is enough water to overflow an Olympic-sized swimming pool!!!
In comparison, waterless printing is an offset print process that simply doesn't use water!!!
The final environmental advantage of waterless printing is reduced paper waste. Because waterless presses register color so much faster than conventional equipment (massively reducing paper set-up waste for each job) they make paper savings of 30% to 40%. Simply put, less paper wastage means fewer trees need to fall!
Waterless printing is less messy, less time consuming, and the end product is far superior. Because it uses the very latest print technology, Waterless printing has been developed to be a faster, more efficient, and more precise printer. Companies that use waterless printing as opposed to traditional offset printing, can produce a product with:
More consistent color
Better color saturation
Lower dot grain – finer print detail
A 40% faster "makeready" print time –your prints will be produced quicker with a waterless system
The world is facing massive water shortages by the year 2025. Print companies need to switch to waterless printing to help save this dwindling resource. Unfortunately, waterless presses are currently in the minority, although they are becoming more popular. Printing your product with a waterless print company ensures that you receive a better quality product as well as doing your bit for the environment.

You have customer power
Many printers will have at least some or all of these good environmental practices in place. The more environmental friendly a company is, the more they should be rewarded with your business. As someone who uses paper and print resources for your business, you have the opportunity to deny funds to printers and paper manufacturers that are ignoring good environmental policies and practices. Before ordering your next set of prints, do a bit of research and ask questions of your printer to ensure that you are advancing the green initiative.
YOU MIGHT ALSO LIKE THESE