They may be called business cards but does that mean they HAVE to be used merely for business purposes? many of our customers are creating business cards for their family members.
To some, this may sound a little odd but there is actually a lot of common sense to creating a card for your family – especially for your kids. Admittedly, the most common use of business cards is to swap business or personal information with customers, friends, or new acquaintances.  However, a business card is also great to carry around with you for emergency  identification purposes.  There have been many  occasions where  unconscious, injured, or disorientated people have been identified through a business card that they had on them!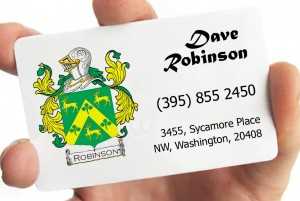 If one of your family members was in an emergency situation; was lost; or was unable to remember their address or phone number, a business card that's tucked into their backpack could be a "lifesaver".
Because I'm a little bit neurotic about my child's safety, (aren't all parents!) I recently created a business card with my child's name, home address, parents contact info, and blood type. I also included the name and number of her school and the name of her Aunt  – just in case we couldn't be contacted for whatever reason.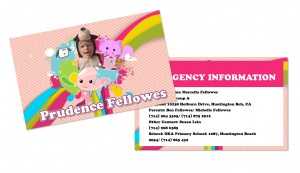 It gave me a chance to create a really fun design, and she really enjoys carrying her cards around with her and pretending to be a "big girl".  She puts them in the little purse that she sometimes takes to school with her and I always make sure she has some in her backpack.  I plan to also create some for mom and dad (just so we don't feel too left out!)
The fact is that young children don't often carry wallets or drivers licenses around with them!!?! So to create a set of business cards for them is actually quite a practical and responsible thing to do.