Las Vegas Wedding Photography / Breaking The Myth
April 10, 2015 April 10, 2015 - Las Vegas Weddings, Welcome Bloggers
What words come to mind when you think about Las Vegas? Probably Exciting, heart pounding and crazy are a few. So you can imagine when people think about Las Vegas weddings, they have similar words come to mind. Most people think of Las Vegas weddings as non-traditional, cheap 15-min weddings. However, Las Vegas deserves a little bit more credit. Las Vegas is ranked number one in the United States for weddings and in fact weddings take place every day. After all it is the "marriage capital of the world." Wedding photography is anything but cheap or substandard in Las Vegas.
---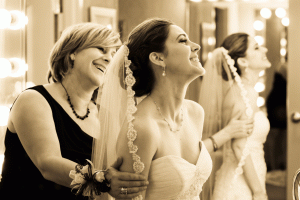 Beautiful locations
Las Vegas is home to some of the most beautiful and stunning locations. If you want breathtaking wedding photos this is the place for you. From Fremont Street to the Bellagio. Las Vegas is home to numerous places for you to take great wedding and engagement photos.
---
Five Locations for amazing wedding/ engagement photos
"Nelson, "Ghost Town"

– This property features desert dusty colors and amazing geological features. This location is about 45 minutes away from the Las Vegas Strip.

"Bellagio Gardens"

– This property often changes for different seasons. This garden is full of color, flowers, and greenery.

"Venetian Hotel"

If you're looking for European style properties, this is the best of the best. The color and detail come straight from the streets of Europe. Take a romantic trip down the canals. This location makes for unparalleled wedding and engagement pictures.
If you're looking for more of a modern location the

"Aria Lobby"

is full of unique design elements. These designs tend to change but they always are full of classy and distinctive taste.
Old Las Vegas is always a major hit for engagement pictures. If you go this route,

"Fremont Street"

is from the classic era of Las Vegas. It's full of color and rare backgrounds.


---
Glenn Ducusin / Las Vegas Wedding Photographer
Glenn Ducusin is a Wedding Photographer in the Las Vegas area. He loves capturing genuine personalities of his clients and bringing to life the beauty of effortless photos. Glenn has photographed many and he believes Las Vegas weddings deserve more praise.
"Las Vegas weddings come in all shapes and sizes. You can go with something short & sweet with ceremonies as short as 5 minutes to full-on, all-day galas. No budget is too small or too great if anyone decides to get married here."- Glenn Ducusin
Las Vegas is home to the most weddings per year in the United States. Here is where you can find quick weddings beside the most extravagant. There is way more than just one type of stereotypical wedding offered. The different wedding experiences are limitless in Las Vegas and so is the wedding photography.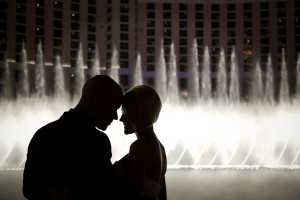 "As a wedding photographer here in Las Vegas, I have seen the whole spectrum of clientele. One week I'm photographing couples in tank-tops, shorts and flip-flops. Next week, I'm with brides wearing $4,000 Vera Wang dresses and

Christian Loubotin heels while their grooms are donned in Armani suits. You definitely need to be versatile enough to deal with everyone."- Glenn Ducusin

---
Just think about it..In Vegas you can be anywhere in the world. You can be standing next to the Eiffel Tower one minute and the next be in the heart of New York City. No other city in the world can say the same.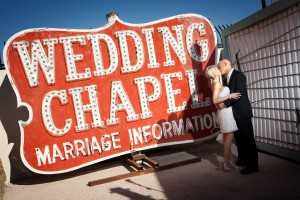 "A lot of people think Las Vegas weddings are all done in small, neon lit wedding chapels with a sign outside saying, 'Elvis got married here!' Movies like The Hangover don't help the overall image of what Vegas weddings are either. Don't get me wrong. There are places like that, if you so choose. However, a wedding here in Las Vegas can be just as classy and elegant, if not better, than any other place elsewhere."- Glenn Ducusin

---
Printing the perfect wedding / engagement pictures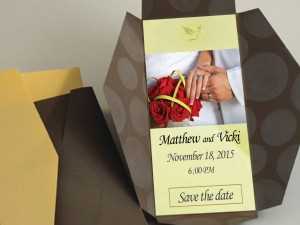 Once you get your wedding or engagement pictures it's time to let the world see. Overnight Prints has a variety of beautiful products to choose from. Create unique thank you cards, table cards, magnets, and more. Get creative and let Overnight Prints help you place your wedding or engagement pictures on the best product for you.
YOU MIGHT ALSO LIKE THESE