As the year starts to wind down, we've been thinking about what this holiday season might mean for retailers in 2021. The future is bright with AI-enabled devices and a predicted economic downturn. Unfortunately, we can't tell which of the trends will be most prevalent next year. Still, it's worth considering how your products align with them now, so that when November 2021 rolls around, you'll have the edge over other brands competing for attention on shelves or at checkout counters.
Retailers are already gearing up for the holiday season in 2021. They will be rolling out holiday initiatives to connect with their shoppers during a busy time of year. Due to the pandemic worldwide, people's shopping habits are slowly but surely changing, and retailers must keep up with new buyer behaviors if they want to stay relevant during one of our most sought-after periods – especially at Christmastime when demand skyrockets exponentially.
Retail stores from high-end luxury brands to big-box retailers will be promoting as usual, many will discuss different ways of giving back during the holidays, and others will tout new product offerings and customer service enhancements designed to attract more customers this season.
So, what else can we expect? Here are some insights on what's ahead for retail in the coming season.
Top 2021 retail holiday insights
Early holiday marketing and extended sale
Retailers will start marketing early this year in order to get ahead of holiday shopping trends. The start of the holiday shopping season was pushed back last year, as consumers were mostly shopping online due to the pandemic, so they began earlier than usual to avoid shipping delays.
Previous Black Friday deals began in October and Cyber Monday lasted for an entire week instead of just one day, and this will likely be a trend throughout this year's festive season.
When it comes to shopping, many people are looking for deals. This means that retailers will have an advantage if they market early to get ahead of trends and tap into popular buying periods before their competitors do so. According to statistics, many organizations have shifted their focus entirely onto web-based purchases and start marketing early for the holiday.
Social commerce
Let social media do the talking. Social media is a powerful tool that retailers use to keep up with the latest generation. Social commerce is one of the most effective ways to build customer loyalty. By getting the business involved in this new form of marketing, retailers can create a closer relationship than ever before with their buyers by allowing them more access to information on products or services that they provide.
Social commerce is the new wave of e-commerce that has bridged a gap between inspiring customers and converting them into loyal shoppers.
The world of social commerce is gaining popularity, and brands are looking out for solutions to integrate the concept into their campaigns. They use different methods, like cross-platform content sharing to get more people engaged with them.
E-commerce
The pandemic has increased the number of people shopping online. As a result, the priority for all retailers is an online presence. Retailers have been making a big push towards e-commerce to make sure they're on top of their game throughout all channels ahead, whether using their app or website or even an in-store kiosk.
Omnichannel practice
To fully embrace pandemic safety, click-and-collect is the most popular option this holiday season. In the new omnichannel retailing paradigm, consumers can order from an online shop but collect from nearby stores. Retailers offer a price-matching policy for click-and-collect transactions with nearby ones. Many companies successfully incorporated this type of service.
Visual Merchandising
3D product visualization is a new trend in the digital retail industry. As reported by Forrester Research, retailers have invested heavily into virtual try-on with augmented reality (AR) to lure customers into their stores and increase conversion rates. AR
offers an extra boost for retailers who offer virtual fitting rooms that can be accessed through phone or internet connection without leaving home.
Secure shopping experience
As online shopping becomes more popular, retailers are now focusing on the security of their customer's information and personal data. They also provide shoppers with reassurances that their information is safe when they make purchases online. In addition, marketers care about providing customers with a positive shopping experience and security. Retailers also recommend using common sense while shopping online, like purchasing items from reputable retailers and avoiding phishing scams.
Free shipping and easy return
Online retailers are constantly fighting to attract shoppers, but some do it better than others. For example, they can be more competitive during peak times by offering free shipping and hassle-free returns on purchases made through their website or mobile app store.
Branded items
The pandemic is far from over, and Christmas is still so close. A previous year and this one will be different for many people because the pandemic separated people, distancing them physically and emotionally. So, retail shopping trends will be trending towards including a personal touch to make customers feel special with branded items and provide a positive experience that goes beyond just shopping.
Many stores bundle their purchases with branded things to make the shopping more memorable. Even a little thing such as a festive greeting card, calendar or magnet will remind people longer about the brand.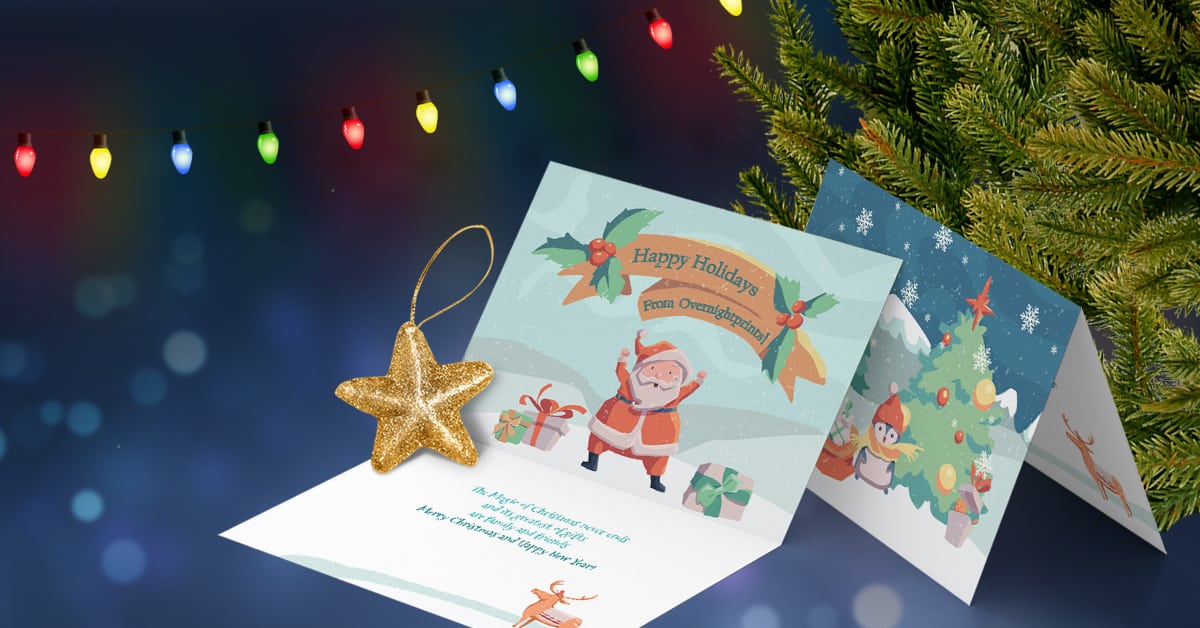 Share the holiday cheer with cool and fun prints
For every customer who wants an extra surprise with their order during such hectic times – Overnight Prints is here to help out by offering custom printed services that can provide any occasion some well-deserved flair.
Our customizable greeting cards make it easy to personalize any occasion and inject some holiday cheer into the process too.
For those who prefer something more physical, there are always custom magnets, stickers, or notepads that will give off high-end vibes.
Even festive wrapping paper in a variety of styles gives an extra touch of class that's sure not to be overlooked by any recipient.
And using branded tissue paper adds a little bit of glamour.
No matter what anyone is looking for, we have the perfect print to create a signature look.
Last thoughts
We've talked about the trends that are shaping retail this year. They seem to be a mix of the old and new. Retailers are looking for ways to stay relevant in an economy where people can buy everything and anything they need from their smartphones but still want the experience of going into a store. What is your favorite trend from those we listed? Do you see any other trends on the horizon for 2021 as well? Let us know in a comment below. In addition to providing insight into what retailers should be doing next year, it would also be great to hear how things went this holiday season. Did anything change since last year?