Can you believe general greeting cards go all the way back to papyrus scrolls in Egypt? In ancient China, the New Year was celebrated with messages of goodwill. What makes this centuries old holiday tradition so popular? Simply put, genuinely expressing our feelings and emotions in words tugs at the heart strings.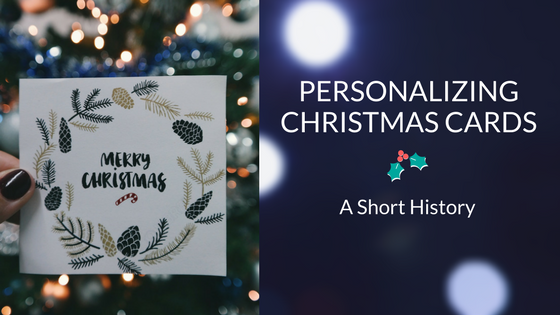 History of Christmas Cards
World's First Commercial Christmas Card (1843): Sir Henry Cole of London is heavily credited with inventing the first commercial Christmas Card. He commissioned John Callcott Horsley to illustrate a 5 1/8″ x 3 1/4″ card, which sold for 1 shilling each. The three-panel card featured a family Christmas dinner in the center flanked by images of charitable acts. Only 1,000 were printed on stiff cardboard with "To" and "From" lines for instant personalization.
Father of the American Christmas Card (1856): Across the Atlantic, Louis Prang became known as the "father of the American Christmas Card" when he began mass producing affordable greeting cards in his lithographic shop near Boston. He later offered the first complete line of Christmas cards in 1875.
Modern Christmas Card Industry (1915): Joyce Clyde Hall, along with his brother Rollie Hall, founded Hallmark Cards and produced writable 4-by-6-inch folded cards with envelopes for privacy. The brothers were the first to brand their printed cards and place them on display for consumers to see and read.
Debut of Christmas Stamps (1962): As mailed holiday cards rose in popularity, the U.S. Post Office introduced its first Christmas stamp, selling 1 billion copies of green and white stamps featuring a wreath and two candles priced at 4 cents each.

Present Day Christmas Card Market

Christmas and holiday cards are now the top selling seasonal greeting cards. Celebrated annually on December 9, Christmas Card Day honors Sir Henry Cole for his innovative postcard as a cheap alternative to long-form letters left unread or unanswered. On this day, people are encouraged to send out season's greetings via mail or hand delivery.

Personalized holiday greeting cards today are actually a return to their roots. Friends, family and colleagues all around the world celebrate winter festivities by exchanging keepsake Christmas cards. Approximately 15 billion holiday mail and packages were delivered in the U.S. alone in 2015.

Holiday cards have evolved from hand-drawn illustrations and Victorian style humor to personalized photo cards. Today, thousands of templates make it easy to design custom Christmas cards online and send good cheer to loved ones. Modern 3D visualization technology also show previews of card designs before they're even printed.

Personalizing Christmas Cards

Greeting cards can take on many shapes – classic folded greeting cards, 4×9 rack cards or postcards – but the message remains the same. Sending greetings, well wishes and good tidings is an easy, affordable and personal way to connect with others.

For Family & Friends

For personal card exchanges, photo postcards and rack cards are a convenient way to share family portraits of couples, children and family pets.
Don't forget to include these festive sayings in your card:

"Wishing you and yours a very Merry Christmas!"
"Sending warm wishes for a joyous holiday season."
"Ho Ho Hope you've been good this year!"
"Have a holly, jolly Christmas and a Happy New Year!"
"May your gifts be many, and your returns be few. Happy Holidays!"

Closing messages are just as important. Be sure to keep it short and sweet:

Wishing you joy,
Season's greetings,
Brightest blessings,
Warm regards,
All the best,

For Businesses

Here's a few tips for selecting and sending business Christmas cards to clients and vendors:

Pick high-quality cards
Choose tasteful themes
Be aware of religious beliefs
Write a short handwritten message or signature
Add the company name with a stamp or business card
Use formal titles like "Mrs." and "Dr."
Send to the client's business address
Place in the mail by December 15, earlier if international
Include a return address

For the Office

Consider these pointers for individual members of your work family.

Owner/Executive/Boss – Opt for classic Christmas cards with festive imagery to avoid overstepping.
Work BFF/Work spouse – You're two peas in a pod, so let it be known with a funny card or an inside joke between you.
Co-workers in other departments – You may have never said more than "hello," but handing contemporary holiday cards keeps you in their good graces.
Your staff – For those under your supervision, choose a joyous and light-hearted card, and be sure to thank them for their hard work.
Your Dwight Schrute – Like Jim in "The Office," you probably have an office nemesis. Keep it simple with a traditional theme.

To create your own custom Christmas Cards and address labels, visit overnightprints.com/holiday.
For convenient Mailing Services, go to overnightprints.com/mailing_services.