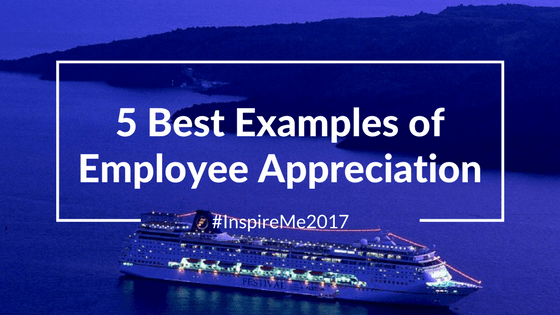 As part of our #InspireMe2017 Twitter series, Overnight Prints has gathered some of the best ways to show your employees they're valued in the workplace.
In honor of Employee Appreciation Day on March 3, employers should consider what their employees most value in the workplace. Offices around the country should go above and beyond to celebrate the holiday and make employees feel special.
A Harvard Business Review article illustrates what employees find most valuable in a position.

The Most Desirable Employee Benefits - https://t.co/ciau3g50pr #career #benefits #success pic.twitter.com/JXNNwzqedf

— SOLO Expenses (@SoloExpenses) February 22, 2017

Not surprisingly, the No. 1 benefit employees value are great health, dental and vision insurance plans. Coming in a close second are flex hours, vacation time and work-from-home options. This is an interesting insight into the mind of current and potential employees.

How can managers and employers use this knowledge to their advantage on Employee Appreciation Day? It may be a great time to introduce updated vacation or hours policies if already in the works. If so, be sure your messaging reflects your appreciation for staff in the announcement.

You can also highlight outstanding benefits that already exist for staff members to take advantage. Announcing any discounts associated with your insurance carrier is a step in the right direction.
---
Another way to show your appreciation is to implement a peer-to-peer recognition program.

3 Ways Peer to Peer #Recognition Improves Your Bottom Line:https://t.co/fDcEuXnmg0#founders #leadership pic.twitter.com/0vuXLXKlyG

— Bonusly (@bonusly) December 14, 2016

Bonusly, a platform specializing in peer-to-peer recognition, highlights the benefits of introducing a system of mutual respect and praise among you, your employees and their teams.

Bonusly notes that peer-to-peer recognition improves employee engagement, retention and recruitment. By recognizing and appreciating the hard work of your employees, they will out-perform their non-engaged counterparts, create a welcoming and positive company culture that keeps talent in-house, and entice more talent to join.

As the employer, be the first to make the initiative by recognizing a variety of employees. Then allow your staff to share their accomplishments with one another on a weekly or monthly basis.
---
If you're looking to go above and beyond for your employees, what about giving out luxury cruises, spa days or jewelry?

These Leaders Take Employee Appreciation to the Next Level. #success #coaching #analytics https://t.co/hpcToGhvk2

— EverLearn Associates (@EverLearnTweets) February 21, 2017

That's exactly what these employers did for their teams, according to an Entrepreneur article. The list of extravagant gestures include Iowa employer taking its team away from the harsh winter to enjoy a week-long cruise - after they met their sales goals, of course! A jewelry tycoon also gifted his employees with cars, apartments and jewelry.

Maybe extravagant gifts aren't really appropriate for your workplace, but consider going a little above the normal pat on the back by including gift cards with your Thank You cards or sweet treats tagged with custom notes of appreciation.
---
Tiny Pulse, a Seattle based employee engagement solution, shared 15 fun and crazy ideas for Employee Appreciation Day. Let's just say this list is a little more attainable than expensive luxury gifts or trips.

Not sure what to do for Employee Appreciation Day? We're here to help with 15 fun ideas to make your team happier. https://t.co/2CIr9j7tyc pic.twitter.com/wGc57gGq49

— TINYpulse (@TINYpulse) February 20, 2017

The article suggests things like bringing in a massage therapist for the afternoon, organizing a company-wide game like a scavenger hunt, unveiling a cool new coffee/espresso machine or redecorating the office. These are great gestures that go above what's expected and will show your true appreciation to your employees.
---
Diversified Sale, a provider of sales forces, shared an article from SalesDrive about the importance of social recognition.

Business leaders know that employee recognition is valuable.https://t.co/skJDpDmZa5#B2B#SocialMediaMarketing

— DSSI (@diversifiedsale) February 8, 2016

This technique goes hand in hand with peer-to-peer recognition buts adds a public factor. Not only do your peers know what a great job he or she is doing, but now friends, family and competitors can take notice. It's an excellent strategy to boost morale.

To create your own recognition program on social media, start by creating a template graphic for social media posts to insert the employee's picture and specific praise; set up a call for entries from fellow employees on a weekly or monthly basis; and engage with likes or comments on the social posts. Share the praise-worthy achievements across all social platforms and send to friends and family to promote a positive company culture to customers and third parties.
#InspireMe2017 is a year-long initiative by Overnight Prints to serve small businesses with valuable resources. Follow #InspireMe2017 on Twitter or subscribe to blog.overnightprints.com for more business marketing tips.