You might be thinking to yourself; is it worth the hassle to send Holiday Greeting Cards? I can assure you that it is! Sending cards is a thoughtful and relatively painless gesture that will pay dividends in the year to come.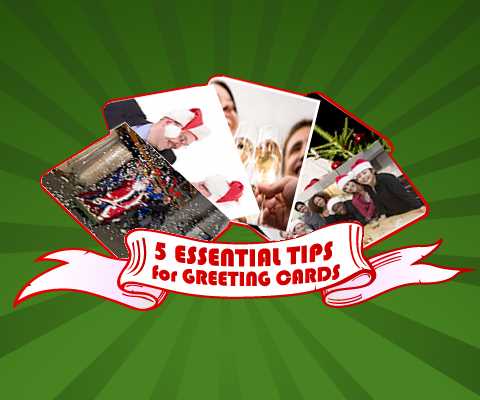 I've blogged previously about how to design a good company card before but before you start making your cards, I'd also like to share my top 5 list for getting the messaging right:
1. Keep your cards non-denominational
Whether you have strong religious beliefs, or strong non-beliefs, it's best not to include these in your business promotion. Religion can be a touchy subject and you could risk annoying a customer by using the standard "Merry Christmas" message (even though it's unlikely to cause "outrage", why take the chance?) My advice is to use terms like "Happy Holidays" or "Season's Greetings" rather than Merry Christmas or Merry Xmas!

2. Handwrite a message
You should include your logo and company information but you should also handwrite a personal greeting in your nicest handwriting. It's also a good idea to address the envelopes yourself and sign your name. Give your card a personalized touch. Don't just print a generic message inside.
Example of good company messaging: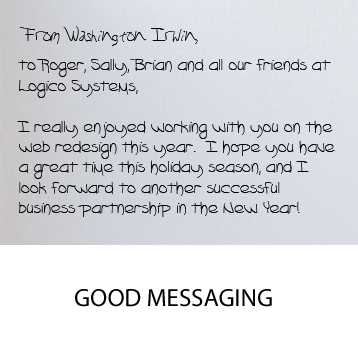 Example of bad company messaging: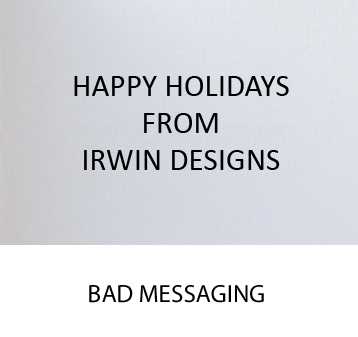 3. Make it "personal" but not "too personal!"
Don't put any family photos or photos of your dog on your cards! It's just too presumptuous and casual. Stick to photos that have some connection with your workplace and the people that work at your company. Maintain a degree of deference.

Example of a good company image: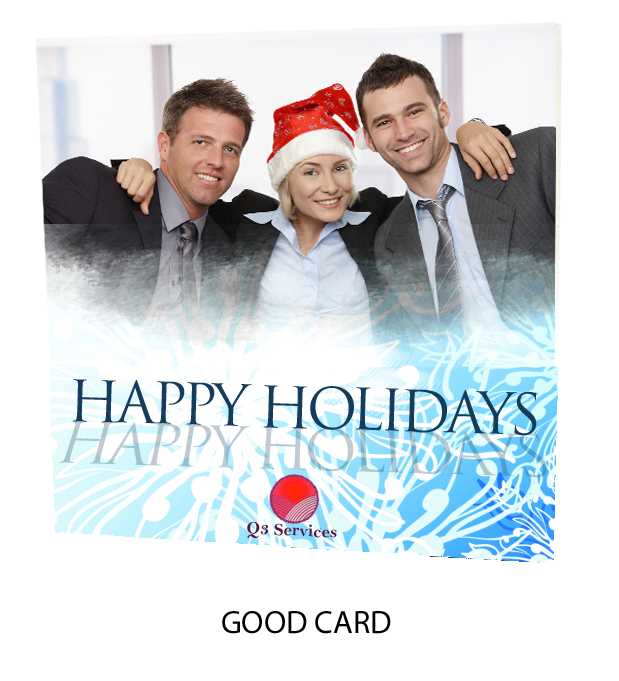 Example of a bad company image: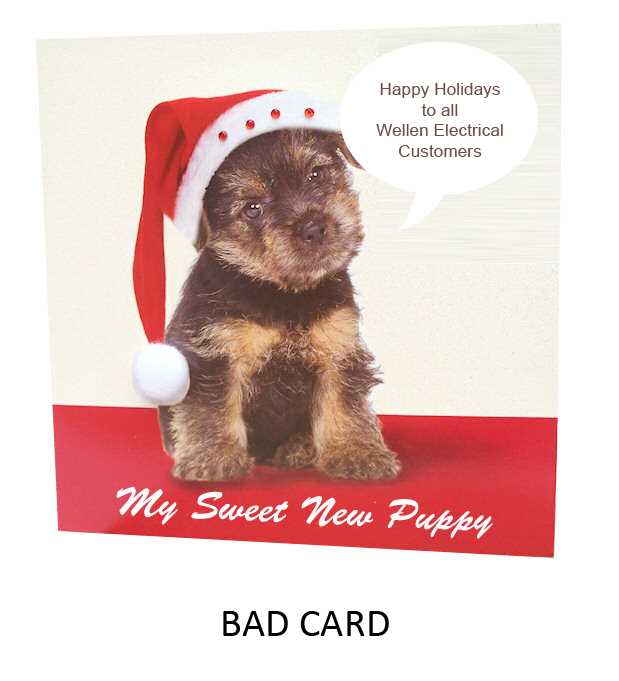 4. New Years Cards
Consider sending New Year's greeting cards instead of Christmas cards. You avoid the whole religious debate and it allows for more appropriate business messaging, ie, wishing you great business success this year and a successful new partnership! It's also a good plan if you're running late with your greeting cards. You can take your time with them and do something really special for the New Year (make sure you have them ready to print at least two weeks before the end of December!)

5. Be original but be tasteful
By all means, do something clever and original that will make your customers laugh, but don't say anything that could offend someone's sensibilities. Don't send anything rude or offensive (i.e, a card with a "sexy Santa Claus in a revealing outfit" might be fun for you and your friends but why take the risk of offending one of your good customers?) Use your common sense! In business it's always best to air on the side of caution. A good joke can be enjoyed by everyone, but you have to be REALLY careful not to be derogatory in any way.

Don't leave it till the very last minute to send holiday cards to your customers and friends. Even though we are the fastest printers in the world and offer a next day service, you should get your cards sent off in good time so that your business is in the forefront of customers' minds for the holiday season and New Year!
There's still time to send your holiday cards and to take advantage of our 50% off Greeting Card promotions