'Tis the season to send holiday greetings to one and all. You've chosen a beautiful design for your custom greeting cards. Now how do you write the perfect message inside that keeps you off of the naughty list?
You better not pout because this quick guide will tell you how to avoid common holiday greeting grammar errors.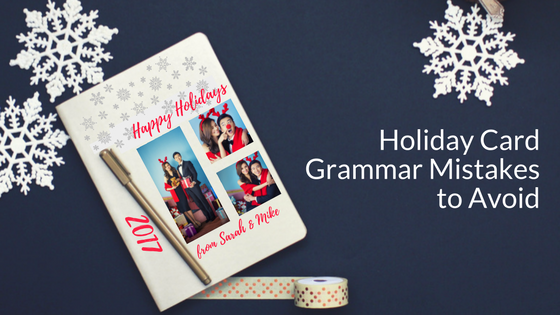 ---
Apostrophes & Contractions
Open with a classic seasonal sentiment, but know where to place the apostrophe.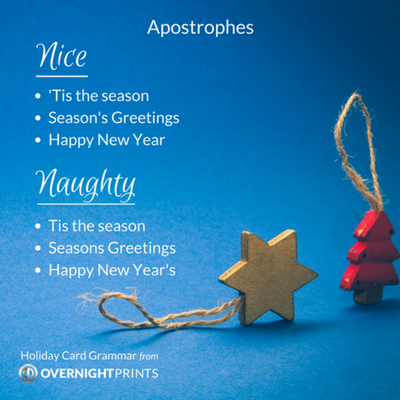 CORRECT:
'Tis the season
Season's greetings
Happy New Year
New Year's Eve
New Year's Day
INCORRECT:
Tis the season
Seasons greetings
Seasons' greetings
Happy New Year's
New Years
---
Holidays
The holiday should be capitalized, but words like merry and happy do not need to be unless at the beginning of a sentence.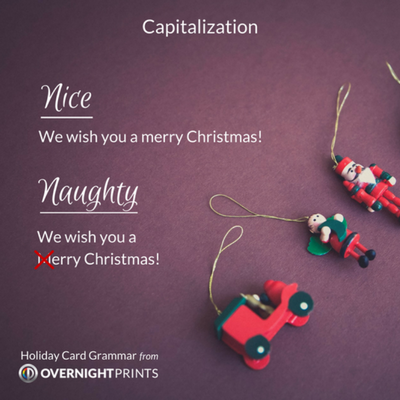 CORRECT:
Wishing you and yours a happy Kwanzaa!
Happy Hanukkah to you and your family!
INCORRECT: We wish you a Merry Christmas!
---
Commas
Now it's time to finish your card with a closing phrase. These should be separated by a comma before you sign the card.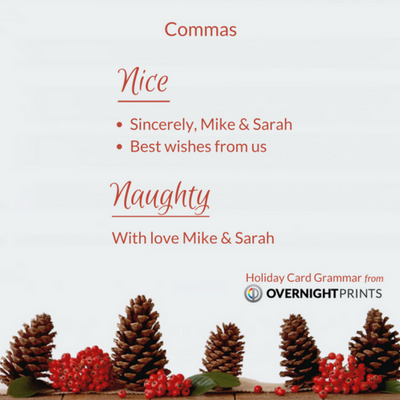 CORRECT: Sincerely, Mike & Sarah
INCORRECT: Best wishes Mike & Sarah
The alternative is to send best wishes from you and avoid the comma altogether.
CORRECT: With love from Mike & Sarah
---
Party Invitations
Hosting a holiday party? Feel free to send your holiday greeting card as the invitation itself. If you're co-hosting the event, consider the compound possession rule for placing an apostrophe.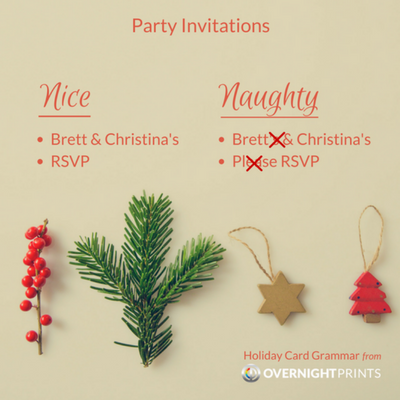 CORRECT: Brett & Christina's
INCORRECT: Brett's & Christina's
When asking guests to RSVP, keep in mind that the initialism stands for the French phrase "répondez s'il vous plaît," meaning "respond please."
CORRECT: RSVP
INCORRECT: Please RSVP (please respond please)
---
Last Names
When addressing a holiday card to the whole family, follow these tips for making the last name plural. Apostrophes are not needed unless you're making the name possessive.
CORRECT:
INCORRECT:
If you're unsure, add "family" instead and you're good to go!
CORRECT: The Jones family
INCORRECT:
The Joneses family
The Jones' family
Design custom holiday greeting cards at overnightprints.com/holiday.