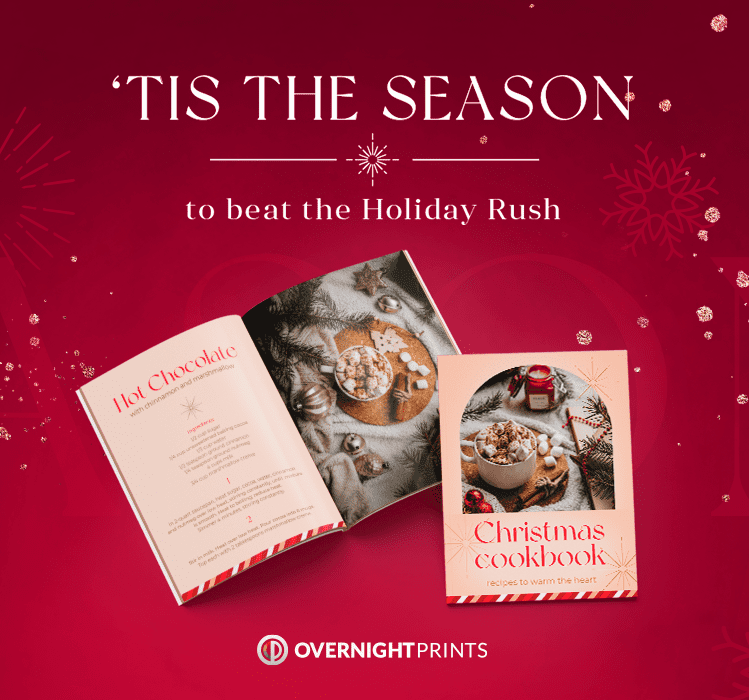 We're getting close to the end of November, which means it's time for some holiday cheer! Every year around the holiday season, people are faced with difficult decisions. What do I buy for my friends, family, and coworkers? How much should I spend on them? Who gets what gifts?
Gifting doesn't have to be about the amount you spend, rather about the thought behind the gift.
The best gifts are always the ones you don't have to spend an arm and leg on. Sometimes, it's just enough to send someone a simple thank-you card or edible
hand-made cookies for their hard work with no expectations of repayment in kind. However, a better option is to gift something that will mean more than any material item.
Many people feel pressured into getting gifts for the whole football team, or all your co-workers in a large office, etc. That can lead to endless gift buying and hefty money spending that doesn't necessarily need to happen. A genuine, heartfelt handwritten holiday card or personalized "team" gift can go a long way toward serving the same purpose.
Gifts to reach people you haven't had a chance to see at all or as much because of the pandemic – gifts from the heart
The pandemic has made it difficult to connect with people this year, but that doesn't mean there is no way of showing your love. There are plenty of gifts that are a great way of sharing something special, giving out some love, and filling hearts with joy during the holiday season.
Personalized gifts for friends, families, business partners, and more
Gifts are a great way to show your appreciation for business partners who have been there through thick and thin. These gifts acknowledge their hard work and strengthen your relationship when they are thoughtful, unique, and make them feel special.
Giving a gift is not just about the occasion but also an opportunity to show how much you care. A simple thank-you card or, even better – one that includes some personalized notes can go miles in terms of expressing thanks for their work and dedication!
With Christmas around the corner, what better time to tell your family and friends how special they are. If you're trying to find a creative way to give your loved ones the perfect gift, but cash is tight this year, then Overnight Prints offers great gifts without the hefty price tag. Your significant other will feel truly loved when they see their name on an incredible photo book or calendar with pictures from all your special and most memorable moments together.
Let's get you started on your Christmas shopping with a few custom gift ideas.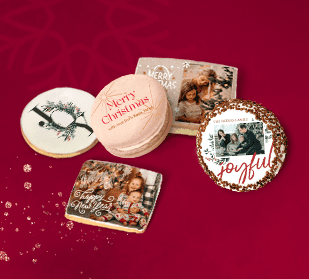 Everybody loves a nice cookie. So why not treat your friends, family, partners or employees with edible gifts such as Custom Printed Holiday Cookies personalized
with Christmas images, your favorite photos, or a warm message. Surprise your special someone with unique handmade food items such as custom printed cookies. Leave a lasting impression on everyone with your thoughtful gift choice this holiday season.
A unique print on canvas or foam core poster is one of the most innovative and personalized gifts you can give to your loved ones, clients, and friends. The quality of these gorgeous prints will inspire envy from everyone who sees them in their home or office.
Jumpstart your creativity and show off what's important to you with a custom canvas print. Choose from an array of different sizes, quantities, or styles.
We print any photo onto the highest quality canvas, and we frame it to an elegant standard size frame and ship it directly to the doorstep of those who matter most to you, making sure they arrive on time and in great condition with little fuss or muss.
There are so many ideas about what to print on canvas to create a beautiful present that will be treasured forever.
■ Family Photos
■ Wedding Photos
■ Event Photos
■ Replica of a Painting
■ Custom Photography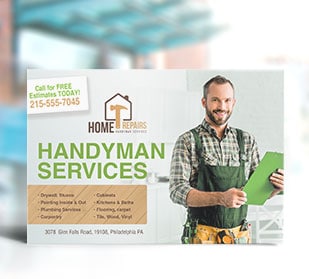 Embrace your inner-self with this custom magnetic fridge magnet. It can be personalized to say whatever you want, from a witty one-liner about life in general or the joys of life, all the way down to an image reflecting something specific like family vacation memories—whatever their heart desires.
They also make great stocking stuffers, or Secret Santa presents too. For example, a magnet that says "I love you" would work well at home kitchen refrigerators where there are always reminders about what needs attention.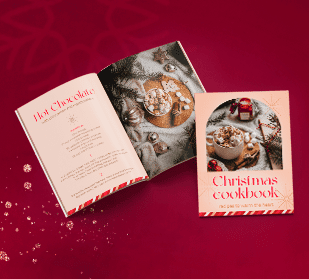 Presenting someone with their very own designed hardback binding full of pictures from all those favorite moments makes warm and fuzzy inside, knowing that this person appreciated thoughtfulness enough to display it proudly. The photo book can be personalized by adding photos from their favorite moments or special events. By
customizing the cover with their name, even turning it into an interactive scrapbook where they're able to add photos and captions themselves!
A personalized photo book is thoughtful to give someone an appreciation token of your gratitude that will make them feel good, and they'll never forget this year's events.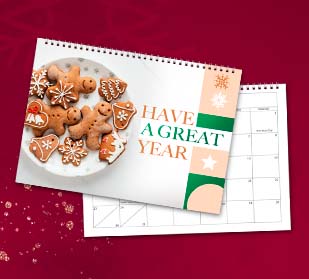 Give your friends and family some custom-printed happiness this holiday season with custom-made printed calendars. They can be personalized with photos or messages from friends for that personal touch. This personalized Christmas gift can be surprisingly helpful. It is perfect for anyone who loves to keep track of all their important dates and events in an attractive way.
Custom printed calendars make a great personalized Christmas gift for your customers. They are affordable, thoughtful, and easy to customize with your logo or company colors to promote your company all year long.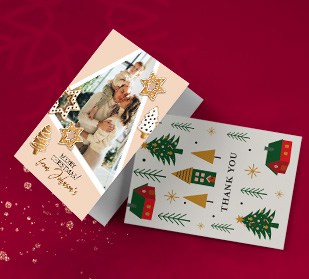 These oversized greetings will be sure to please your recipient this holiday season. A personal touch is always welcomed, especially when it's time to give out presents at this time of year. A personalized Christmas card is the perfect way to show your friends, family members, and coworkers just how much they mean to you. Modified with memorial photos, they are the ideal way to express gratitude and the value you hold towards one another in an easy-to-read format. In addition, a personalized memento can be shared for years to come with family and friends through memories on the card.
Gift wrap matters! Gift wrap is the perfect way to show how much effort you put into your presents. The more creatively someone has wrapped their gifts, the better. How you put a gift underneath the bow can reveal quite a lot about what makes someone special. It's an opportunity to let their personality shine through in the wrapping choice. It might be witty, romantic, or simple with only one color print on tissue paper around any contents.
To sum it up
The pandemic is taking a toll on so many people. We don't want to forget about those we haven't seen in a while, and we don't want them to feel left out of all the fun that's been going around this festive time. Friends, family, clients, and business partners alike will love a gift that is personalized to them. Overnight Prints has something for everyone at affordable prices, from custom cookies to photo books or even art prints to update home decor. All of these items can be wrapped up in beautifully personalized paper and covered in custom printed tissue. All you need to do is create it on the Overnight Prints platform.