Many designers and other Overnight Prints product users order from us because of our fantastic offset print color. However, there are ways to ensure that you can better replicate the color that you see onscreen, with the print colors that you'll receive from OvernightPrints.com. By adding and adjusting your Photoshop color profiles, you will more effectively recreate the onscreen version of your design.
Add the correct color profiles in Photoshop and you can create color prints that are far closer to their onscreen counterparts.
Monitor calibration is the bedrock for success.
To create successful color managed print projects it's essential that your monitor be calibrated. All Adobe applications display everything through the monitor's profile – so we strongly suggest that you calibrate your monitor first before setting up your new color profiles. Consult your monitor manufacturer online or the monitor's manual for calibration procedures.
Step One – Know your printers color profile.
Every printer, printing press, or color reproduction device has a distinct "fingerprint" or color profile. Here we will provide you the digital equivalent of the printers fingerprint called an ICC profile. With it, you can simulate or "soft proof" what the print will look like on your monitor.
For Overnight Prints business cards, greeting cards, postcards, and brochures use the profile "GRACoL2006_Coated1v2.icc,"
and
For Overnight Prints letterhead and envelopes use the profile "ISOUncoated.icc (in the ECI Offset 2007 download box)"
Step Three – Apply Overnight Print's profiles in Photoshop CS3 and CS4.
A. Place downloaded profiles in /Library/ColorSync/Profiles for MAC users.
For Windows Vista and XP users, place in \Windows\system32\spool\drivers\color folder.
B. Launch Photoshop and select Edit>Color Settings.

C. Change the RGB Working space to Adobe RGB (1998).
Then change CYMK working space by selecting Load CMYK.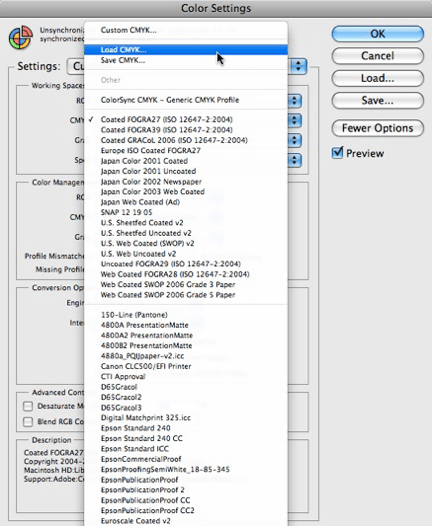 D. Navigate to the ICC profile folder and select the Gracol2006 _Coated1v2.icc profile: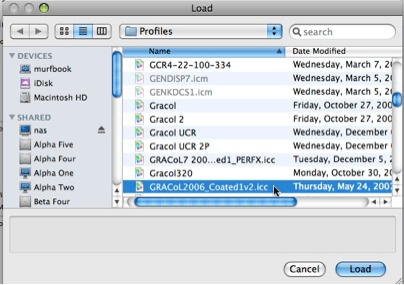 E. Your new color settings should look like the figure below. If so, save as ONP_GRACOL2006v2.cfs and click OK.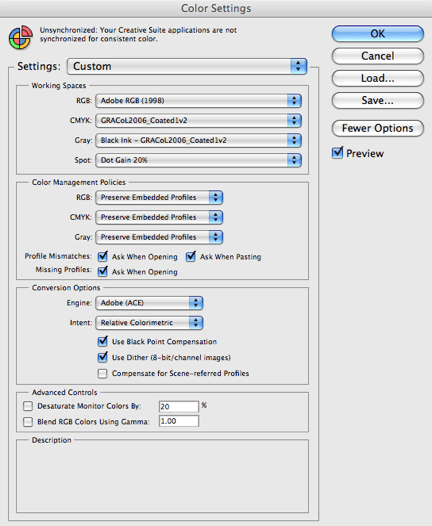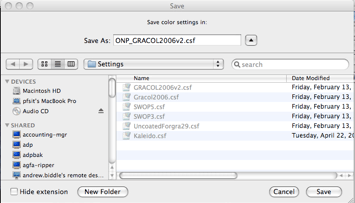 F. Open Adobe Bridge in Photoshop by selecting File > Browse in Bridge.
Or open the Adobe Bridge application directly through your Mac OS Applications folder.
If you do not have Adobe Bridge go to Step 4.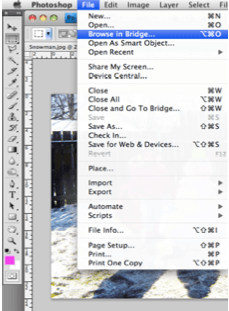 G. Adobe Bridge: Choose Edit > Creative Suite Color Settings.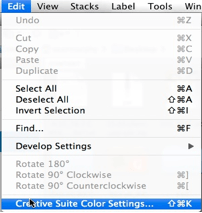 H. Then select your new ONP_GRACoL2006v2 color setting and apply.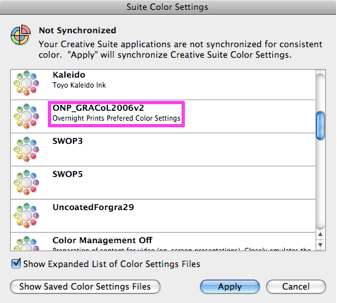 Your Creative Suite applications will now be synchronized utilizing the ONP_GRACoL200v2 color setting as their new default.
Repeat the same instructions from A through E in Step 3 to create color settings for ISOUncoated.icc profile for letterhead and envelope designs and save as ONP_ ISOUncoated. It is important you check your color settings to ensure that you are using the correct profile for the correct products.
Step 4 – Use profiles for simulation and editing RGB images.
You should always apply these color profiles to correctly simulate or "soft proof" digital photos, designs, and illustrations. Do this while editing or designing prior to converting to RGB images to CMYK or uploading your projects to Overnight Prints. By using the suggested profiles, you will closely simulate the printed product on your monitor.

A. In Photoshop go to: View>Proof Setup>Custom.

B. Now select GRACoL2006_Coated1v2.icc in Device to Simulate.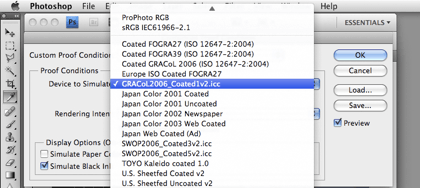 C. Ensure that Relative Colormetric is chosen as your "rendering intent" and that Simulate Paper Color is selected.
Save as ONP_GRACoL1v2.

Repeat the same steps for the ISOUncoated.icc profile and save as ONP_ ISOUncoated.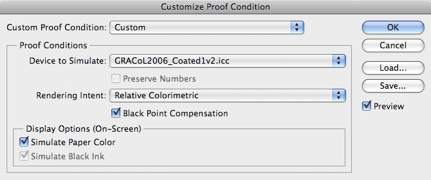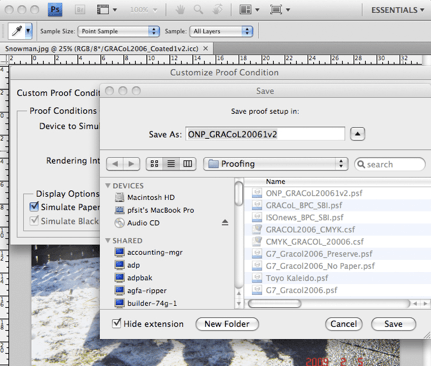 D. Finally, navigate to View>Proof Setup and select ONP_GRACoL20061v2 or ONP_ ISOUncoated.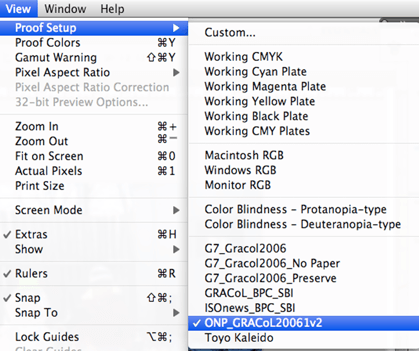 When you start a design in Photoshop, you will now be able to simulate the color output of Overnight Prints on coated and uncoated papers. We strongly suggest you edit both RGB and CMYK images while the using the Proof Setup feature.
Quick Tip. You can toggle the Proof Setup on and off with the keyboard shortcut Command (Apple) + Y.

To ensure that you are in the correct proof mode, simply check the file name at the top of you image window/tab.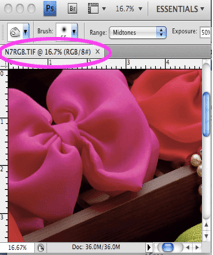 Step 5 – Convert RGB to CMYK images and save.
By following the previous RGB steps you can convert to CMYK before uploading to Overnight Prints with the following procedures:
A. Select Edit>Convert to Profile.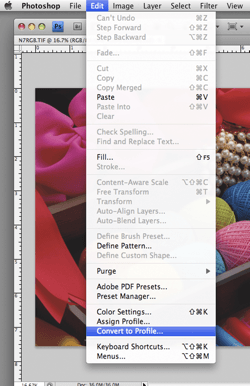 B. Ensure the destination space CMYK has GRACoL_Coated1v2 selected.
Mirror the same options outlined in the example below then Click OK.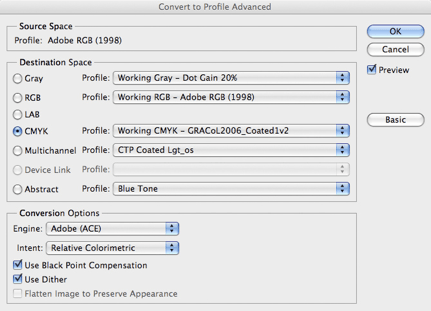 C. Save image and ensure that Embed Color Profile is selected.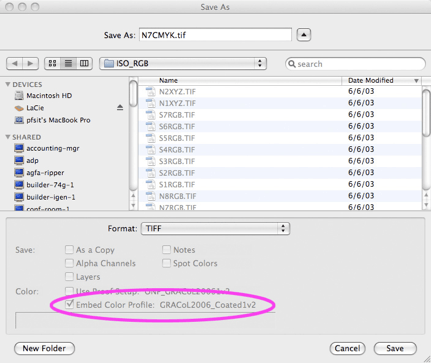 That's it! You can now begin to manage and print your design files more accurately when prepping your designs for print at OvernightPrints.com
Please reply to this posting with any questions you may have. I will be happy to answer them.