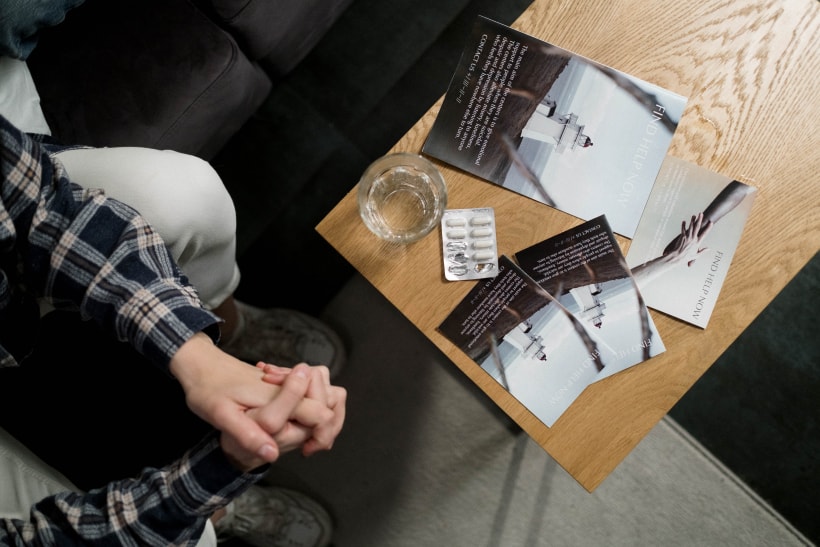 Digital marketing is the latest and greatest marketing trend for businesses to get in front of consumers and attract new customers and clients. However, digital marketing can go much further when accompanied by a print ad campaign, which can direct consumers to a business' digital assets. In addition, print ads point potential customers in the right direction to finding your website and social media accounts, which in today's technological world, is the best way to connect and keep lines of communication open.
What is the Difference between Print Ads and Digital Ads?
When starting a marketing plan, knowing the difference between print and digital ads can help you implement the best marketing strategy for your business. Print ads are any form of printed marketing materials, such as brochures, postcards, flyers, posters, and invitations. Digital ads, including Google Ads, are created and distributed online through websites, email, virtual newsletters, and social media platforms.
How Do Print Ads Complement Digital Marketing Strategies?
Though digital marketing strategies help drive traffic and potential customers to your website, using print ads can help attract even more people who may not see your ads online. Below are several ways print ads can help complement your existing digital marketing strategy:
Print ads, especially QR codes, direct consumers to your business online.
Print ads help make your business stand out from competitors who are fighting for the same customers, but they do not use print ads.
Print ads direct consumers to your digital platforms, and digital media can direct consumers to any print materials your business produces.
Print ads increase audience reach.
Print ads increase brand awareness in your community.
What are the Best Print Ad Options to Complement a Digital Marketing Strategy?
Several different print ad options can help increase exposure, which boosts the benefits of running a digital marketing plan. Some of the most effective print ads businesses use to help grow their existing online advertising strategy include:
Direct Mail
According to the Direct Marketing Association, direct mail has an average response rate of 4.4 percent. This percentage is far greater than the 0.12 percent response rate from sending emails. Therefore, well-crafted direct mail campaigns can leave a more significant impression on consumers than an email they may never open.
Sending direct mail advertisements allows plenty of room for creativity and many opportunities to grab consumers' attention. A full-color postcard or catalog is far more attractive than an email subject line and more likely to be looked at.
Interactive Print Ads
It is possible to make print ads interactive, helping boost the traffic to your website and increasing online business and conversion rates. QR codes are one popular way business owners bring their print ads to life. In addition, using QR codes can help you track the impact of your offline campaign as it monitors how many customers scan it with their phone to learn more about your business online.
Grab the Attention of Local Consumers
Online marketing is fantastic when wanting to engage and stay in contact with your customers. However, online marketing can attract customers from anywhere, which is a good thing, but if you want people in your store, print marketing can help grab the attention of local consumers.
Print ads show you are invested in your local community, reaching out to nearby consumers who will be guided to your online platforms and could come into your place of business. Ultimately, print ads help alert people to companies online. Still, targeting local communities can increase foot traffic while creating an online site to stay in contact with your new customers.
The Importance of Print Ad CTAs
Adding a strong call-to-action (CTA) to your print ad ensures consumers know what you want them to do and how they can get additional information. Like with an online ad, a CTA directs consumers where you want them to go, such as to a website, social media platform, or store.
Find the Perfect Blend of Print and Digital Advertising
There are various ways to advertise a business, and when using multiple methods available can dramatically increase a company's reach, conversion rates, and list of clients. Finding the right blend of print and digital advertising is key to succeeding and driving consumers to your website and social media platforms.
Consider advertising in newspapers, sending out mailers, or hanging ads at bus stops or community billboards to attract local customers. If you want to attract consumers nationally, consider putting an ad in a nationally printed magazine or find a national coupon mailer company to include your ads with their mailers.
Choose the best blend for your business and advertising needs. Don't forget to include a CTA, make the ad attractive, and have the necessary information to drive consumers to your digital assets.
With the success of digital advertising, many people feel that print ads are a thing of the past. However, it is possible to use print advertising to complement an existing digital advertising plan when used correctly. Take a moment to consider how beneficial a print ad campaign can be for your business, mainly when used with a digital marketing plan.
Author: Lucille Adams
Photo by Ron Lach