As graduation day nears, you wonder…was the tassel worth the hassle? Yea, it was! There are few pieces of paper worth framing in your lifetime. Earning your diploma is one of them.
This is your ultimate cheat sheet for all the prints you'll need before and after graduation.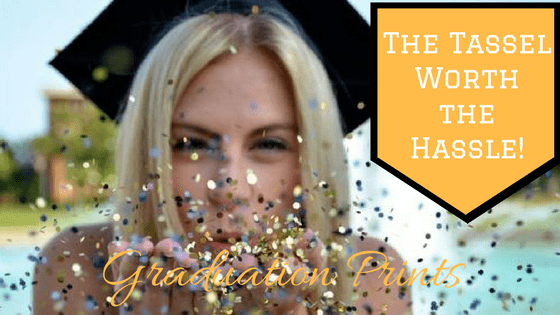 GRADUATION PARTY PLANNING GUIDE
You have one more assignment before you can walk across that stage – print your graduation party invitations! We even did the homework for you with these unique print design ideas.
Save-the-Dates
Magnets are the perfect way to remind guests about graduation day or to pass out as keepsake party favors. Commemorate your success with your favorite senior photo and graduation year.
Announcements & Invitations
Send grad party invites to classmates, relatives and mentors who've supported your dreams over the past four years.
1. The Prom Queen
Get all the sparkle and shine with none of the mess. Choose a glittery design or add spot UV to your postcard invitations for a fabulously glam effect.
2. The Jock
Did you play a sport or instrument? Show off your talents with themed graduation announcements. Create your own "Game Day" tickets to invite guests to your commencement with 2″ x 6″ bookmarks.
3. The Honor Student
Add some pomp and circumstance to your graduation announcements with high-quality, thick paper stock like Overnight Prints' premium 12pt greeting cards that can be easily mailed out to guests through a trusted mailing service.
4. The Rebel
Break with tradition and opt for a square or circle coaster that really shows your personality.
Order your graduation announcement, invitations and save-the-dates at OvernightPrints.com
JOB PREP GUIDE
Swap out your cap and gown for a suit and tie. Enter the world of adulting with these job interview essentials.
Business Cards
Impress employers from beginning to end with your own personalized business cards. Get your foot in the door with a professional business card that contains a link or QR code to your LinkedIn profile or online portfolio. Employers will have to keep your card on top of the pile of resumes, so you'll literally stay top of mind.
USA Today lists some of the relevant information you should include:
Full name – This means first AND last name.
Title – Let employers know what field you're in.
Contact phone number – Be sure this is a permanent number and one with an appropriate voicemail greeting.
Email address – It's best to create a professional email address.
Education – Include your university, major and graduating year.
Profile or portfolio – List your LinkedIn URL and link to professional portfolio if you have one.
Cover Letters
When applying for a job, include a cover letter on personalized stationery. Include your basic contact information and any relevant websites in the design, so employers will always be able to reach you.
Snag that dream job with professional business cards and letterhead from OvernightPrints.com