Custom business cards are a must for all small business owners. Creating a one-of-a-kind design will single your business out from all the other small businesses out there. Some small business owners take the art of business card customization to the next level by "further customizing their custom business cards!"
What I mean by this is that there seems to be a current trend for making cards more "hand crafted" (e.g, hand-stamped business cards) and for making a business card fulfill another function (e.g, fancy labels, decorations, jewelry holders, etc.) With a little thought and effort, you can make your business cards into something REALLY PERSONAL!
Here are 5 fantastic custom business card ideas from Overnight Prints customers: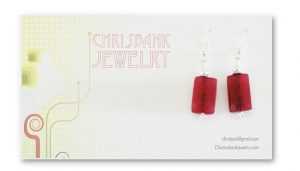 Christine Bank who's company is known as ChrisBank Jewelry, created these fantastic business cards as product holders. They do two jobs; 1. They are an elegant way of presenting her product and 2. They are an effective marketing product that the customer can keep or pass onto other people.
Christine sells her handcrafted jewelry at craft fairs all over Central Texas and uses business cards as product holders for her rings, fancy buttons (threads them on), bracelets, and necklaces.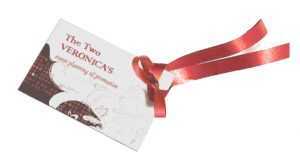 The Two Veronica's are a small event planning company in New jersey. They customize their business cards with a beautiful piece of ribbon that they attach to the corner of each business card (see bookmark post on how to do this).
They tell me that not only do they stand out from other business cards, but they also act like a great promotional decoration – the Veronica's (with client permission) tie these cards around flowers, to balloons, and to other party decorations! A person attending one of these events has lots of opportunities to take their card home with them – on a balloon or tied around a party favor!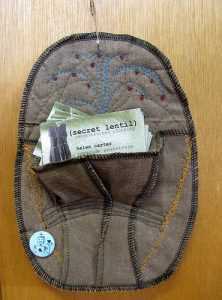 Helen Carter, a member of Overnight Prints' Flickr group, owns Secret Lentil – a fantastic alternative clothing company. She made this brilliant "hand crafted" business card holder to hang on her studio door. The business card holder reflects a sense of her cool design aesthetic.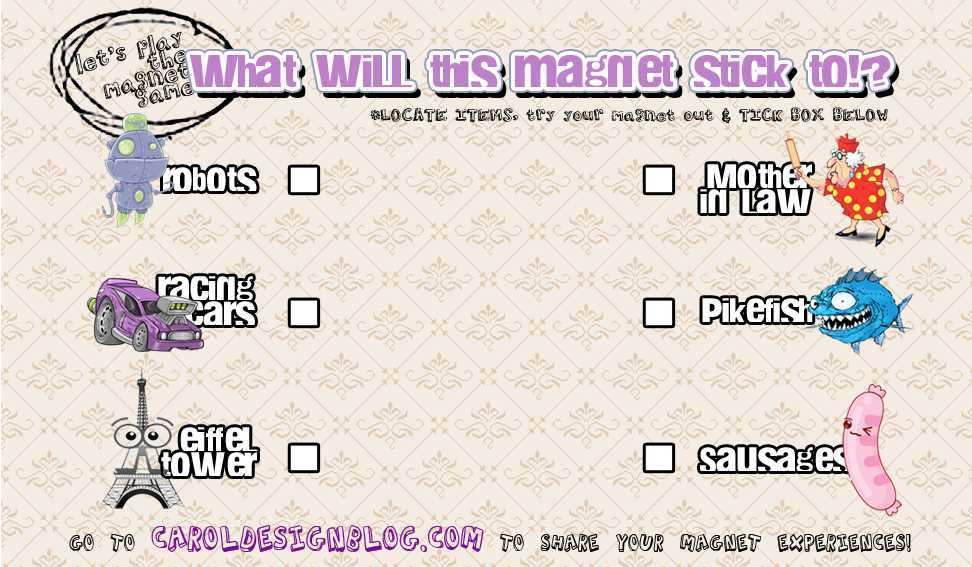 This is a design that was sent to us by Carol Monks, a freelance designer from New Mexico who prefers to print business card magnets, rather than the traditional business cards. She cleverly uses these designs to advertise her freelance illustration business and her design blog site. She has invented a "what will this stick to" game in which the person with the magnet has to see if their card will stick to random things such as, robots, mother-in-laws, and sausages!
It's all very "goofy" but it perfectly complements her fun and playful design style and is a nice custom alternative to regular business cards.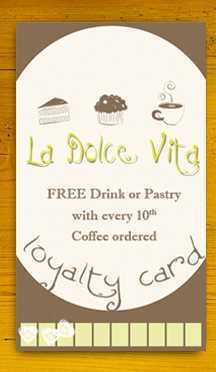 The "loyalty card" is not a new idea from Gareth Blower who owns La Dolce Vita, an independently run coffee shop in Detroit, but it's a really effective marketing technique for all coffee shop owners. It's cheap too! You simply create a set of business cards titled "loyalty card" and add a little blurb about the offer (for every 10 cups of coffee the customer buys they receive a free one seems to be the norm.)
You'll also need a custom hole punch or stamp to mark off coffee cups purchased. Gareth sent me a link to the "stamper" that he uses on his customers cards.

So there you have it! 5 great ideas for making your custom cards that little bit more customized! If you have an opinion about these products or you'd like to add your own custom business card idea to this list, then feel free to contact me (link in the upper right hand corner of this blog site!)