New Year's celebrations are always full of cheer, not to mention plenty of champagne. What are we toasting, you ask? An opportunity to start anew in both your personal and professional life.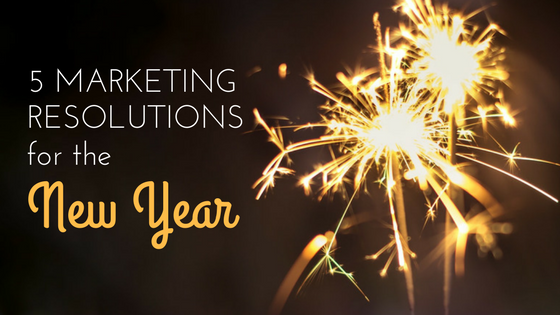 For businesses, January 1 doesn't just signify a new quarter, but also an opportunity to make marketing resolutions that'll last the entire year. So, put down the glass of bubbly and pick up a pen for this checklist to jumpstart your business in 2018.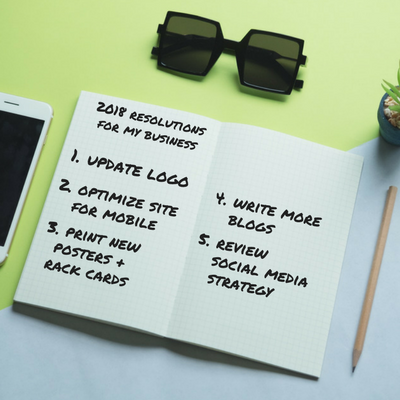 1. I will update my logo
Just like Batman has his bat signal, your logo represents how your business can come to the customer's rescue. Logos created way back when the business first started might not match the current brand. To make a smooth transition to a new logo, enlist the help of professional graphic designers.
2. I will invest in mobile optimization
The number of mobile shoppers is staggering: Roughly $640 million Black Friday sales in 2017 were mobile purchases. Make it easier for shoppers to click "buy" with a mobile responsive website. Start with a user-friendly design, then optimize for smartphones and tablets.
3. I will refresh my marketing materials
Out with the old and in with the new! Increase POS sales with updated retail signage. Attract shoppers with new flyers and posters in store windows, and place redesigned rack cards on display at the register.
4. I will focus on content
One thing is certain, quantity is now king to reach Page 1 on Google search results. Content marketers need to develop more targeted, relevant blog article topics, but most importantly, write in simple language and post often.
5. I will review my social media strategy
Are you getting fewer tweets and likes than your competitors? It might be time to revisit which social platforms and strategies work best for your business. If you have a lot of happy customers, ask for endorsements and unboxing videos on social media.
To consult with expert graphic designers on new marketing materials, contact Overnight Prints Design Services at designservices@overnightprints.com.