High-cost marketing techniques are not always the best options for small businesses that are struggling to keep afloat in this economy. There are many very effective ways to market your company that cost next-to-nothing. All it takes is a little imagination and forward thinking. If you want to start generating interest in your company, it might be time to get "down and dirty" with a few low-cost marketing ideas and products.
Here are five of my favorite money-saving marketing ideas. Try them out yourselves. What have you got to lose?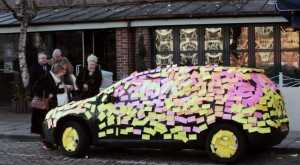 1. Make a Marketing Stamp!
• Put your business logo, web address, and include a clever or funny line of text on your custom stamp
• Take your stamp and a pack of post it notes everywhere you go. Put your custom post it on car windows, on the doors of local businesses, on the tables of fast food places, stamp it anywhere you see a guerrilla marketing opportunity
• Stamp your logo on the shared newspapers in your local coffee shops – find the ad section that 's relevant to your business and put your stamp at the top of the page!
I've heard some funny stories of people putting their stamp on competitor's flyers, business cards, and other marketing promotions! In particular, I was told about the owner of a small lumber firm who walked into a major "Home" improvement "Depot" and sporadically stamped a message on the opposing stores lumber that read: "If you want better priced lumber go to…." (I'm not advocating this practice, however effective it may be!)
2. Guerilla Business Cards
• Now I know what you're thinking; "Not business cards, again! You guys are always banging on about business cards!" Well, that's 'cos we sell them! But hold on a minute! I have a new suggestion for using them in a way that you might not have considered.
• Spend a day visiting libraries and bookstores in your local area and find the section that relates to your business, i.e., directories, reference books, magazines, self-help, etc. Open each publication and slip a business card between the pages! Voila! A dirt-cheap targeted marketing campaign! You can use this same technique with the magazines in salons, doctor's offices, and other waiting rooms (you've nothing better to do while you're waiting, you might as well use the time to your advantage)
3. Do Not Disturb Door Hangers
• If you're going to an expo or business convention, use the opportunity to guerrilla market yourself whenever possible.
• Get some door hangers printed up with your business information on it, or better still, get some less expensive rack cards made, hole-punch them, and rubber band attach them to as many hotel room doors as possible!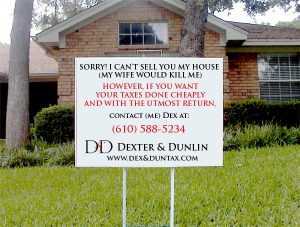 4. Yard Sign
• Use your own yard to advertise your business. Instead of a "For Sale" sign in your backyard, you could be making use of this space to advertise your own business
• Purchase a custom yard sign at Office Max or Staples. They can make a custom sign for you for around $50
• Customize it with your business information, web address, and a funny line or saying that might catch people's attention!
5. Project-a-logo
• Use your office wall, or find someone who'll let you use their wall, to project your logo and business information
• You may think that this is really expensive to do! Not so! You can buy a low-cost mini-projector for about $70 that can project photo/design files created on your computer or laptop
• It's amazingly effective for getting your brand recognized and talked about
These are 5 of my personal favorite marketing ideas but there are thousands of ways that you can promote your business for less. As long as you can think a little "outside the box " then the possibilities are endless.
It's LISTOMANIA week on the Overnight Prints Design & Print Blog. Check out our other list articles that will be posted all week: Abominable Fonts, 10 Favorite Design Sites