Earlier this week I blogged about our Cyber Monday promotion and promised I'd be back with details about another tasty deal. I wasn't kidding. Until December 31, with qualifying orders, you can get a FREE $25 Restaurant.com Gift Certificate.
A Restaurant.com Gift Certificate lets you choose from over 18,000 participating restaurants and online retail partners. Order just one of the products in the promotion and receive a $25 Restaurant.com Gift Certificate in January as our holiday gift to you.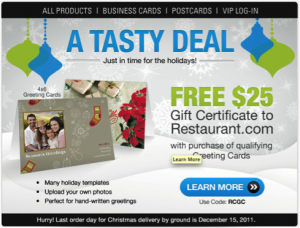 Would you like fries with this deal? (Sorry, I can't help myself.)
What's a qualifying order? Well, stuff that you probably already want to get for the holidays. For instance, order 3 or more Calendars to get the $25 gift certificate, or 30 or more Greeting Cards. Or order any quantity of Notepads. Notecards, Invitations and Announcements are also included.
I can't decide whether to call this "Deals on Meals" or "Meals with Deals." But whichever way you look at it, it's smokin' hot (there I go again).
To see the full list of what qualifies go to overnightprints.com/holiday or click one of the banners on the home page. We'll also serve up a couple of special email additions, so keep a rib-eye on your inbox.
This promotion expires at the end of December, so there's no time to lose. The Restaurant.com Gift Certificate will be emailed to you by January 12, 2012.
Let me know if you think this is an appetizing offer–or not–and I'll let the gurus in Marketing know! For some reason I'm hungry; I'm off to lunch.
–BR