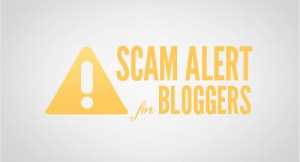 Do you have a personal or professional blog? Are you fairly new to blogging?
If you answered yes to either question, take a moment to read this post. You may not yet have been introduced to the string of con artists waiting to get their hands on your site. Guest post blog scams are on the rise.
What is the guest post scam?
An approach that initially appears innocuous. However if you succumb, all of the time and effort you've put into developing a credible site could be in vain.
Subtle. People will contact you via email, compliment your blog, and offer to provide "unique" content.
They will ask for a small favor in return. They'll ask you to embed one or two links into the content.
The bottom line is your site is penalized.
Undeniably there are a number of legitimate, respectable writers who may ask you to post their content. How then, can you determine whether or not the offer is credible?
These tips will help you discern whether you are dealing with a legitimate blogger or a con artist:
Guest post con artists:
They contact you via email. They complement your blog content in a vague manner.
They don't reference specific posts, and their message is impersonal at best.
They do not provide links to their blog, or to any content they have written.
They may not address you by name. In some cases they won't reference the name of your blog.
They may not provide a last name, or any information about themselves, other than a first name.
Legitimate writer
They explain specifically why they believe their content is relevant.
They provide links to their articles.
They provide their full name.
Their offer is well written.
You can review the content they are offering, before you agree to post it on your blog.
You can sometimes find their content on legitimate websites.
Perhaps the most discernible difference between the two is the absence of links to content they have written.
Key takeaways:
Double check each and every offer you receive from a guest blogger.
Make sure you review the content they are offering, before you agree to post it on your site.
Trust your instincts.