New Companies Showcase Skin Products Using Inkjet Technology.
Two companies have taken the stage at this year's Consumer Electronic Show in Las Vegas, showing off products that use old-school printing technology in really innovative ways. Inkjet printer technology has been around since the 1950's and today it's still the most common type of printing method. You can just about find a printer that uses inkjet technology in virtually every home. At this year's CES in Las Vegas, it's surprising to see such a widely adopted, mature technology being used in such innovative, new ways.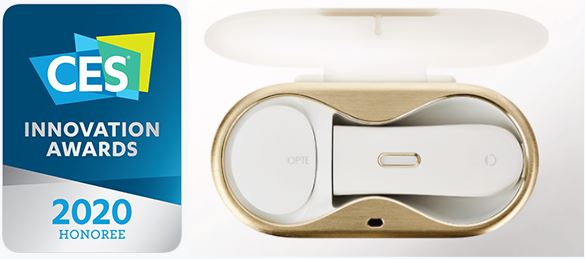 The Brand New Prinker S
The Prinker S is a new custom printing device being demoed at this year's CES from the company Prinker (www.prinker.us), a Korean based company established in 2015. According to Prinker's website, with the Prinker S you can "upload your own artwork, logo, or slogan, and Prinker will make it into a quality, full-color temporary tattoo… in just 3 seconds!" Printing is quick and lasts up to three days. Tattoos are skin safe, made from certified cosmetic ingredients and are waterproof, soap and warm water washable. While the designs we saw appeared to be a bit worn or faded, the designs overall did look accurate and detailed. Prinker touts that the Prinker S prints at a resolution of 1000dpi and has a capacity of over 1000 tattoos per cartridge. With printable, ink jet tattoos, you can instantly print designs you could only previously get with custom stickers or customized rubber stamps.
Opte™ Precision Skincare Personal Printer
Another company also demo'd their inkjet technology printer at CES this year. Opte™ Precision Skincase (https://www.opteskin.com/) officially launched their personalized handheld inkjet printing device that instantly makes skin hyperpigmentations "disappear". Their product, labeled the Opte™ Precision Skincare System, essentially makes blemishes and general imperfections of the skin a thing of the past. Opte™'s new printer quickly scans the skin as the device is gently rolled over the face, forearm or any visible area. Using an advanced digital camera, The Opte™ printer scans the skin at a super fast 200 frames per second; detecting and correcting hyperpigmentation with enough precision to visibly correct a myriad of skin-related problems.
The Opte™ Precision Skincare System was awarded an Innovation Awards Honoree for 2020 by CES in the Health & Wellness category. Premiering at last year's CES, the Opte™ Precision Skincare System printer has been revised for this year's CES, is 70% less expensive and has a scanner that processes skin images more than 30% faster while featuring a better, clearer OLED screen. The technology behind the Opte™ Precision Skincare System printer prints via a totally custom "thermal inkjet printer and cartridge picolitre droplets of Spot Optimizing Serum on target areas until there is a perfect color match with the surrounding skin tone", according to the CES Innovation Award Honorees web page. Opte™ hopes to help make anti-aging creams a thing of the past with their new device. The Opte™ printer is slated to go on sale this summer.
Teaching an Old Printing Dog New Tricks
Consumer inkjet printers have been around and readily found in homes since the 1980s. These new skin printing printers work essentially the same way that your ordinary home and office inkjet printers operate, by placing small, pin-drop sized ink droplets onto a surface in order to create an image or design. While many different types of inkjet printers drop or form their droplets of ink in varying ways, the technology that represents how inkjet printing works essentially remains unchanged. Applying this technology to skin and other non-traditional surfaces is still in its infancy and hopefully it will continue to mature with time. We look forward to future revisions from these two companies and hopefully new offerings from others.
Traditional printed products like customizable stickers and professionally made rubber stamps are still an excellent way to apply graphics and ink to skin and non-paper materials. Consider these great offerings from Overnight Prints: custom rubber stamps and custom printed stickers.