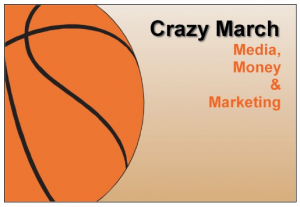 According to Kantar Media, the annual three-week NCAA Men's Basketball Championship is the second biggest postseason sports showcase for advertisers, out-earning the Major League Baseball playoffs and World Series, the National Basketball Association playoffs and Championship Series, and all 35 college football bowl games.
The NFL playoffs and Super Bowl are the only U.S. sporting events that earn more advertising dollars.  The total TV ad spend is expected to be well over $2.5 billion in 2012.  That's more than the economy of Greenland (and 50 other countries).   And that's not counting advertising in newspapers and on the Web.
Bring Your A Game
With all of the money flying around (not to mention basketballs), it's fair to wonder how you can profit from all the hoop-la.  Hang on to the last quarter for four ideas to use for your clients, your favorite fan, or yourself.
Technical Foul
Don't use the term "March Madness" in your promotions unless you're an approved, official sponsor of the tournament.  If you aren't a sponsor, the NCAA can sue you.  And win.  "Elite Eight" and "Final Four" will also earn you a penalty situation.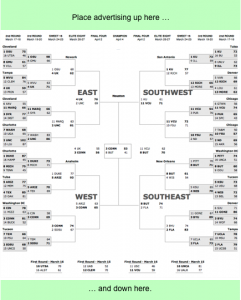 Double Bonus
It's okay to use the idea of "March Madness" in things such as 1) plays-on-words or 2) things to do with brackets; just don't use the actual trademarked terms in a commercial context.
The Final Four Ideas
1. Given the popularity of the March Madness Bracket Tournaments, print posters with blanks that can be filled in as the games progress.  Place advertising along the bottom.
2. Create a basketball themed postcard for a mailing or other distribution.
3. Although not as much a party event as the Super Bowl, basketball addicts do get together.  A digital save-the-date postcard is quick and inexpensive.
4. The rabid college hoops fan can support her team all year-long with customized team-specific address labels.

Here's a basic address label template for a basketball fan that can be completed in less time than a 24-second violation.


Now go out and cut down the nets!
–BR