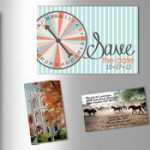 15-20 times a day: That's the number of times the average person opens the refrigerator each day. That alone should convince you to incorporate refrigerator magnets into your marketing mix.  The exposure that your custom branded magnet could generate if it were stuck to the refrigerator of a large company could be invaluable. The ROI may very well be worth its weight in gold. Even if it were placed on an individual household refrigerator, the magnet would cause the homeowner to think about you up to twenty times each day. Magnets are affordable, practical, simple and effective advertising tools.
Here are 11 ways you can use magnets as promotional tools:
Business card magnets
Personal or professional photo magnets
Give them out and promote them as a handy tool for picking up stray paper clips and safety pins
Ensure attendance at special events with Save the Date magnets
Give away calendar magnets with your contact information and logo
Give branded magnets as a handy way to pick up small objects that fall under car seats.
Increase traffic at trade shows with magnet giveaways
Give them to customers to thank them for their purchase
Create customized "tool kit" magnets. They can be used by men everywhere to pick up loose screws and bolts
Make "sewing kit" magnets. They can be used to pick up and hold onto loose needles
Offer 10 percent off when the magnet is used as a referral source
A Baylor University study suggests that companies who give promotional gifts to customers receive 22% more referrals than those who don't.
 Southern Methodist University in Dallas, Texas conducted research that revealed customers who received promotional products re-ordered up to 18% sooner than those who received coupons.
 Lastly, magnets are lasting and memorable. This simple promotional tool is the perfect way to advertise your small business without breaking the budget.