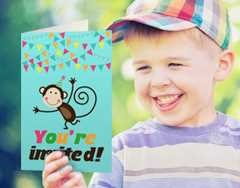 Remember when you were a wide eyed 6 or 7 year old filled with awe and wonder? Receiving a handwritten birthday invitation in the mail was more exciting than getting a letter from the President of the United States, or the Royal couple!  You were bursting with anticipation as you tore into the envelope. Wow!
Recapture that excitement for your little one's big day with paper invitations.  Paper invitations are even more revered today than 25 years ago, thanks to the digital era.
If you want to plan a successful, fun-filled birthday bash for your special prince or princess, start with state-of the art invitations. If you are lost for a party theme, borrow an idea from this list:
Draw inspiration from the Great Mother Goose with a nursery rhyme themed party – select from one of these timeless classics:
Jack and Jill
Humpty Dumpty
Mary Mary Quite Contrary
Hickory Dickory Dock'
The Old Lady in the Shoe
Super Hero Party
Batman
Superman
Wonder woman
Bat girl
Other Popular themes for kids ages 5-12
Pirates (everyone dreses as a pirate)
Princess Party (give out tiara's to all the little girls)
Beach-(Arrange for a slip and slide or shallow plastic pool)
Dr. Seuss: All attendees receive a Dr Seuss book, and the birthday girl or boy dresses up as their favorite Dr. Seuss character
Remember though that the seed of excitement is planted with colorful, dashing invitations. The buzz can begin long before the big day if you use the right ones. Here are a few pointers for creating state-of the art party invites that will wow 'em!
Use a reputable, high quality online printer to help you create bright, bold exciting invitations. Some printers offer a nice collection of pre-designed templates that can be customized with the child's information. Otherwise, you can work with a good graphic designer to help you create a look perfectly tailored to your child.
Make sure you use bold, crisp colors,and thick, durable, paper stock. For a more daring look add a little bit of gloss or "spot uv."
Take your invitations to the next level with bright, matching envelopes and eye-catching address labels. You'll be the talk of the town and your child will feel like the king or queen of the neighborhood.