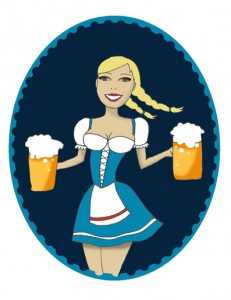 How would you like to open your mail box to discover a bona fide European postcard from a picturesque, quaint medieval German town?
On the front would be a picture of cute German maiden, clothed in a colorful traditional dirndl – (German for ruffled apron, bodice, and skirt).  For the record, this garment is a type of tracht, which historically was used to help identify certain social or political classes. That's your history lesson for the week. Now back to the postcard: The young lass would be serving up a tray of your favorite hops, with the breathtaking snowcapped Alps in the background.
You can actually send or receive such a novelty for the mere price of five dollars. I stumbled across the ad while researching postcard marketing in Germany. Incidentally, The German term for postcard marketing is postkarten-drucken (your language lesson for the week).
As the story would have it, a German college student is showing a bit of entrepreneurial flair. We'll call her Anke. Anke is earning extra cash by offering to send a postcard anywhere in the world, from her scenic medieval town in the German countryside, for five dollars. She advertises in a global online marketplace for micro-businesses.
What's even more impressive, in some areas of Germany print marketing is stronger than ever.The German research firm, für Handelsforschung, together with a European marketing agency, polled 4,000 consumers, and found that more than 80 percent had a favorable view of print ads and personalized direct mail.
Seems the entrepreneurial student couldn't have launched her service in a better time.
How about you? If you have an ecommerce store, and can ship anywhere in the world, take the lead from Anke. Market your product or service in Germany.
And if you should decide to up and move to Germany, by all means, check out our sister company: postkarten-drucken. They'd love to set you up with postcard mailers, flyers, and all your print needs. All we'd like here in the U.S. are a few pictures now and then and a little update. And if you should happen to run into Anke, tell her Hallo and Gut gemacht from Overnight Prints!