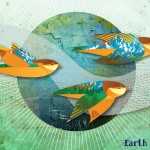 Americans everywhere  will be doing their part this Earth day (April 22nd) to support the environment.  But as an entrepreneur, why not save the planet AND your bottom line every day, with simple "earth themed" notepads?

Use branded notepads to advertise an "eco-friendly" commuter promotion.  Give every customer who walks, rides a bike or takes public transportation to your business this month 15% off. Place the promotional notepads around town and make an announcement on your website.
"Earth month" recycled shopping bag giveaway. Fill four recycled shopping bags with free swag.  Give one lucky customer a free bag each week this month. Advertise the giveaway with promotional branded notepads and postcards.
Hold a "green" contest: Ask customers and prospects to post their best ideas for reducing waste on your Facebook page, or a designated section of your website.  Use an online printing service to create promotional notepads announcing the contest. Include entry guidelines and a submission deadline. Give a notepad to each person who walks in or makes a purchase during the month. Finally, reward the top three entries with valuable prizes like free product,  cash, or a massage gift card.
Place a QR code on promotional notepads.  Each scan can trigger a $2.00 donation to an environmentally friendly organization.
If you're  a hair dresser, hold a "cutahon" on Earth Day (April 22). Give 30% of the proceeds to an earth friendly organization. Advertise the event with branded notepads.
Create notepads with special "Earth month coupons." Offer 20% off selected items during the month of April.