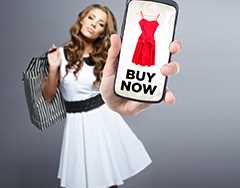 75% of Americans admit to bringing their phone to the bathroom.
Startling, but true. Just take look around – We as a society are addicted to our mobile devices. And it's not going away any time soon.
In fact, by this time next year, mobile shopping is expected to take over desktop shopping.  If you are thinking about optimizing your small business website for mobile shopping, first consider these important factors:
Your current website may be successful, however that doesn't mean it will work well for mobile shoppers. A number of recent studies show that if a site is not properly formatted for a small digital browser, users will go elsewhere.
If you want to make the transition to mobile, keep in mind that almost everything about your existing site will need to change, including the user experience.
In addition to the differences in technology, Smart phone users have different buying behaviors and expectations than desktop/laptop shoppers.
 Everything about your site will need to change; including the features, fonts, graphics, messaging and user interface.
 Mobile users expect immediate gratification, and are usually in a hurry. This means the basic workflow of your site, as well its purpose and structure will need to be repurposed by people who know mobile intimately. If you are committed to going mobile, these five factors are a must:
1. Less is More: Scale Down
The content on your site should be compelling, simple and easy to navigate.  You'll need to engage the smart phone user in 30 seconds or less, in order to be successful. Remember the old WIIFM (What's in it for Me? the shopper). Remove any fluff or irrelevant information from your landing page. Your home page should tell customers why they are there, what they can get, what it will do for them, and how they can get it, in 30 seconds or less.
Fortunately there are a host of online services that can easily convert your site and make it mobile friendly (: http://www.mobilizetoday.com).For those who prefer to DIY, there are a number of good tutorials. http://www.google.com/think/collections/make-website-work-across-multiple-devices.html
2. Accept Mobile Payments
Many small business owners are already using mobile payment devices. Providers usually charge a fee between 2 and 3% per transaction, or give you the option of paying a small monthly fee for the device. Some of the more recognizable mobile payment products come from companies like PayPal, Intuit, and Google. If you are new to this arena, do an online search for best mobile payment providers. Some websites offer a side-by side comparison, making it easy for you to see which one will work best for you.
3. Offer Mobile Deals that are Hard to Resist
Announce a special offer exclusive to mobile shoppers.  For example, every mobile shopper can receive free shipping, or 25% off on their first two purchases. By consistently offering mobile deals, you'll encourage customer loyalty and generate word of mouth advertising.
4. Promote your Mobile Shopping Site with Old Fashioned Print Marketing
Good print marketing is a very effective way to promote your mobile site. It serves several purposes: assures those who aren't ready to go mobile that you will still cater them, generates leads, and increases awareness. Combine the announcement with a special promotion for best results. Make sure you include a great call to action that will compel readers to act now, and visit your store.
First 100 mobile shoppers receive an extra 15% off entire store.
            Offer good through end of month.  Buy now. www.mymobilesite.
5. Test your new mobile site with a group of smartphone users prior to launch.
Ideally, each tester should have a different type/brand of phone. This will allow you to catch potential errors, and ensure a smooth process.
What are you doing to get your small business ready for the mobile shopping boom?