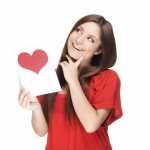 You are a single attractive male or female catching a bite to eat on your lunch break. You get up to use the restroom, and when you return, someone has discreetly placed a flirting card on your table.
The message on the card reads: "This is your Get out of Awkward First Date Free card." The admirer's picture is on the back of the card, along with his/her contact information. What would you do? Would you take the bait?
Overnight Prints posted a similar question on Facebook. We asked our fans "What, if anything do dating and business cards have in common?" We gave a fifty dollar free print credit to the three most creative responses. My personal favorite answer: "Some are boring, flat and dull, while others are shiny, colorful and exciting."
The ingenuity of the responses inspired me to take the question a step further. I decided to take it to the streets of Southern California and ask people how they felt about giving or receiving a flirting or dating card.
The first person I asked, a 50-something single male said he could definitely see discreetly handing a customized flirting card to an attractive woman. I asked him what his card would look like:
He said it would be sleek and sexy, and include several photos of him participating in his favorite sports – like water-skiing, biking and swimming. This strategy he thought would help him land a like-minded athletic, sexy and adventurous gal, with similar interests.
A gal in her twenties loved the idea of a flirting card. She said she never thought of it, but she might just have to go online before Valentine's Day and design a card. She liked the idea of inconspicuously handing out a card, without providing too much personal information.
The majority of males I spoke with said they felt more comfortable with the idea of handing an attractive female a flirting card, than asking for her number.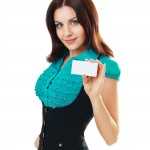 The really shy ones said they would sit back and wait to make their move. Hypothetically speaking, if they were in a bar or restaurant, and saw an attractive woman sitting across the room, they would wait for her to go use the ladies room. Then, they would wander on over and carefully place the card on her table. Chicken or Romantic?
As it turns out, it seems that dating and business cards do have a lot in common. If you've been looking for love in all the wrong places, what are you waiting for? Go online and design a flirting card. While www.overnightprints.com doesn't have a section especially devoted to flirting cards, they do offer a number of sensual, floral and colorful eye-catching templates.
If you are single and want to add a little spice to your search for love, design your card now. Use colors, images and themes that exemplify your personality. The message can be humorous or basic. For instance, "Next move is on you" or "Life's too short – Let's Flirt." You might want to include your Facebook or Google plus profile, if you don't include a photo.
If you've had success giving or receiving a flirting card, let us know.