Now that those year-end holidays are behind me I've got my sights set on the next big holiday.  Well, it's not exactly a holiday, but it rivals New Year's Day and the Fourth of July for sheer festive celebration.  I'm talkin' about Super Bowl Sunday!
There's nothing like hanging out with friends, brews, and a wide screen TV.  Who's playing? Does it matter?  It's a party, and rumor has it that we might even be graced with a Gangnam style commercial by our favorite global sensation, Psy!


I'm definitely in the mood for a party, so I thought I'd try my hand at designing my Big Game invitations.  I've got a few options.
Design an Invitation
I can upload my own design on the Overnight Prints Invitation page, with a choice between three sizes.  Since I have a lot of text information to convey I want my design to be simple and uncomplicated.  Some of the motifs I've been considering include:
Event Ticket
Green football field with white yard lines
Funny cartoon of a Referee
Football stadium
Silhouette of a football player
Gangnam style invitation
Use a Postcard Template
If I want to save myself the hassle of creating a design from scratch, I'll go straight to Postcards.  There are several templates suitable for this All-American favorite event.  I'm leaning toward the one with two opposing football helmets, but I'm tempted to design one where Psy is dancing his way to a touchdown.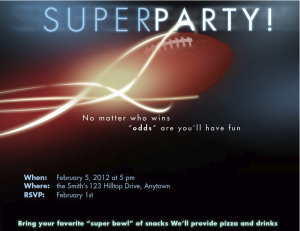 Go Rogue
Who says I have to use a traditional invitation layout?  The 4" x 9" Rack Card format is great for a gridiron theme, and I can forget about ordering and addressing separate envelopes.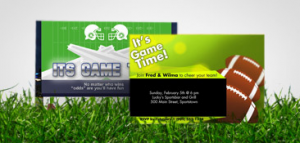 If you want to join me and design your invitation at Overnight Prints, I'll give you some pointers, but I won't reveal my trade secrets just yet.
Go for the gusto. The designs for the Big Game invitation can be as creative or as corny as you can muster.  But it's important to remember the basics of an invitation: the who, what, why, where and when.
Who: If your friends all know you as "Rick and Maggie" don't go all formal and list yourselves as Richard and Margaret Hendrix.  Conversely, if you're inviting the entire office or some distant relatives, don't just put "Bob's house."
What: It's worth mentioning that the NFL has trademarked Super Bowl® and Super Bowl Sunday®.  Seriously.  It's unlikely that they would come after you unless you're holding a for-profit event, To avoid a penalty though, its best to comply with the terms.  A commercial for Planters nuts once parodied this, saying "it would be super…to have a bowl…of Planters nuts while watching the big game!"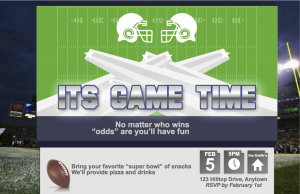 Why: This is probably the least of your worries, since your intent should be clear, based on your headline, image and theme.
Where: Where are your friends coming from—down the street or two states away?  Do they already know where you live, or will this be a first visit?  Do you need to include your city, or maybe even a map?  Be sure to include all of the details if you're holding the event somewhere other than at home.
When: The most important info.  Don't take it for granted that everyone knows the date.  Your nerdy nephew may not know, but you still want him there (or do you?).  And unless you want frenzied fans showing up while you're still mixing the dip, include a start time.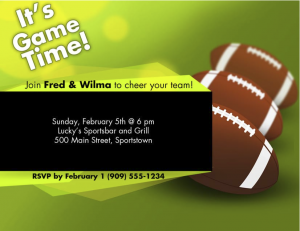 Finally, decide if you want guests to RSVP.  If you're ordering pizza you'll probably want to know how big of a crowd to expect.  If you are comfortable with people just dropping in, I applaud your laid-back style.  Nevertheless, you should include your phone number in case folks get lost and need directions.
Have a great party, and enjoy the commercials, if not the game!