SXSW's Flatstock is a Gallery of the World's Best Music, Movie and Pop-Art Poster Artists' Designs
For this year's Flatstock, part of SXSW in beautiful Austin, we highlight a few of the gorgeous prints from the 78 talented exhibitors that will be on display. For many years now Flatstock has promoted the creative artwork and artists of the music genre. These beautiful posters are designed to get the attention of music lovers and provide information such as venue or concert locale, dates, opening and closing artists, tour information and more. Bands and artists have used large, multi-colored posters with catchy and elaborate designs for decades as a way to promote upcoming concerts, gigs and album releases. It's in every artist's best interest to create eye catching, beautiful posters that are often more works of art than announcements.
Posters have been a collectors item for as long as artists have been creating them. Music posters are big sellers with bands routinely selling reprints of their old concert posters to fans and collectors. A lot of artists include limited edition posters with sells of their albums and other offer high res versions of their concert posters for download, often for free, allowing their fans to own high-quality print posters that they then can hang in their garage or bedroom.
As SXSW guests will see at Flatstock 65, poster artwork can even achieve a new life long fandom after the bands pack up their instruments and head off to the next gig. The Flatstock exhibition, which runs March 15 – 17 at the Austin Convention Center during the SXSW festival, showcases works by some of the world's best music gig poster designers.
Whether promoting an established act or underground band, successful concert art finds a creative way to reflect musical ideas with visual elements. The following iconic gig posters have transcended simple advertising to become true works of art.
Dave Matthews Band at MidFlorida Credit Union Amphitheatre, Tampa, FL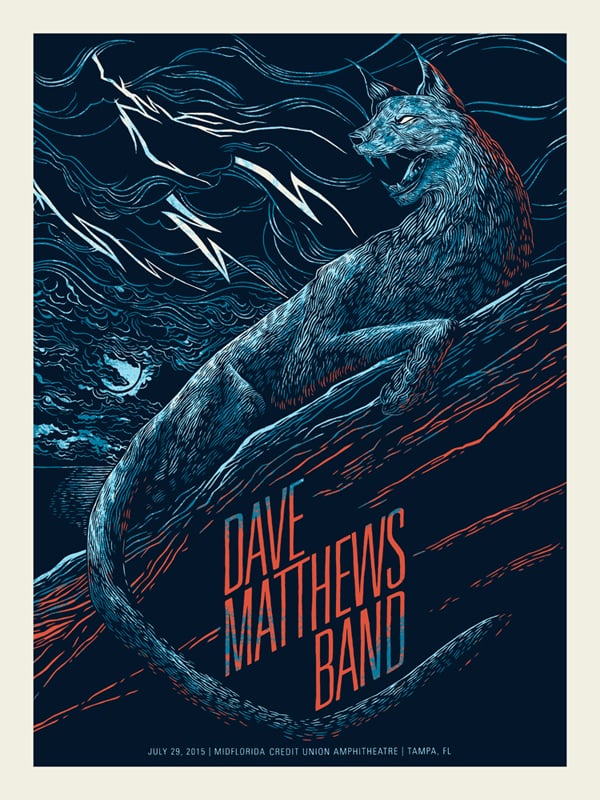 July 29th, 2015
Design by John Vogl
This beautiful four color print was issued on a color screen print that measured 18″x24″. Designed for Red Star Merchandise and created by John Vogl, this blue, red and white poster can be purchased at thebungaloo.com.
Primus, Highland Brewing Company, Asheville, NC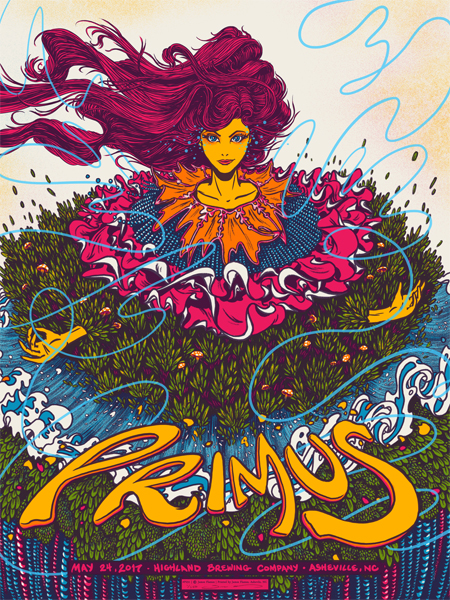 May 24, 2017
Design by James Flames
This five color 18″ by 24″ print draws heavily on nature as a theme. James Flames awesome use of color makes it appear to include much more than just five colors. The energy and motion dictated in this piece is palpable.
Andrew Bird, April 14th at the Royal Oaks Music Theatre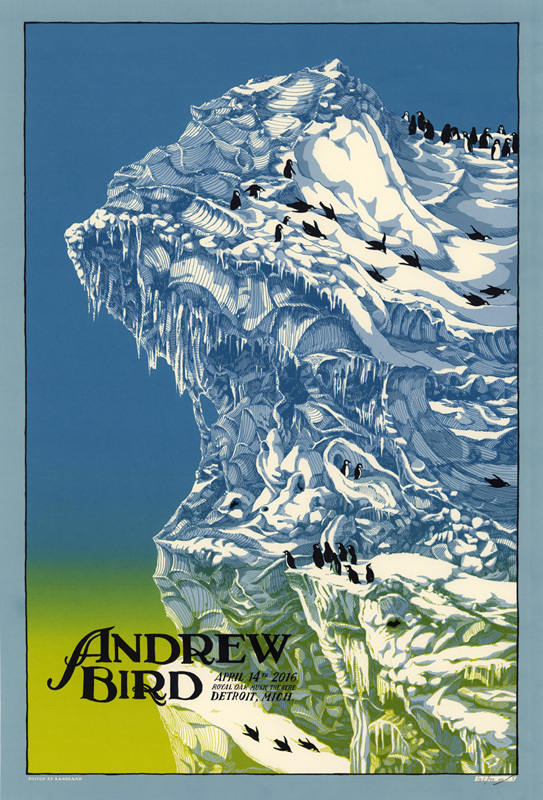 April 14th, 2016
Design by Jessica Seamans
Andrew Bird may not be a well known artist but it's easy to picture serine, calm persona of the performer. It's hard to imagine Andrew was once a member of the rowdy and lively Squirrel Nut Zippers.
Unknown Mortal Orchestra, August 26th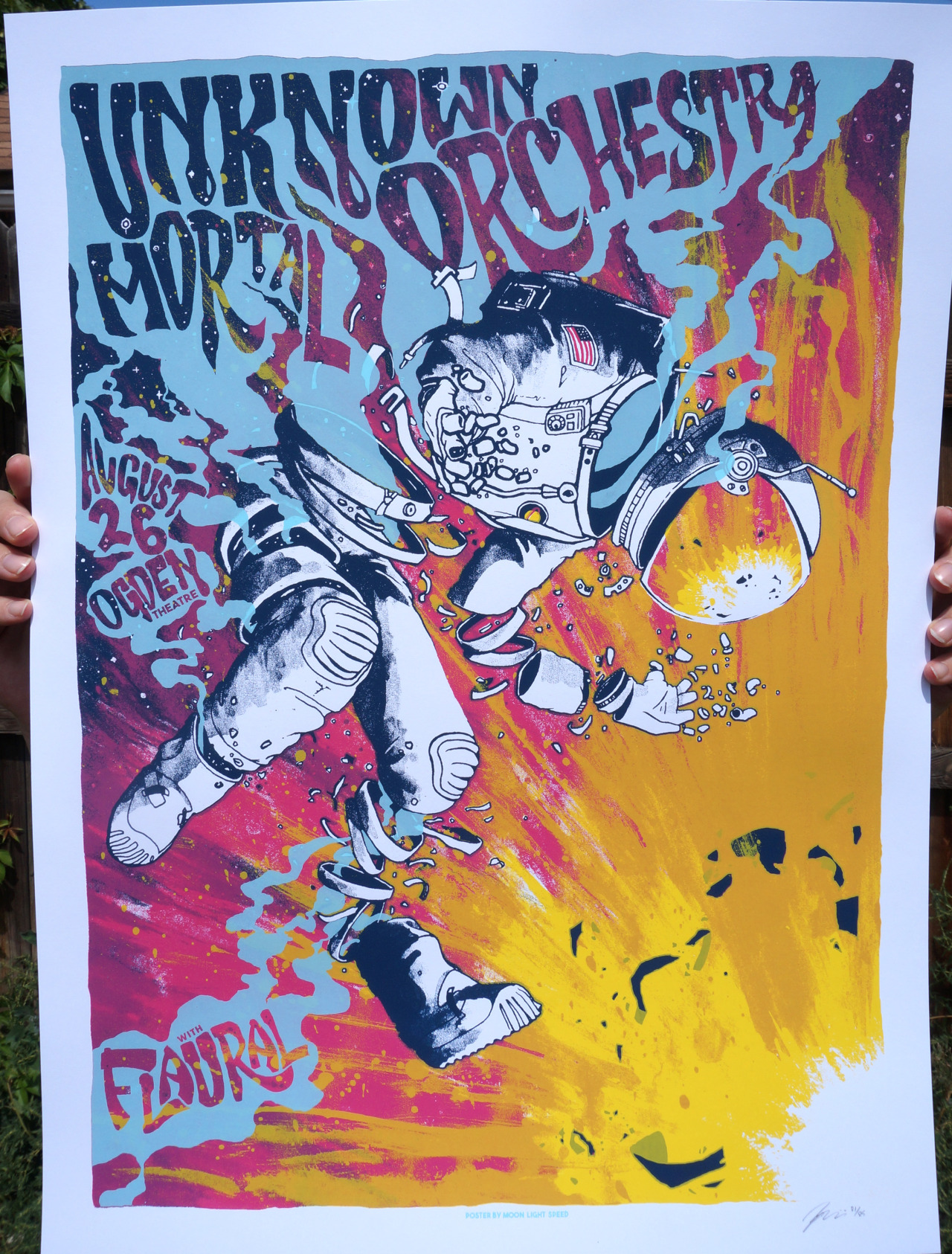 August 26th, 2016
Design by Moon Light Speed
Definitely an office favorite here at Overnight Prints. This multi-colored space odyssey is vibrant and chaotic in tone and font. Music listeners unfamiliar with Unknown Mortal Orchestra may get an overwhelming desire to check them out after viewing this piece.
Metallica in Concert at Comerica Park, Detroit, MI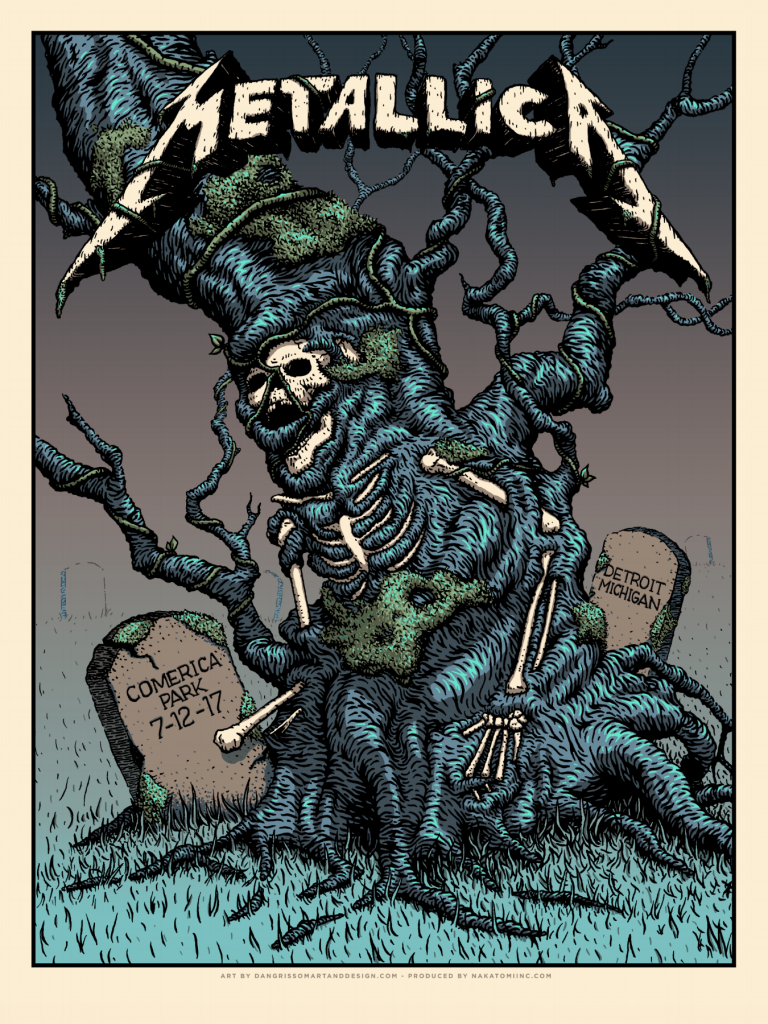 July 12, 2017
Design by Dan Grissom
Instantly recognizable, the burdened skeletons and sharp, rusting font are hallmarks of the band Metallica. What heavy metal fan doesn't find this poster mesmerizingly beautiful. A simple six color print, this poster was a homage to Metallica's older posters and a perfect advert for the band's 2017 tour.
Create your own musical masterpiece with custom print posters at OvernightPrints.com