There are people who love to shop. Then there are professional shopaholics whose job it is to make sure those very people never leave the store empty-handed. Twice a year, these tastemakers attend ASD Market Week, a B2B shopping and education event held in Las Vegas for buyers of wholesale retail merchandise.
More than 45,000 buyers from 90 countries shop till they drop at the retail industry trade show. These buyers spend some serious dough per show. We're talking an average of $82,500 each time, adding up to $2.8 billion annually across 19 categories including beauty, fashion, fragrance, jewelry, home accents and souvenirs.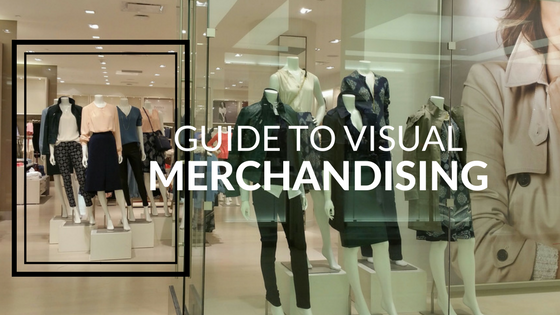 As a shop owner, putting your new merch on the racks or up on the shelves is only the first step to actually selling it. Turning a nice profit involves a few extra steps. Understanding visual merchandising for how and where to place those goodies will boost their appeal. When supported by promotional materials, your products will go flying off the shelves.
VISUAL MERCHANDISING
Visual merchandising is an art and a science. Truth is, you don't need to be a talented artist to create an aesthetic arrangement, but it does take some creativity to make displays that sell like hot cakes.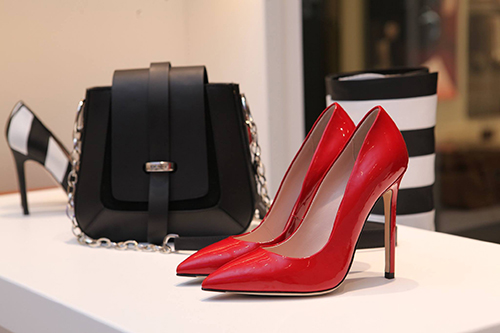 Theme
Group like items together. Sensing a theme? Customers relate better to groupings of related products. Essentially, it's the idea of selling a lifestyle. Show customers a complete outfit or full set to help spark the imagination. If they can see themselves using the product, they will buy it.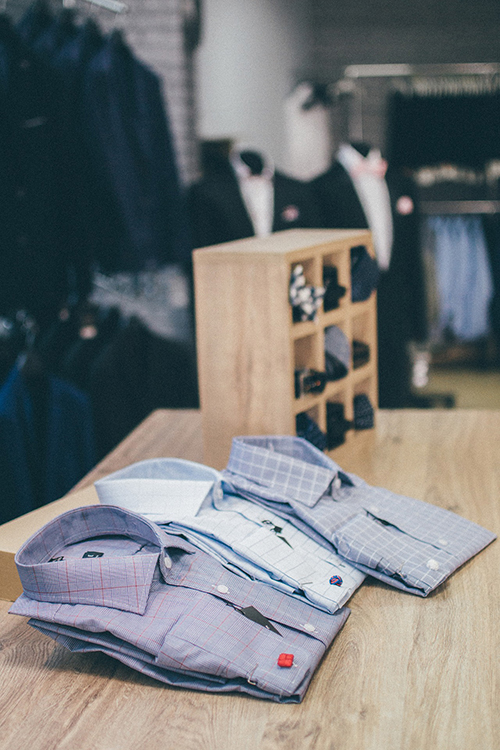 Rule of Three
Count with me…1…2…3. The Rule of Three in visual merchandising is an easy one to follow: Display three items together. The explanation? An asymmetrical grouping draws the eye because it looks out of balance, which then piques interest and is more likely to be remembered.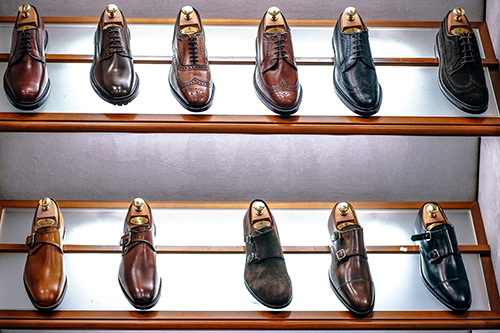 Lighting
The theme of three continues with lighting techniques that spotlight your merch. (1) Primary lighting usually fills up the entire selling floor with overhead lighting. (2) Accent lighting focuses on certain display areas and can break things up. (3) Ambient lighting is added for atmosphere, pitting light against shadow for dramatic effect.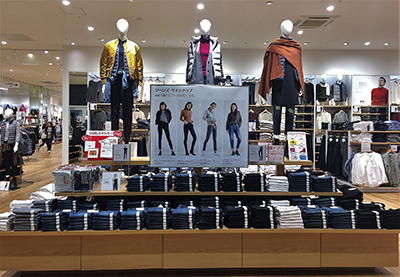 Pyramid Principle
Race to the top of the pyramid with a tried-and-true method for displaying merchandise. Establish a hierarchy with a triangle-shaped display featuring a large item at the top and smaller items that cascade from this focal point. The visual contrast engages customers and moves them toward the cash register.
CROSS MERCHANDISING
Any online shopper is familiar with the phrase "Frequently bought together." This hook is called cross merchandising, or displaying unrelated items together. Here's a quick example for brick-and-mortar stores: A mannequin wearing a bikini with a pair of sunglasses, matching sandals and a beach bag on her shoulder, all with signs for new summer arrivals. When the customer enters in search of one of the four items, she will see all displayed nearby.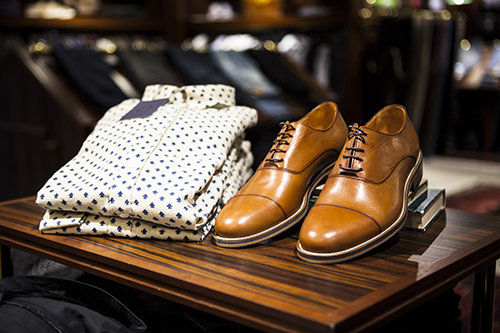 The technique is subtle, but a powerful one. Selling an entire outfit or lifestyle instead of single products attracts attention, increases sales and builds customer loyalty. Consumers WANT to be shown what's fashionable, how to pair outfits, and most importantly, an easy shopping experience. Stores that consistently curate head-to-toe looks and suggest product sets will enjoy repeat business from shoppers who frequently buy related items together. Makes sense now, doesn't it?
PROMOTIONS
Two retailers carry a similar baby blue cotton dress. Store A labels it as a "seasonal item," announces a limited stock, and marks up the dress by 15 percent. Store B puts out the dress on a rack for $15 less than its competitor. Yet Store A sells out first. Why the difference?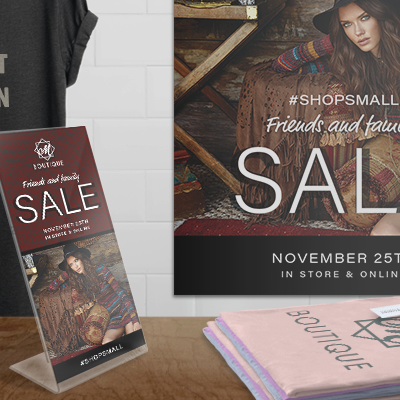 A product that screams "Buy me!" from the store window is obviously more interesting than one that blends in with everything else. Create intrigue with special promotions that offer deep discounts, an intimate customer experience, exclusivity, etc. The point is, get to know your customer base and what gets them to reach for their wallets.
Markdowns – Everyone loves a good bargain, but markdowns also benefit the store. When you need to make room for next season's arrivals, put last season's merchandise on sale to clear space. Budget-conscious customers don't mind putting away holiday décor or winter coats for a whole year if it saves them a good chunk of money.
Window display – Use store windows to open the doors to customers. Hang up flyers and posters with a bold call to action to announce sales and other promotions happening in store. Keep things simple and create a focal point that draws attention.
Loyalty program – Listen to your customers. What they really want is a reward for spending money with you. Personalized offers based on preference or purchase history shows appreciation, which keeps them coming back and spending more.
Host events – Another form of customer appreciation is to throw parties. Cater a themed or seasonal event, like hot dogs for Independence Day, or host a class that teaches how to use products, like a cooking demonstration. Free events will bring in new and existing customers, successful events will seal the deal.
Social media – Customers want to feel like part of an exclusive community. Social media allows you to engage with customers, market often and create brand advocates. Happy customers will tell the world about great purchases and shareable deals, which grows your business with little effort and even less ad spend.
Exhibit – Step out of the store to bring customers in. Setting up a booth at local fairs, festivals, trade shows and the like gives customers a small peek of your physical location. If you're able to sell, bring a small sampling and print booklets as full product catalogs to ensure they are not one-time buyers.
SIGNAGE
Your goal? To increase foot traffic while maintaining your budget. What tools do you have? Your store, your products…and your online print provider. Indoor and outdoor signs have the power to influence buying decisions. Leverage quality signage to drive traffic in and sales up. What makes retail signage so effective is the ability to communicate to customers directly.
Do not underestimate the value of retail signage. Signs are sometimes the first, and hopefully not final, interaction a customer has with a store. Inexpensive flyers and posters give context to a window display, entice with a sale or promotion, spotlight specials and featured items, navigate to points of interest, etc., without the expense of hiring more staff.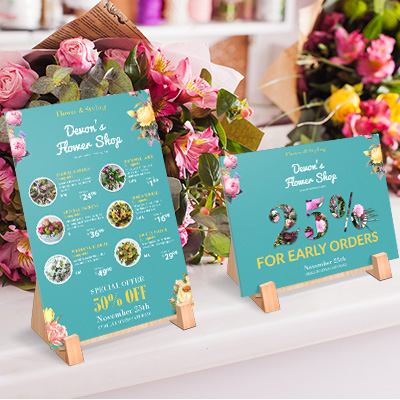 It's important to consider sign placement. First, who are you talking to? Motorists, people walking by or shoppers already in the store? Second, what do you want to say? Are you trying to attract attention, upsell an item, clear inventory, etc.? Think of your overall strategy before deciding where to display your sign.
Types of Signs
Directional signage – Wayfinding signs tell customers where to go. Making the store easy to navigate creates a more pleasant shopping experience, especially in larger spaces.
Outdoor signage – Sidewalks are high traffic areas that can be incorporated into your marketing strategy. Position by the sidewalk to attract motorists or place in windows for passersby to window shop.
Informational signage – Sales and promotions persuade customers that they are getting a good deal and value for their money. Place prominently inside and outside the store to advertise deals and discounts.
Persuasive signage – Callouts like new arrivals, seasonal items, sale items or featured products create a sense of urgency for customers to act fast. Phrases like "Last Chance" and "Sale Ends Today" move the clock faster to get merchandise out the door.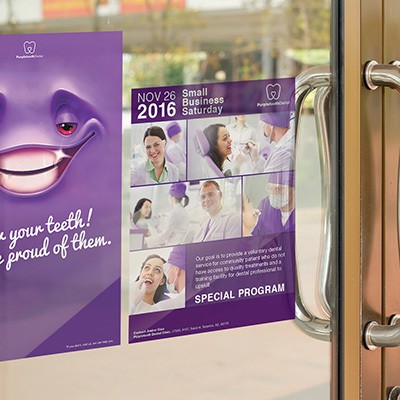 Outdoor signs placed on doors and windows are considered a reflection of the store and its products. A poorly made and/or misspelled sign spells disaster for shop owners. Without ever stepping inside, a passersby may take this to mean your merch is also low quality. On the other hand, an attractive sign might catch the eye of people who were otherwise uninterested in the store.
Inside the store, signage can act as in-store advertising, standing in for salespeople when it's busy. Promotional rack cards and flyers for sales and featured items can capture and hold customer interest until a salesperson is able to attend to them one-on-one.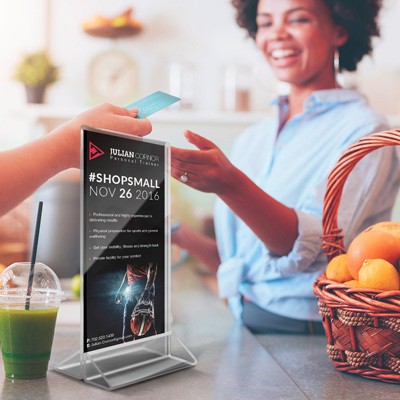 If you want up to 20 percent more in sales, add a sign to displays. According to studies, point-of-sale displays with signs outperformed those without one. This is even more true when comparing signed regularly priced merchandise versus sale items without signs. For example, two products that are regularly priced at $5 can be advertised as 2 for $10, giving them instant value and encouraging impulse buys.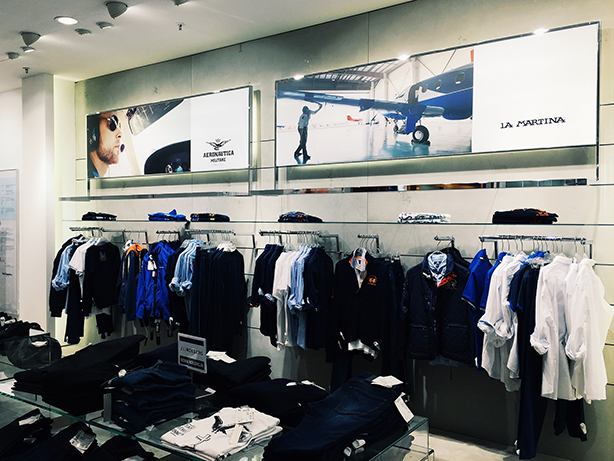 Decorate your store with signs. Not only can it become part of your branding, but it can also encourage purchases. Display lifestyle graphics on walls, windows and counters to inspire customers and help them visualize the product in use.
Believe it or not, signs need not be stationery. Car door magnets work as traveling signs that are highly visible. Professionally printed car magnets turn any vehicle into a moving billboard that can draw new business from all over town.
To create professional store signage for your store, visit overnightprints.com.