During the month of October, artists and illustrators participated in the second annual #SpookMeONP Design Contest. Contestants tagged Halloween-inspired designs and other artwork on Instagram and Twitter to enter for a chance to win free prints.
#SpookMeONP contestants submitted a variety of fun and frightening artwork.
The winner, Nicole Echeverria (@ohnips), submitted black and white pen illustrations of her original comic characters including Young Pinko and Rada from her comic OFFcell (@OFFcells).
As part of the worldwide Inktober art challenge, Nicole created her own daily challenge to capture a different emotion with each drawing. Inspired by her surroundings, the freelance illustrator and comic artist's creative process starts with people or things in nature.
"I get inspiration from real life like friends or even strangers – the faces and moves they make. I like bringing things to life by feeling the energy and putting it into a picture or drawing," said Nicole. "There's also an extra layer when it's your own character like my SpookMeONP drawings."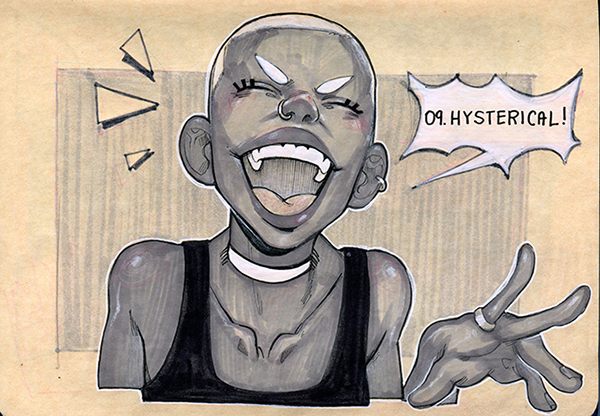 To depict various facial expressions, Nicole always has a mirror next to her to see how the face moves and bends for more realistic illustrations. Each piece takes between 2 and 4.5 hours to complete, depending on complexity and number of characters.
Her favorite technique is to use white highlights and shadows combined with line weight to create depth and dimension. To achieve a three-dimensional look, Nicole favors white charcoal pencils and pens on parchment-like textured sheets.
"Even when you're drawing on a flat piece of paper, the proper technique can help make your art pop off the page and really take form," Nicole shared.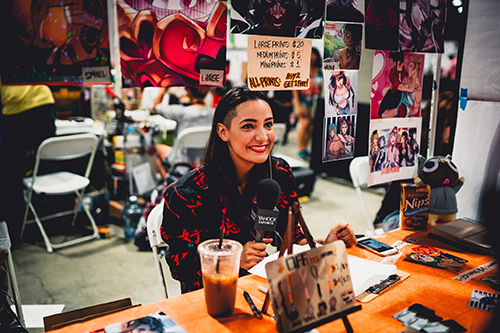 An Overnight Prints customer for nearly 5 years, Nicole prints her double-sided 3.5×2 business cards with rounded corner exclusively with the online printing company along with 2×6 bookmarks, 4×6 glossy postcards, 4.25×5.5 postcards with spot UV, and 16×20 posters of illustration pieces.
For more art and design contests, follow Overnight Prints on Twitter (@overnightprints) and Instagram (@overnightprints).