On a budget?  Overly creative?  Or do you just like giving personalized gifts?  Then do-it-yourself Easter Baskets may just be the perfect compliment for you and the family to this Easter holiday.  We've found a few amazing, do-it-yourself and simple yet crafty ideas for custom, personalized Easter baskets that you and your loved ones can help make.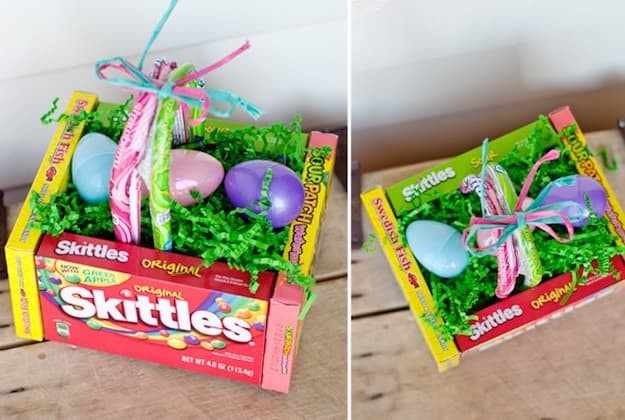 The Candy Box Bargain Basket
This one's an easy one and well within even the most modest of budgets. Just purchase five boxes of your loved ones' favorite candies and glue or tape them together (see picture). Fill graciously with some fake Easter green grass, add a candy handle made from a package of licorice like Red Vines, fill with other edible goodies and tie off with a bow. Viola! Perfect for candy lovers of any age.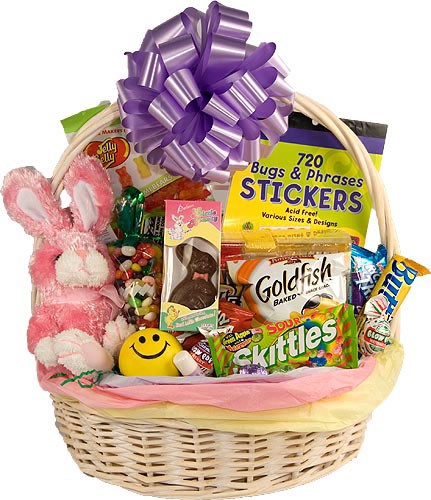 The Classic Easter Basket
The traditional and beautiful choice. Begin with a small to medium sized wicker basket, that can be found in virtually any crafts store or CVS (available around Easter each year). Choose any color you want but stick with something light like white, beige or light brown. Fill the basket with a mixture of bagged candy like jelly beans, candy bars, chocolate bunnies, small to medium sized stuffed bunny, candy eggs like Cadbury milk-chocolate eggs, a small bar of Godiva chocolate, an Easter themed coloring book, package of crayons and box of yellow or pink Peeps. Place everything on some Easter fake grass and add a custom Easter card. Wrap in pastel colored clear wrapping paper and top off with a big bow.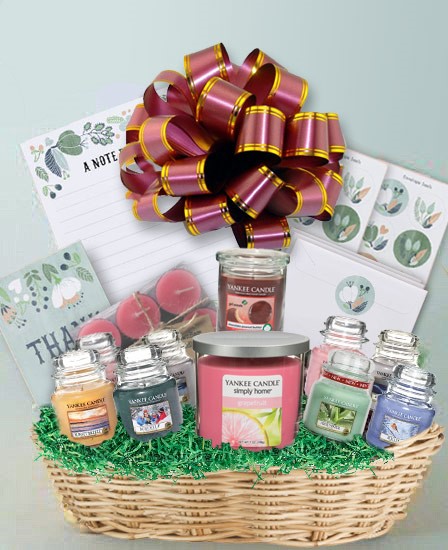 The Candles & Stationery Easter Basket
Perfect for Mom. Start off with a rectangular wicker basket, easily found in most craft stores. Sprinkle a healthy amount of Easter grass on the bottom of the basket. Add an assortment of flavored small and medium sized candles. We recommend Yankee Candles. Add the candles to the basket by placing them in the foreground and then add some personalized/monogrammed stationery behind. Perfect for this basket are personalized letterhead, customized business cards, bookmarks, address labels, personalized envelopes, and customized notepads. Add the stationery behind the candles, arranging like the image above, top off with a large bow.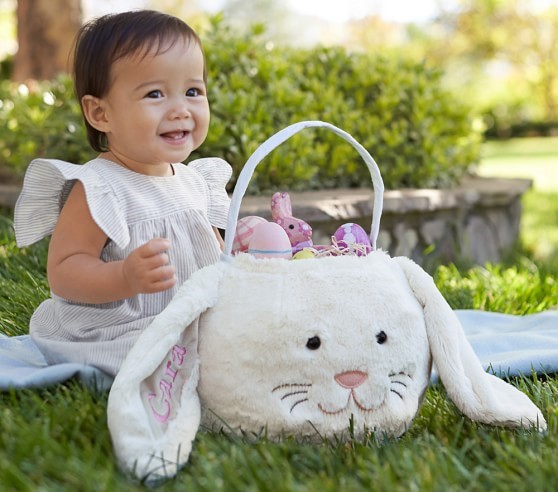 The Stuffed Bunny Easter Basket
Perfect for small children. Start off with a bunny basket. There are a number you can purchase online (like this one at Pottery Barn for Kids) or purchase a medium to large sized stuffed bunny and do a little surgery yourself. If you are keen on the idea of essentially making your own "bunny basket", make a length-wise, top-to-bottom cut on the front of the stuffed bunny, remove much of the white fluffy insides and place a small to medium sized wicker basket inside. Sew just enough of the bunny back up to ensure the basket does not come out.
Once that's done, fill the bunny with some Easter green grass, three to four small stuffed bunnies, a couple of small chocolate bunnies, decorated real or toy Easter eggs, a few Cadbury chocolate eggs, a package of bunny Peeps and bunny gummies and you are ready for Easter with your little one.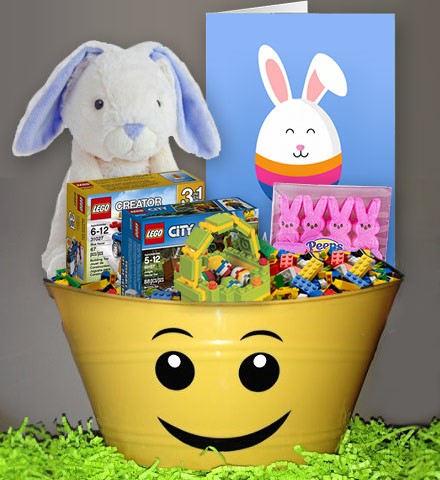 The Lego Easter Basket
Perfect for the adolescent in the family. Purchase a Lego pale or case to begin crafting your basket. Instead of using the traditional Easter fake green grass you are going to use actual Lego pieces. Fill the bucket or case half way with Legos and purchase and place 4 to 5 small Lego sets around as you would in a regular wicker basket. Leave room for some candy and at least one stuffed bunny (you could even go with a yellow colored stuffed bunny). Finally, add in an Easter basket built from actual Legos (instructions here) and top of with a Jumbo Card with a Lego theme and you've got a gift your kid will thank you for.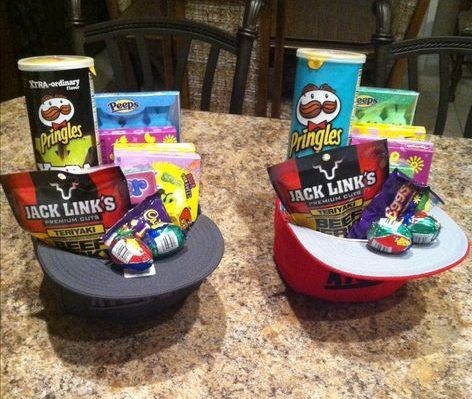 The Cool Easter Basket
Lastly, we have this customizable Easter basket idea from Pinterest (found here). You start off with a new, trendy snapback, possibly from your son's or daughter's favorite sports team or band. Don't worry about that fake Easter grass for this one. Just pack the cap full of your kids' favorite snacks; Pringles, soda, beef jerky, perhaps a package or two of Peeps, chocolate bunny, Cadbury eggs and other candy. You can top it all off with a bow and gift card to your kids' favorite coffee or smoothie cafe. You've got a "basket" that will bring a smile to even the most hard to please teenagers.
Got an idea for a custom Easter basket that you'd like to share? Send your photos or lists to social@overnightprints.com or post your own creations to our Twitter, Facebook or Instagram pages.
Prepare for your Easter service by visiting Overnight Prints for all your print marketing needs.