Photography templates have changed how artists can market their business with less hassle. Photographers spend a considerable amount of time online looking for inspiring collections of unique business cards, brochures, flyers and postcards to help them promote their services directly to customers. With an increased demand for photography services, there is no denying that you can make a lot of money taking pictures.
The world of professional photography is not always rosy though. Getting your first or repeat clients isn't just going to magically happen. The most successful artists today will tell you one thing: Marketing is all it takes to get started. And whether you have been in the industry for a long time or are just a beginner, you cannot make a fortune if you do not advertise your services.
Using printable postcard templates is not only a cost-effective method, but also the best direct marketing strategy that you can depend on for growth. Following are the best postcard templates for a photography business.
Photography Marketing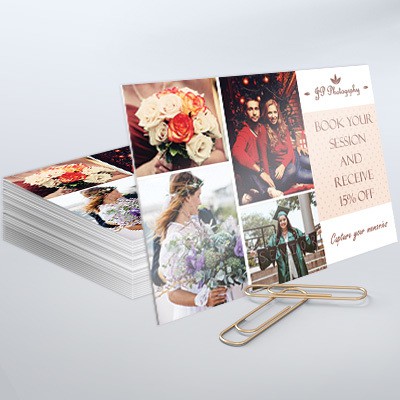 At the very core of any business is marketing. How exactly will people know your brand exists? How will the target audience learn about your products and services? Luckily, you can use photography postcard templates to spread the word.
Postcards are more versatile than business cards with plenty of room for branding. The postcard should inform the recipient about what you do, your rates and your commitment to delivering the best results to your customers.
Wedding Day Photography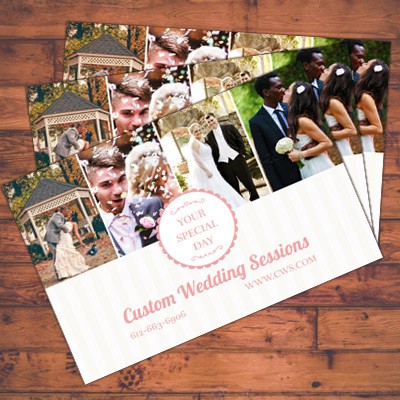 If one thing is for sure, it is that the need for wedding photography will never end. Somewhere in your city today, there is a wedding event going on. Your chances of making money from these unions are high, but customers need to be sure that you can handle the job of capturing their special day before they can trust you with the opportunity.
The wedding photography postcard is perfect for handouts and mailing. If you like to market yourself wherever you go, you could give these to as many people as you come across, wedding guests, trade shows or simply leave them behind at local businesses, such as bridal and tuxedo rental stores, flower shops and bakeries.
Modern Minimalism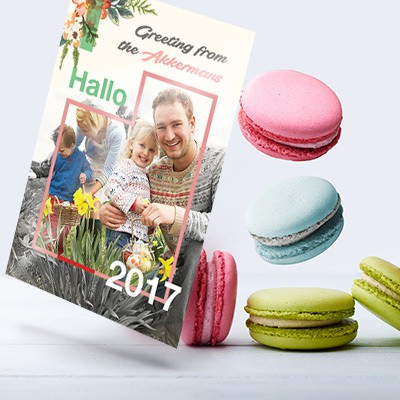 To promote your services without spending a lot of money, use a modern minimalist design. Find a beautiful and fully editable design that uses unique color combinations, beautiful fonts and cool replaceable images.
Although you can tweak the appearance, it is almost always unnecessary to do so. The design is print-ready, so you don't have to spend a lot of time adjusting and customizing the layout of the postcard.
Graduation Photography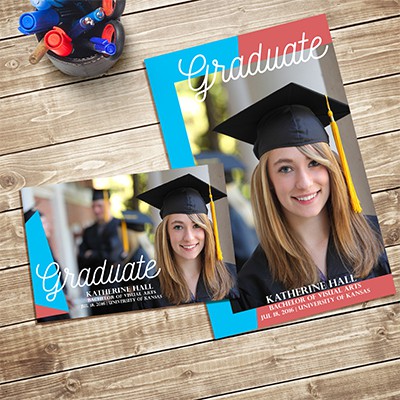 You can use your skills to cover academic events too. Promote at schools to students and parents who are planning for graduation and senior pictures.
If you decide to customize a graduation photography postcard, you will get fully layered Photoshop document files (PSD), linked to commercial-free font and easy-to-follow instructions. It is important to understand that all the colors can be changed. Moreover, you can edit the text by replacing the sample content. You will need Adobe Photoshop to edit this file.
Photography Postcard – For General Use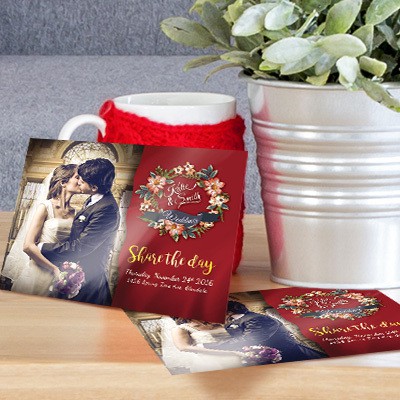 For more general use, you will find creating quality photography postcards quite useful. All you have to do is to download the file, customize the content, and then start promoting your business to potential clients who may be looking for a skilled photographer like you.
Holiday Portraits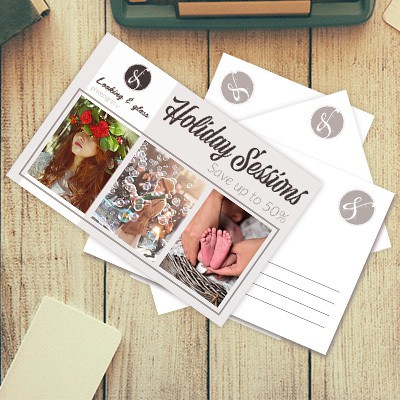 The holiday mini session template is an all-encompassing design, so you can also use it as an event announcement, blog board or photo newsletter. This board design can yield great results. Easy to customize, the 5×7 postcard template features high-quality, commercial-free fonts. Moreover, the CMYK color mode is set as the default, the file can be saved at 300 dpi, and it also supports bleed and safe zones.
Wedding Event Photography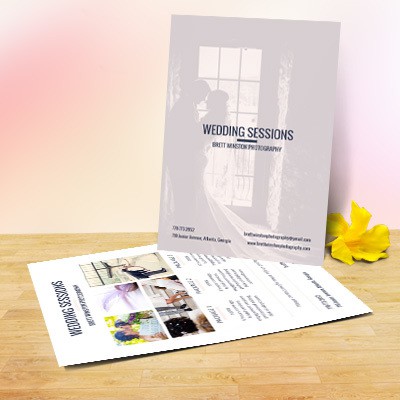 The wedding design template is ideal for a photography studio. It is suitable for seasoned professionals as well as new photogs, and can be used for blog posts, social media posts and emails as well as printed marketing materials.
To order your photography marketing postcards, visit overnightprints.com