Flickr is a great place to network with people and to generate work leads. There is, however, one major problem with using flickr to promote your work: Flickr does not allow the promotion of services or the selling of your artwork. Even though you can't put a price-tag on your design work in Flickr, there is no reason why you can't utilize the massive social networking and community aspect of flickr to connect with potential clients and other design professionals.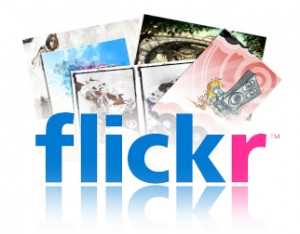 If you haven't already, here is a guide to setting yourself up as a design professional on Flickr:
1. Give yourself a decent screen name.
Your screen name appears whenever someone is browsing groups, searching members pages and when viewing your images, so it's beneficial for you to clearly state who you are and what you do – a web address can be ideal. An example of a good designer name would be:
johnsmithdesigns.com.
Poor names would include nicknames or other unprofessional names:
johnsmith_partymonster!
or
sexy_suzie;)
2.Create an effective Flickr web address.
Long web addresses make it difficult for visitors to share amongst friends and colleagues. By creating a web address, you can use the same name as your screen name.
3. Create an attractive buddy icon.
Your buddy icon will be seen whenever someone searches on flickr for members they want to connect with. Your buddy icon should be a representation of your business. One of your design pieces or a professional headshot would be good. Don't use "drinking" or "compromising" photos of yourself.
4. Write a good profile.
Create a profile page that will attract your target audience. If you're an Illustrator then explain that you specialize in illustration – tell people what mediums you use and who you've worked for – give people a reason to visit your website. Create a laid-back profile of yourself that provides professional details about yourself. Make sure you include all your company information and provide links to all your websites, blogs, or portfolio pages.
5. Be clever about sharing your design work
The designs that you upload to Flickr should represent the type of work you provide for your clients. Your Flickr page should look like a "top-notch" portfolio site. With this in mind, don't include:
Rough work or unprofessional work
or
Family snapshots, holiday pictures, or goofy pictures of yourself (keep those on your Facebook page)
6. Include a description of each design piece
Flickr allows you to add a comment about your design below. Always include a description of each piece. Don't fall into the trap of "letting the work speak for itself ". It doesn't! It just looks like you couldn't be bothered to write anything. Writing a description gives the piece context and shows potential clients that you are a designer who knows their stuff and who cares passionately about his or her work. Explain in your comments:
The challenges you had in creating the design
The programs/mediums/design technique you used – how you achieved certain effects
The client, the brief, and the reasoning behind your design
It doesn't have to massively detailed – just a general idea in a light-hearted tone
7. Include tags.
Tags help search engines and people within the Flickr community pinpoint your design. Include your company name, city and state, your screen name, and key words that will link to your design. These should include; location, name, programs used, art style (vector, digital, mixed media, photomanipulation, etc), company that you created the piece for, and description of the piece.
A good "rule of thumb" when optimizing your design for searches is to imagine yourself as somebody looking for a specific design and style. How would I search for a design like this? What are the phrases that I use when I do my own searches for design work?
8. Promote your Flickr page.
Place a link on your blog and website that informs people that they can see more of your work on Flickr. Showcase new work on your Flickr page – try not to put the same images on both your website pages and your Flickr page. Make your Flickr page your "exclusive" portfolio site.
Utilize Facebook, Twitter, Bebo, Tumblr, Deviant Art and all other of your community and networking sites to link to your Flickr page.
9. Join Flickr groups
Joining design groups that present similar work as your own is massively valuable to you when trying to get more people to view your designs. Searching targeted groups makes it easier for clients to find what they're looking for. People like to look at a wide range of different artists work. It's more interesting for the viewer and it gives them more choice. Flickr is defined by it's photographer and designer groups – that's the reason why it's so popular!
Try to get in with a group that is highly ranked, such as, Art Out Loud. Join as many groups as you see fit. Target particular designs with appropriate groups.
If you have an interest in designs by certain members, you can also choose to make them your contacts. Practically speaking this is rather like bookmarking by designer, except that it goes two ways. You can see a list of all the people you choose as contacts (those whose designs you wish to view) as well as a list of all the people who have chosen you as a contact.
In this sense, Flickr presents a great way to build contacts within the industry.
Unfortunately, groups are either public (invite only), or completely private. Some are really hard or even impossible to join. By making contacts out of people within these groups,  you might be able to "sweet-talk" your way in. Every group has a discussion board and a pool for design, photos, and video. There are usually administrators and members who manage these groups.
As well as using groups as a promotional tool,  you can also greatly benefit from joining groups that are specifically created for client and designer networking. There are also groups that can increase your design software skills with regular info and tutorial posts, such as PSDtuts.
Overnight Prints has started its own flickr group to showcase peopes business cards, postcards, and other print designs.  We would love you to join us and to be a part of our new community of design networking professionals.