There is something about art and designing that captures the heart and makes us feel in awe, and that is what Ben Kwok provided us. He is a Taiwanese-born graphic artist and illustrator who currently lives in Los Angeles. He is passionate about his work and has an undying love for art that is transferred over into every drawing and illustration that he creates. However, getting to where he is now took some time and overcoming many obstacles. He loves creating pieces that are filled with complexity and losing himself in the flow of his art. His highly detailed work is what stunned us along with his close attention to detail.
We are thrilled that we had the opportunity to interview the artistic genius, and also combine his beautiful artwork with some of our print products using spot UV.
What made you become an illustrator?
I remember vividly at the age of 7 I wanted to be a veterinarian or a cartoonist. I wanted to be a vet because I absolutely love animals and wanted to work with them for a living. Who knew there was so much education that was required to become a vet?  Then there was the option of being a cartoonist.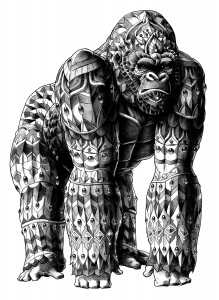 I actually really liked comic books at the time but I didn't know the difference, so I just went with cartoonist. Fast forward to college, I was still not sure what I wanted to do, so I started off as a graphic designer. After my first semester at school, I hated it all. I wanted to draw and not play with fonts and layouts.
That's when I discovered ILLUSTRATION; I never looked back. I get to actually draw with traditional mediums, pencil on paper, paint on canvas, everything made sense. Besides, drawing was the only thing I was good at, so it was easy for me to make the decision to do something art related.
What are your most memorable artwork or designs?
The "Ornate Elephant" is my most memorable illustration. I keep telling this story, but I feel like it's important to share. To backtrack a bit, I hated my job as a graphic artist at a company. So I decided to do something about it and look for another job. I was able to find another job and started working for a new company. After only 1 week they decided to lay me off. I was so angry, bitter, lost, and just beaten up by the apparel industry. Since I had no plan B, I decided to just draw for fun. To draw whatever I wanted, whenever I wanted and however I wanted with no one to answer to.
That's what gave birth to my "Ornate Elephant" drawing. I decided to post it online, and that's when it started getting traction. People really liked the illustration, so I decided to focus all of my attention into this style of artwork. What made the "Ornate Elephant" most memorable was the fact that I drew something for myself and I got to fall in love with art all over again. Even when I was unemployed, had no options, I was so happy and at peace because I found my passion again.
Who were the biggest influences in your art?
I fell in love with H.R. Giger while I was in high school and discovered Alfonse Mucha in college.
I really love the dark complex images that Giger created. The fusion of machine and flesh really spoke to me. I love how much detail, texture and darkness he puts into his artwork. His style was known as biomechanical art. Since I loved his work so much, I decided to take on the moniker BIOWORKZ because that's what all the cool kids were doing back in the day.
Then I stumbled upon Alfonse Mucha's work, and it totally blew my mind. His work is almost the exact opposite of Giger's work. It has lots of rich colors, soft curving lines with lots of focus on the flow of the lines. Mucha's work inspired me to play with different line widths and the way every line flows seamlessly into each other.
Both Giger and Mucha are masters at what they do, and I would like to reach their greatness one day. Giger brought us biomechanical art, Mucha brought us art nouveau, and I would like to be known as the person who brought "ornate" artwork into the mainstream.
See how Ben Kwok used Overnight Prints' spot UV finish to showcase his artwork on printed business cards and postcards.