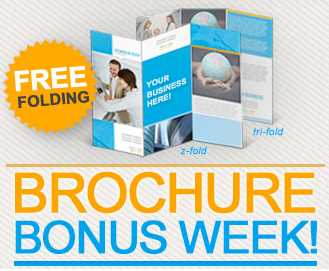 It's BROCHURE BONUS WEEK at Overnight Prints. Until 4/1/11, we are offering FREE Folding on our tri-fold and brand new z-fold brochures! If you've never ordered a brochure from Overnight Prints before, now would be the perfect time to do it! We offer a number of different ways to present your company information on a brochure.
Here's a quick rundown of the brochure types available from Overnight Prints
Folds and descriptions:
1. No-fold


This type of brochure can also be used as a flyer. It has no folds and both sides can be utilized for printing.
Typical uses:
8.5″ x 11″ Flyer
Mini Newsletter
Mini Poster
Company Handout
Event Calendar
Single-Sided-Menu
2. Tri-Fold


Tri Folds are folded twice, creating three sections with six pages. They are also be known as a "Gate fold". The panels at each opposite end are folded inward, towards the center of the page. This creates a gate-like ensue for the brochure.
Typical uses:
Company Promotions
Hotel Info
Product Catalog
Maps and Tourism Guides
3. Z-Fold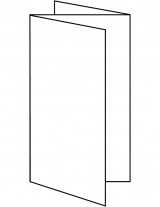 Z-Folds are also known as Accordion Folds. The paper is divided into sections and folded downwards like the accordion instrument.
Typical uses:
Company Promotions
Take-away Menus
Ticket/Coupon Brochures (make panels into cut off sections)
Hotel Rack Advertising
Benefits and Uses of Folded Brochures
Brochures are a really important marketing tool for your business.  There is no better way of quickly informing customers of your company, product, or services. The biggest advantages of brochure promotions are as follows:
Slim yet packed full of information
Easy to transport
Tells your story in parts as customers unfold the panels
Gives customers the information they need in a matter of seconds
Can be used in place of other expensive marketing media

Because of its strategic importance, your brochure should look great, and it should last you a long time. To ensure that your brochure keeps its color and quality, you need a professional, high-gloss brochure. Order yours NOW and take advantage of our current "FREEFOLD" brochure sale.