Overnight Prints has released Car Door Magnets. The following article outlines the huge benefits for small business owners using this product to make a big brand impression around town!

A Cost Effective Marketing Tool for Local Businesses
Magnetic signs are one of the most budget savvy ways you can market your business to a huge audience.
Put a magnetic sign on your vehicle and you get almost "zero" wasted impressions – bringing in brand-new customers could be as easy as getting in your car! For businesses such as plumbers, construction workers, real estate agents, decorators, landscapers, pet groomers, pizza delivery restaurants, handymen, carpet cleaners, maid services, party entertainers and just about anyone else who has a local business, a magnetic sign is the easiest way to get your business name and number seen. Most people viewing your sign live in the area of your business and are therefore potential customers.

Frequently Seen and Remembered
Because you are so often driving around your locale, your business will quickly become a familiar brand thanks to your car door magnet. Since you have to drive your car anyway, you are constantly running a company commercial for everyone you drive past. Even your parked car becomes a billboard for passers-by.
For businesses that perform home repair, landscaping, and other building and emergency functions, having a company name and number on their vehicle is essential.  The fact that these businesses are actively seen in complexes, successfully carrying out their jobs, makes a car door magnet an incredibly powerful advert. It generates the following response;" I see that this business is effective and gets the job done, let me quickly write down their name and number for future reference."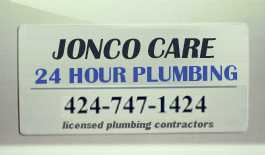 Being seen and being visible is important for any small business. Your car door magnet gets your name "out there". Even if the customer fails to write the number and details of your business down, they will likely remember your businesses name and look you up when needed.
Who can use a Car Door Magnet?
You don't have to be in the delivery or service industry to put a magnet advertisement on your vehicle. Magnetic car signs are the perfect way to advertise all kinds of messages:
•    Freelance designers, may want to consider putting a magnet on their vehicle that offers "web design services at a budget price"
•    Restaurants, or bakeries are likely to pass dozens of hungry drivers on the road. They can get people drooling with a color-photo of their lovely cakes and dishes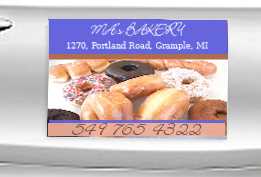 •    Running a campaign or want to show your support for a local politician? Put a car door magnet on your vehicle that advertises a politician, school board selectee, or other governing organization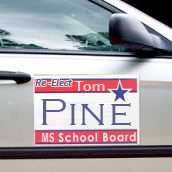 •    Couples getting married, limo companies, or event planners might want to consider a "Just Married" custom magnet. A really nice finishing touch to any wedding
•    Picking up a loved one from a long trip, a new baby from the hospital, or other heartfelt personal messages can be conveyed beautifully with a car door magnet
•    Fleet vehicles, taxi companies, and vehicle rental businesses often use car door magnets as a "switch and swap" way of numbering and managing multiple vehicles. It's the smart "non-permanent" vehicle numbering solution
•    A car door magnet doesn't necessarily have to be on a car, either! It can be applied to any metal signs, i.e., sandwich boards, roadside ads, exhibition and conference stands. This idea would be especially useful if you need to regularly alternate and change the messaging on these signs.
Alternative Magnet Messaging
If you have a product or service to sell, you could message the magnet as a coupon that offers a company or product discount.  And if you have a business that thrives on its social media networks, such as food trucks, nightclubs, and other networking businesses you may want to consider adding a "follow us on Twitter" or "friend us on Facebook" message.
For the ultimate in forward-thinking car magnet messaging, why not put a QR code on your magnet! The customer is then just a photo click away from seeing all your detailed contact info, social media connects, and web-promotions.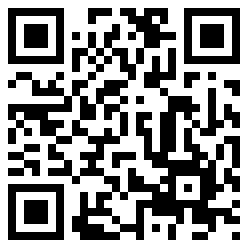 Small business owners and other professionals can now enjoy a full-color custom Car Door Magnet product (available in 11"x17" and 8½"x 11" sizes) from Overnight Prints! Try a quality Car Door Magnet out today!