Coasters come in all shapes and sizes, but they all serve one purpose…or do they? Get inspired with some fun prints or creative uses with custom designed coasters.
DO-IT-YOURSELF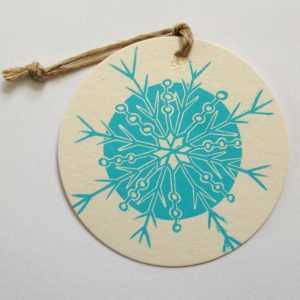 HOLIDAY CHEER
Punch a hole and string ribbon through the top of your snowflake coaster to create a cute holiday gift tag that also doubles as a Christmas tree ornament.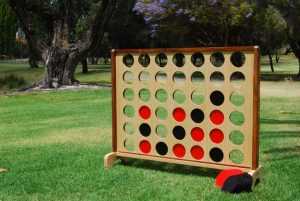 FUN & GAMES
Take your coasters outdoors! Turn them into giant lawn games at your next summer BBQ.
Connect Four: Build your own board with plywood and a little elbow grease.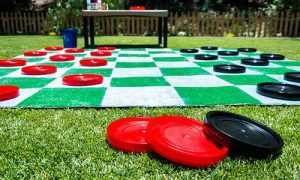 Checkers: Paint a checkers board onto a large piece of cardboard and lay it out on your lawn for summertime fun. For nighttime fun, use glow-in-the-dark paint on alternating squares and glue different colored glow bracelets around the edge of the coasters to keep playing after the sun goes down.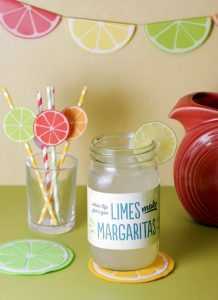 WHEN LIFE HANDS YOU LEMONS
…Make it a party! Create custom coasters in a citrus theme and add the party date to pass out to friends and neighbors. Use acrylic paint to color some in yellow (lemon), green (lime) and pink (grapefruit).
DRINKS:
Glue coasters onto pitchers to mark regular lemonade and pink lemonade for the kids, and margaritas for the adults. Serve drinks in mason jars with matching coasters glued to the bottom (garnish with a slice of lemon or lime).
DÉCOR:
Score and bend the coasters in half to look like citrus slices, and then string the banner.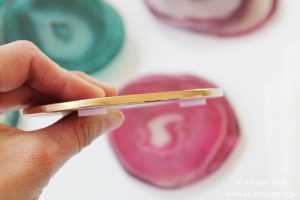 COUTURE COASTERS
Love agate coasters, but hate the price? Create custom coasters in your favorite print, then paint the edges of your coasters in gold to look like the natural stone. Add a personal touch by painting your initials in cursive.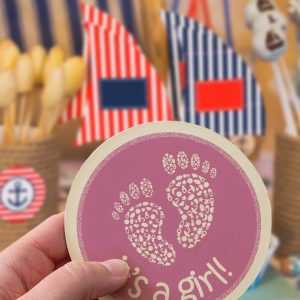 BOY OR GIRL?
Send out invites to your gender reveal party on a coaster. Continue the theme at the party with coasters printed in the color of your baby's sex on one side. Place all the coasters face down, and when the time comes,  have your guests flip over the coaster to find out if you're having a little prince or princess.
CUSTOM COASTER DESIGNS
EAT, DRINK AND BE MARRIED
SAVE THE DATE:
Get fanciful with save-the-date wedding coasters. Glue a magnet on the back to display on the refrigerator.
WEDDING DAY:
Commemorate your big day with customized coasters that guests can use during the wedding or bring home as party favors.
ANNIVERSARY:
Celebrate your married life with a champagne toast and "Cheers to a wonderful life!"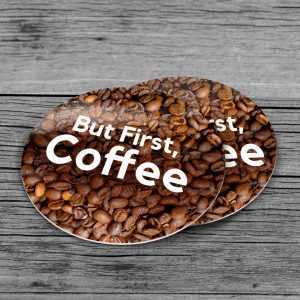 BUT FIRST, COFFEE
Love your morning cup of joe? Get cheeky with coffee-inspired prints.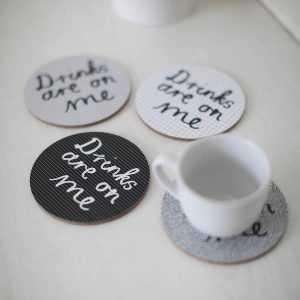 HAPPY HOUR
"Wine" down at the end of the day because it's definitely 5 o'clock somewhere! Swap out your coffee mug for a glass of red or white.
ENTER FOR YOUR CHANCE TO WIN CUSTOM COASTERS!
Show us your love for coffee's favorite companion – donuts! To celebrate Donut Day, we're giving away 60 custom coasters. Simply share your favorite donut photo on our Facebook page and get the most likes to win. Voting ends on June 2, 2016 at 12:00 a.m.
Enter contest: http://wshe.es/4EU0efwv