It's been 10 years since Overnight Prints began to make and deliver top notch print products and, in some ways, we live in a different world. Sure, we still don't have jetpacks, x-ray specs, or pet robots, but at the very least, styles have changed.
Some classic looks can be appreciated for a long time, but sometimes, updates are needed.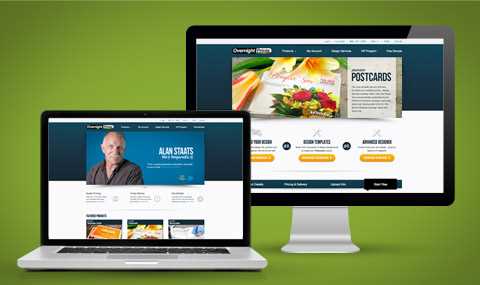 Here at Overnight Prints, some things will never change, such as our commitment to superior print quality and on-time delivery as well as our unparalleled devotion to environmentally safe printing practices. And, we are dedicated to making sure that all of your prints convey a look of relevance and professionalism.
That's why we decided it was time to update our website; if you're going to trust us with your look, you should know we take pride in our look.
Our designer, Michaella (a graduate of the Super Ninja School of Website Design), wanted to make sure the site's new aesthetic didn't take away from its effectiveness.
She focused on smoothing visual lines, clarifying labels, and improving your ease at locating various functions.
We want your time on the site to be as enjoyable and efficient as possible, and we welcome comments or emails about your experience.
Thank you for stopping by, and stay tuned for future improvements to the site's look and function! (Sorry, no delivery via jetpack.)(Yet.)