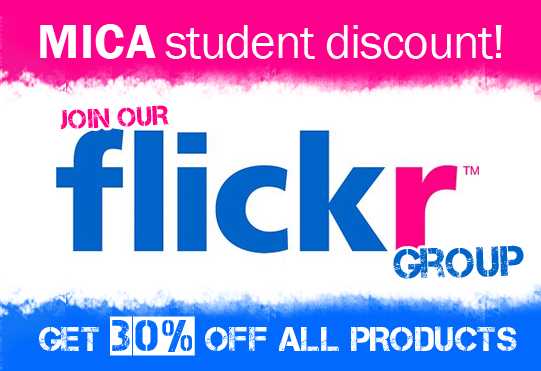 After posting a feature about the students of MICA (Maryland Institute College of Art) I was told that I should give all  MICA students a discount ("for being so awesome")
I couldn't agree more!
However, in return for a fantastic 30% off all print products, I would like MICA students  to post their work on our new Overnight Prints Flickr group. We are trying to grow a community of designers, and would love you to be part of it!
Post any design or illustration you want on our Flickr page (we don't just want postcard  and print designs on there! All types of art and design work are welcome!)
To receive your discount
1. Add us to your groups in Flickr and post your designs to our group pool!
2. Contact us via the submit an article link (top right of page) with a link to your Flickr group submission

3. We will send you 30% off discount code off  any Overnight Prints product!
*offer does not include shipping and handling