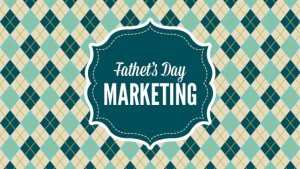 While it may seem that mom's get all the love, Father's Day gift sales are sizzling!
Did you know….
That Father's day spending reached $12.7 billion in 2012 and is expected to be even bigger this year?
The percentage of people who used the internet to purchase gifts for Dad's day last year was up by 6 percent from the previous year.
Avoid cliché ties, socks and slippers this Father's Day. Dad's everywhere will appreciate it and sales of novel gift idea promotions typically outperform the competition.  Statistics show that consumers start shopping for Father's day two to five days early. So get ready!
For best results, create a dedicated Dad's Day campaign. Since Father's Day falls on June 16 this year, start your campaign in early June. Many shoppers are still undecided at this point. A timely, compelling, targeted promotion can be very powerful.
Here is a roundup of Six Fabulous Father's Day Promotions:
Offer free shipping – beginning ten days before dad's day.
Add a service or product to your inventory for a limited time, designed exclusively for Dad's Day out. For example, even if your product or service isn't related to these industries, create a special DAD's DAY OUT PROMOTION: sell gift certificates to a day at the golf course, ½ day fishing trip, steak dinner, full body massage, or tennis lessons. Prospects may have something else in mind when they visit your shop, but now they can kill two birds with one stone and find the perfect father's day gift as well. Consumers are almost always willing to pay a little more for convenience, especially at the last minute.
Create a coupon code just for dad's day.   As an example, give an extra 30% off to shoppers who enter or say the word "DAD."
Hold a contest for and kids and spouses. Ask them to write about why their dad or husband deserves to win 50 dollars' worth of free merchandise. If you have a brick and mortar business, make sure you have something on hand for kids and women (candy, coloring books, flowers, etc) as this type of promotion will draw them in.
"Father-Daughter-/Father-Son promotion. This works especially well if you sell a service, like photography, massage, personal training or hair styling.
Hold a raffle-Announce the drawing on your website and with compelling direct mail pieces. This will generate word of mouth advertising, attract more business and create buzz.
How will your small business make a mark this Father's Day?
Related:
How he broke sales records with a brilliant postcard marketing strategy: