If you are an artist, designer, or art-lover living in Southern California then you may be interested in a new magazine that's trying to get itself launched. It's called FIND Art Magazine and the goal of the publication is to build an art community by bringing local artists, galleries, companies and spectators together into one "Found" space.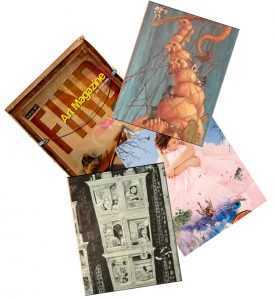 If it gets up-and-running it will become a place for artists to show their artwork to thousands of industry people, design professionals, and fellow artists. It also represents an opportunity for galleries, art supply companies, and other design related businesses to advertise to their core demographic. FIND Art Magazine will be released every 2 months and will showcase a wide-range of different mediums of artwork. Containing no editorial content, the finely printed publication will enable people to remove various artists pages and frame them as 5×7 prints. The magazine will give just about anyone the opportunity to hang a piece (or pieces) of original art on their walls for the "$1" price of the publication!
The man behind FIND Art Magazine is called, Neight Adamson. He has been a design professional and Artist for many years, working for companies such as Nike, Hurley, Alpine Stars and Chronic Tacos. He wanted to create a showcase for artists, such as himself, to reach more people. He says,"There are a lot of artists out there that have not had an opportunity to show their art to very many people at all." He continues,"We are creating a unique way to show our art to thousands of people in a "timeless" print magazine."
To test out the product, Neight has printed 20 samples of the first issue with 20 different local artists involved. With these samples, he is are trying to sell advertising space in order to print his goal of 50,000. The magazine will begin distribution at select Chronic Tacos locations. Each issue will be distributed over a 2 month course in art galleries, art supply stores, art schools and art driven retail stores across Southern California. Hopefully, the distribution will continue to grow at its own momentum, opening up opportunities for local artists and vendors to become Found within FIND Art Magazine.
Let's hope that Neight is able to launch this art publication, so that we all can enjoy original artwork from some of the most creative artists and designers in Southern California.
If you are a vendor that is interested in this project, or an artist who would like to contribute, click here to find out more!