Did you know the 1988 Christmas classic, "Die Hard," was actually a film adaptation of a 1979 thriller novel by Roderick Thorp? It may surprise you to know how many of your favorite blockbuster movies were straight off the printed pages of bestselling books before making it to the big screen.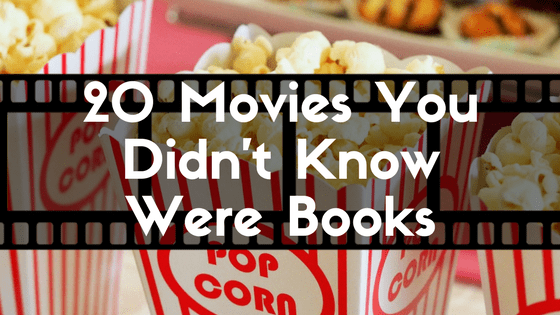 1. DIE HARD
Movie: "Die Hard," 1988
Book: "Nothing Lasts Forever," 1979
Before there was John McClane, there was Joe Leland, the main character in the book sequel, "Nothing Lasts Forever." Bruce Willis took on the role after it was rejected by Frank Sinatra and famously brought Roderick Thorp's thriller about a retired NYPD detective to epic stardom.
2. FORREST GUMP
Movie: "Forrest Gump," 1994
Book: "Forrest Gump," 1986
The novel itself sold approximately 30,000 copies before its adaptation into the lovable character portrayed by Tom Hanks. Forrest Gump's simple innocence in the movie is drastically different from the book character's profane Southerner as characterized by Winston Groom.
3. MEAN GIRLS
Movie: "Mean Girls," 2004
Book: "Queen Bees & Wannabes," 2002
Did you know that "Mean Girls" is actually based on a self-help book? Written by Rosalind Wiseman as a parental guide on the aggressive group behavior of teenage girls, actress and comedian Tina Fey took it upon herself to turn into a screenplay starring herself and Lindsay Lohan.
4. JURASSIC PARK
Movie: "Jurassic Park," 1993
Book: "Jurassic Park," 1990
Michael Crichton, known for his sci-fi books, supplied the perfect plot for Steven Spielberg, the "it" film director of the early 1990s, in the terrifying thriller about genetically mutated dinosaurs, "Jurassic Park." The author's signature novel also became the highest-grossing film at the time, earning more than $900 million.
5. SHREK
Movie: "Shrek," 2001
Book: "Shrek!", 1990
Originally a picture book about a hideous ogre, "Shrek!" by William Steig would be remade into the first animated movie to win the Academy Award for Best Animated Feature, eventually leading to three sequels, holiday specials, spin-off prequels and standalone movies, and a musical adaptation.
6. LEGALLY BLONDE
Movie: "Legally Blonde," 2001
Book: "Legally Blonde," 2001
Modeled after the book of the same title, "Legally Blonde" was actually a humorous book by and about the adventures of Stanford law student Amanda Brown with her pet chihuahua Underdog. Fitting name, isn't it? Real life "Elle" gets accepted into her ex-boyfriend's law program to win him back thanks to the school's diversity policy.
7. MRS. DOUBTFIRE
Movie: "Mrs. Doubtfire," 1993
Book: "Madame Doubtfire," 1987
Anne Fine's young adult English novel centered around a family dealing with divorce has one notable difference from its comedic movie adaptation – the two older children immediately recognize "Mrs. Doubtfire" as their actor father in disguise. The role hilariously played by Robin Williams won an Academy Award for Best Makeup.
8. FATHER OF THE BRIDE
Movie: "Father of the Bride," 1991
Book: "Father of the Bride," 1949
Elizabeth Taylor starred in the original film one year after Edward Streeter's New York Times best-selling book hit bookstores. In the modern adaptation, Steve Martin plays the father in the American comedy alongside Diane Keaton, Martin Short and Kimberly Williams, who made her film debut as the daughter.
9. GOODFELLAS
Movie: "GoodFellas," 1990
Book: "Wiseguy," 1986
Martin Scorsese's gangster movie, "Goodfellas," chronicles the story of a Mafia mobster who becomes an informant as written by crime reporter Nicholas Pileggi in "WiseGuy: Life in a Mafia Family." The critically acclaimed film continues to be one of the greatest roles ever played by actor Robert De Niro.
10. THE PRINCESS BRIDE
Movie: "The Princess Bride," 1987
Book: "The Princess Bride," 1973
It is almost inconceivable to think the dramedy, "The Princess Bride," was once a fantasy romance novel by William Goldman based on bedtime stories requested by his two daughters. Goldman wrote the screen adaptation of the adventurous fairy tale with director Rob Reiner.
11. CLUELESS
Movie: "Clueless," 1995
Book: "Emma," 1815
Coming-of-age classic "Clueless," one of the biggest hits of Alicia Silverstone's career, was loosely based on a 19th-Century Jane Austen novel. Headstrong and aspiring matchmaker Emma Woodhouse is reimagined as Cher Horowitz, a sweet but spoiled 15-year-old high schooler in Beverly Hills.
12. IT'S A WONDERFUL LIFE
Movie: "It's a Wonderful Life," 1946
Book: "The Greatest Gift," 1943
Immediately after reading the short story, "The Greatest Gift," producer and director Frank Capra bought the rights to film "It's a Wonderful Life." Another Christmas classic, the movie greatly departs from the original with many character names and roles changed, but both revolve around the main character's wish to never have been born.
13. CLOUDY WITH A CHANCE OF MEATBALLS
Movie: "Cloudy with a Chance of Meatballs," 2009
Book: "Cloudy with a Chance of Meatballs," 1978
While the original children's book by Judi Barrett tells of a grandfather's bedtime story about raining food in the fictitious town of Chewandswallow, the 2009 movie has a young inventor creating a machine that converts normal weather into food supplies for the world.
14. THE GRADUATE
Movie: "The Graduate," 1967
Book: "The Graduate," 1963
Charles Webb's fictional Mrs. Robinson was inspired by the real-life spouse of his father's associate, though he denies any affair between them. However, the novella-turned-movie starring Dustin Hoffman happened to be written during Webb's last year in college.
15. RAMBO
Movie: "Rambo: First Blood," 1982
Book: "First Blood," 1972
In the 1982 film, Sylvester Stallone takes on the role of Vietnam vet John Rambo. While the movie ends with Rambo incarcerated, David Morrell's novel pits the vet and sheriff against each other in a final shootout that ends both of their lives.
16. FIELD OF DREAMS
Movie: "Field of Dreams," 1989
Book: "Shoeless Joe," 1982
A quintessential American tale, "Field of Dreams" was tailor-made for baseball fans. Ironically, W.P. Kinsella's novel, "Shoeless Joe," based upon which the movie was produced, was originally set to be named "The Dream Field" before the publisher changed the title.
17. THE SHAWSHANK REDEMPTION
Movie: "The Shawshank Redemption," 1994
Book: "Different Seasons," 1982
Stephen King's short story in his "Different Seasons" series was the basis of the mega successful "The Shawshank Redemption" featuring Tim Robbins and Morgan Freeman. The movie gained popularity several years after its box office release when it was aired on TV.
18. BABE
Movie: "Babe," 1995
Book: "The Sheep-Pig," 1983
The talking pig that stole audiences' hearts around the world was based on Dick King-Smith's 1983 novel, "The Sheep-Pig," for which he won the 1984 Guardian Children's Fiction Prize while the Australian-American movie grossed $36 million in Australia. Well, that'll do.
19. BLADE RUNNER
Movie: "Blade Runner," 1982
Book: "Do Androids Dream of Electric Sheep?", 1968
Fun Fact: There is actually no mention of the term "blade runner" in the original 1968 sci-fi novel by Philip K. Dick. The author is also behind other dystopian movies like "Total Recall" and "Minority Report."
20. THE HELP
Movie: "The Help," 2011
Book: "The Help," 2009
Kathryn Stockett's 2009 novel about African-American women working in white households in the 1960s was rejected by 60 agents. What took her five years to write spent 100 weeks on The New York Times Best Seller list before hitting the big screen.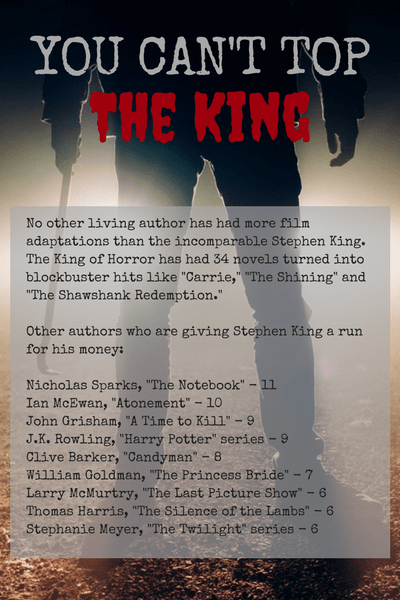 For more articles, subscribe to Overnight Prints Blog