I heard about Augmented reality about a year ago and have to admit to being somewhat puzzled as to how it works (I'm still a little perplexed as to how to create something like this?) However, I do understand the idea behind "augmented reality"  – that somehow our real-world environment can be augmented by virtual computer-generated imagery.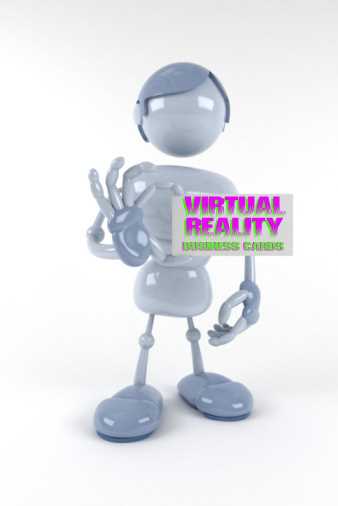 The following examples of business cards are using what is known as Marker Based augmented reality in which a computer processes information that it has been presented with via a "visual marker" (i.e., QR code, barcode, or other printed graphical image) and subsequently superimposes a computer-generated image based on where that marker is located!
Granted, it all sounds incredibly complicated, (probably way above my graphical design knowledge and understanding) but the results are amazing, and incredibly significant for the future of business cards!I don't doubt that there will come a time when almost all business cards will have a graphical marker printed on them and contain a "magical"  augmented animated sequence. Receiving a business card may very well become a whole new experience; it will be really exciting to get a business card that comes alive when you put it in front of a web cam!
I foresee the business card taking on a whole new purpose and possibility.

Cool Cow Augmented Reality Business Card

_____________________________________________________________
Self Promotion Augmented Reality Business Card

____________________________________________________________
Website – Test Augmented Reality out for Yourself!

_____________________________________________________________
Amazing Augmented Reality Business Card Effects
_____________________________________________________________
Hole in the Table Augmented Business Cards

_____________________________________________________________
Avatar style Augmented Reality Business Card

_____________________________________________________________
Baseball Player Augmented Reality Business Card
_____________________________________________________________
Cute Character Augmented Reality Business Card
_____________________________________________________________
Augmented Reality Business Card Demo by lm3labs

_____________________________________________________________
Social Network icon  Augmented Reality Business Card

_____________________________________________________________