All existing business models are wrong. Find a new one.
–Hugh Macleod
Is your business card worth $95? $125? $345? Or twenty five thousand dollars?
You may be thinking "Huh? I can print 500 cards for $30!"
But I didn't ask how much your cards cost—I asked how much they are worth. You don't have to be a millionaire to be an art collector.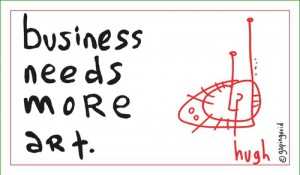 Hugh MacLeod is an artist. His original and limited edition cartoons are a hysterical commentary on the traditional world of business. They sell for hundreds—even tens of thousands—of dollars. But MacLeod's cartoon art is available on gapingvoid business cards for just pennies each.
You can collect Hugh's art. Simply choose a favorite cartoon for the front of your card and personalize the back with your personal and business information. You can even customize your cards with rounded corners or free glossy UV coating.
–BR