Working for a company whose foundations lay in quality business card production, I get to see a lot of business cards. I take a great interest in business card design and I often bookmark particularly brilliant business card designs on my internet travels! I'd like to share with you my current list of favorite business card designs. Many of these designs can be seen on our new Flickr group page in which Overnight Prints customers can submit their fantastic print designs (we have some exceptionally talented design customers).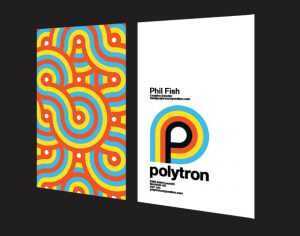 This vivid, retro piece of design elegance from Polytron Corporation is an example of really sharp graphical design that is both cool and precise.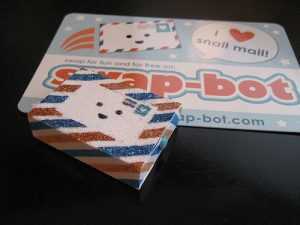 This design from swap-bot.com is really cute and playful – perfectly designed for the fun "swapping" community site that it represents. I particularly like the accompanying "hand-made" matchbox.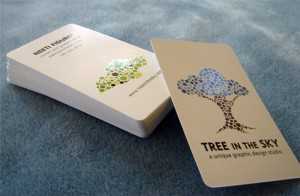 Stunning design from Tree in the Sky graphic design studio. The rounded corners really complement the circular design elements. It's also a great example of Spot-UV printing.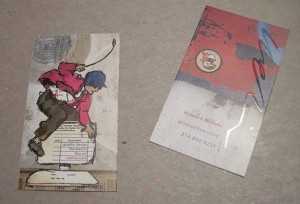 Howard Welliver has illustrated and designed a superb business card to promote his site, welistration.com. I Particularly like the signature spot UV effect that he used.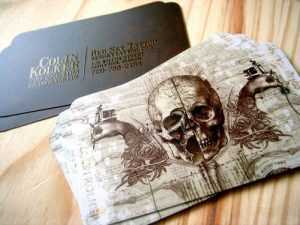 A bad-ass skull tattoo design from Red Sky Tattoo. Love the gold UV on black.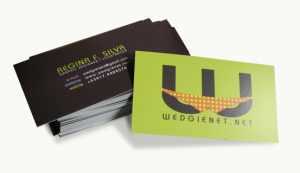 Funny and sweet logo and business card design from wedgienet.net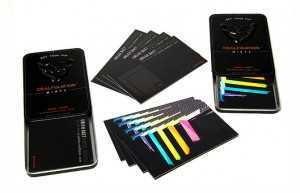 Oral Fixation Mints are the coolest mints (pun intended). The design of their entire web and print brand is really excellent. The tin box card holders (that usually hold their mints) are a perfect fit for their cards and are a really nice touch!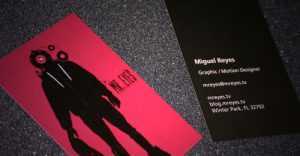 This is such a cool design from Miguel Reyes. The black silhouette on top of the glowing pink color is so eye-catching.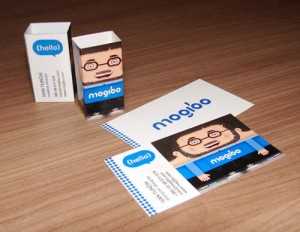 This is such a great idea from Mogibo! Make your own little "Ivan Turčin" figure out of a business card!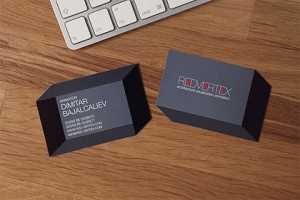 Vertex.com have created a business card with a really sweet "3D" effect on them (yes! it's not actually a box!)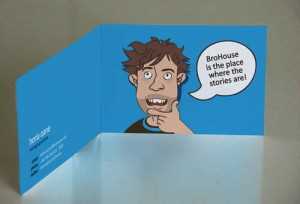 Excellent folded business card from visual communication experts BroHouse. As mentioned in a previous article,you can make your own "cost effective" folded business cards with bookmarks.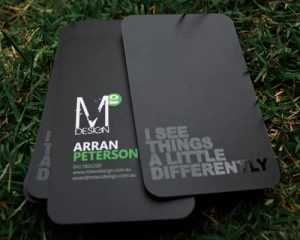 Fantastic design by Arran Peterson. I've always loved the black gloss on black matt effect.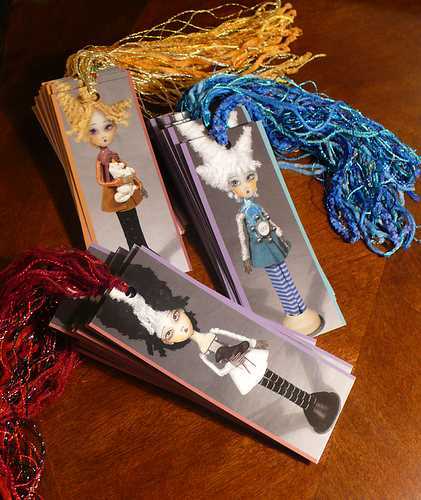 I wonder if Jessica Acosta read my article about creating fancy bookmarks? I'ma big fan of bookmark business cards. By creating a business card out of a bookmark, you are making a print product that noone wants to get rid of! (why would they! They can use them as a bookmark!) These are twice as effective, because they look terrific – I also love Jessica's doll designs at www.dollproject.com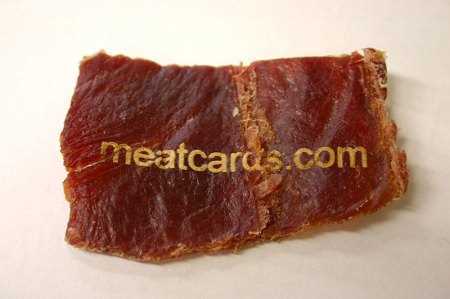 Okay…this is far less of a "traditional" business card (unllike the rest of the business cards in this list.) But I couldn't write a blog about my favorite business cards without mentioning our friends over at meatcards.com! No, your eyes don't deceive you! That is actually a business card that is also a piece of jerky meat? Crazy, huh!? You can actually print your details on a piece of meat! We love Meat cards so much, that we created our own "vegetarian business card" option for those people that don't like their cards so…well….meaty!!?
That concludes my list (for now!) I will periodically be creating a new blog list of the best business cards from around the web for your design inspiration and enjoyment. If you believe that your business card is far better than any of these cards, then I would love to see it. Add your design to our Flickr group and join our growing community post of talented designers.