Surprise and delight your guests by using Overnight Prints products creatively. If you have an upcoming business event or wedding approaching and want to make it unique and unforgettable it doesn't have to cost you a great deal. By transforming Overnight Prints products you can create something that is entirely exclusive and cost-efficient.
Versatile Postcards
Our postcards can be turned into much more than a simple postcard. If you're hosting an event and want to avoid chaos and people disorderly trying to find their seat, making a table card can make your event run smoother and even compliment your event. Overnight Prints makes the finest quality postcards by using premium 15-point paper card stock. Customers are able to apply the finest finishing glosses to create a fantastically elegant look. Postcards can be turned into an event invitation as well! Give your guest something to be excited about!
---
Something to keep
Your event is something that should be remembered and kept in the hearts of all your guest. Giving your guest something to take that serves as a keepsake for an event or wedding is wonderful and who doesn't like a gift! If you want to give all of your attendees something, it doesn't have to cost you much. Turning our coasters into something that represents your event and is functional, makes for the perfect gift. For example if you're having a wedding, why not give coasters out and give your guest a little part of your wedding to take home?
---
Or if you're having a business event and you need to make sure that all of your clients or employees know when the next event is. Giving them creative coasters is the most cost-efficient and effective way to spice up your business and to ensure everyone remembers the next event.
---
End your event with class
Now for the finale! Send your guests off letting them know how much you appreciated them attending and give them your thanks with impressive and exquisite quality.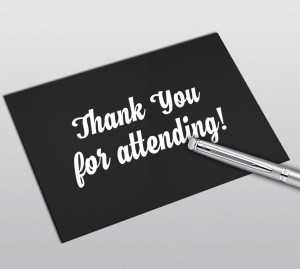 Overnight Prints provides all customers with full vibrant and rich colors and prints on 110# card stock. Show your gratitude and appreciation and give them quality they can see and feel. Thank you cards may seem simple, but their effect is immense and really makes people feel acknowledged. Say your thanks with sincerity and wrap up your event perfectly.