The Relationship between designer and client is often a contentious one! Designers can feel aggravated by the client's lack of respect for their expertise and for their general lack of creative vision. As a designer, I'm sure you've had a few of those "I'm working for a complete moron" moments when nothing you do is pleasing to the client and all their suggestions and ideas seem ludicrous!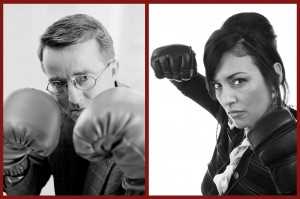 In these maddening times, try to remember that this battle is not a one-sided affair. Your client is probably just as frustrated – growing ever more annoyed at their designer who is completely failing to listen to them.
Large design projects take a lot of planning and there is a lot of time and money invested on both sides of the design fence. With this in mind, it's really important that a designer can give the client what they want and it's also important that the designer is treated fairly for the time and effort that they put into a project.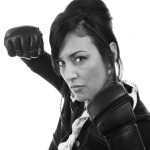 The Designers corner
We have a designer with design knowledge and skill who knows design trends and design style. They have an artistic vision of what the client SHOULD have for their promotion, website, or brand. It's difficult to break from this vision. They know what's best – for the sake of the client and for their own artistic integrity.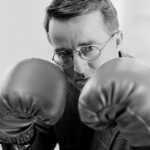 The Clients corner
We have a client who knows their audience and business objectives. They have their own vision of what THEIR design should look like! They are paying for this design work, so why the hell shouldn't they get what they ask for? They know what's best for their own business!
In this clash of different personalities, the outcome is often unpleasant for one or all of the parties involved. Either the client will end up with a design that they don't particularly like and that fails to live up to their vision, or the designer will surrender the battle and produce a design that they believe is "poorly designed" –reflecting badly on them as a design professional.
What each party usually fails to understand is that the whole process should be a collaborative one!
I've had quite a few battles with clients in the past. What I've learnt from these experiences is that with the right design approach, it's possible to create a finished design that greatly benefits both parties. The ideal relationship is about cooperation rather than confrontation. To achieve design harmony, it is ABSOLUTELY ESSENTIAL that the client is involved at every step of the design process. From concept to completion the client should be part of the "design journey".
Here's a list of steps that you should follow to make the design experience a more co productive effort:
1. Initial Meeting with Client
If possible, try to establish a relationship via a face-to-face talk. It will seem more like a "meeting of great minds" if you are able to meet in-person rather than trying to communicate your objectives down the phone or through a Skype call. During this meeting, you need to outline the parameters of the project:
Target audience and marketing objectives
This meeting should define the project framework and plan the price, project dates, times, and deliverables. If each party knows exactly what is expected of them and the roles they are going to play in the delivery of the design, then the relationship will be much happier.
It will also give you chance to figure out the taste and motivation of the client. You'll be surprised how much easier it is to figure out a person's predisposition for certain design concepts and styles when meeting them in person.
2. Create a Brief
If you're smart, then you'll have taken lots of notes in the initial client meeting. If the client does not present you with a brief, then write up your notes, and create your own brief for the project. Send a copy to the client, giving them the opportunity to change any parts of the brief that they don't like. Once a brief is created, the design objective will become far clearer. Based on your initial meeting, the sections of the briefs should cover the following: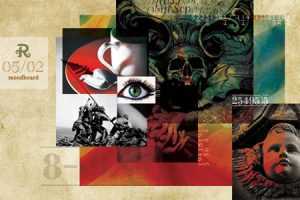 4. Mood Boards
I hate the term "mood board" it sounds kind of "pink" and "fluffy". However, a mood board is incredibly useful for establishing a mutually agreeable design direction. Jumping headlong into the design by presenting a series of rough drafts can be really time- consuming. By using a few mood boards that illustrate a few strong design ideas and approaches, you can quickly gauge the type of design features that the client likes and dislikes.
The intention of these mood boards is to include ideas and elements that might end up in the final design, rather than resembling the actual finished design. Include the following design bits and pieces in your mood board:
Mood boards are quick to produce. They do a good job of defining the design aesthetic rather than content (starting with a strong sense of design style will generate a better design than a design that's driven solely by the design content)
By creating a number of different mood boards, you can also present "choice" and "flexibility" (for example, the client can choose imagery from one mood board and combine it with typography from another)
Because mood boards are relatively straightforward to develop, it's possible to perform several revisions if required.
3. Involve your Client in the Design
Mood boards are a good way to kick-off the design relationship with a client but when attempting a major design project, it's imperative that you also involve the client in the "rough" stage of your work.
Don't be afraid to include the client in the development of a design. For some reason, many designers are petrified of showing rough or unfinished work – they want to make it "just right" before showing it to the client. This is a BAD idea!!! You run a major risk of wasting hours upon hours of design time by creating a finished design that the client loathes!
The result is always the same when a designer creates an "unwanted" design. You either have to start all over again, or you can spend even more time changing different aspects of the design and compromising on minute details to try and appease the client. In this scenario, the design becomes this "hodge-podge" of different design threads that have no real strong aesthetic!
Depending on the type of design that you're providing for a client, you should create a succession of "roughs" for the client's approval. These should include:
Wireframes- if you're creating a web design for a client, a collection of simple, hand-drawn sketches of some key pages should give your client and idea of the look and navigational aspects of the site.
Sharpie roughs – If you're doing print work or advertising, then a variation of quickly created sharpie roughs that illustrate different concepts, art direction, and other ideas will give the client an idea of "where you're going" with a design. They don't have to look finished in any way, shape, or form. Give the client some credit for knowing the difference between "ideas" and "fully completed design work."
Initial Pencil sketches and thumbnails – If you're creating branding work or you're doing illustration work for a client, then presenting all your rough pencil sketch work will give the client a chance to see something that they like. This may require a lot of revision sketches to finalize a design concept that you are both in agreement with, but it's important that you give the client a chance to "see something that they really like."
Presenting the client with mood boards and rough sketch work may seem like a lot of "extra-work", but it really isn't. It's the smart way to deliver a major design project. You will avoid endless revision work that can cost you a great deal in the long run. In comparison to presenting fully finished work without showing your rough work, the benefits are obvious:
You will avoid the "crossed fingers" and "I hope they like it!" design anxiety
You will avoid giving the client a nasty shock! (a design they don't like)
It will give both you and the client a source of reference throughout the design process
You've clearly outlined your design intent in the rough work. You're not giving the client anything that they haven't agreed to!
4. Scheduling a design
Not being able to deliver a design on time can REALLY sour your relationship with your client. Managing your time on a project is really hard because of the subjective nature of being a designer. There's no way to exactly predict how long it will take you to produce a design that the client will approve. So make sure that you allocate AT LEAST a quarter of your whole design time to revision work!
Before you start a major design project you really should timetable your design time to include regular meetings with the client at each stage of the design process. Time allocated for revisions should also be included. Give a copy of this "design and meet schedule" to your client, so that they can also see how long the process is and the design deadlines that you BOTH should be meeting!
Good management of a design project will help to consolidate the relationship between both parties.
These tips for creating a better relationship with a client will hopefully aid you in all your design work to come. As a designer, it's important to understand that you are not just a designer; you are also a businessperson who can't afford to waste time and effort on unnecessary design revisions. By keeping in close contact with your client throughout the design process you will be able to create a design that makes your client (and yourself) much happier.