There's two sides to every trade show, but one thing is for sure – if you have a badge, you're there to conduct some serious business. Whether you're an attendee or an exhibitor, an industry trade show will exhaust you both physically and mentally.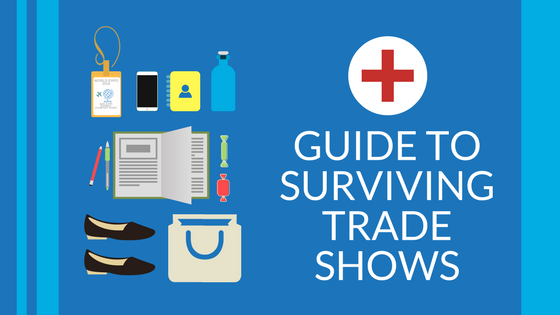 Don't squander your opportunity to speak face-to-face with potential vendors and clients, not to mention scope out competitors and keep abreast of any new developments or newcomers in your industry. These handy checklists will help you survive the show floor and get the most out of the networking event.
ATTENDEE CHECKLIST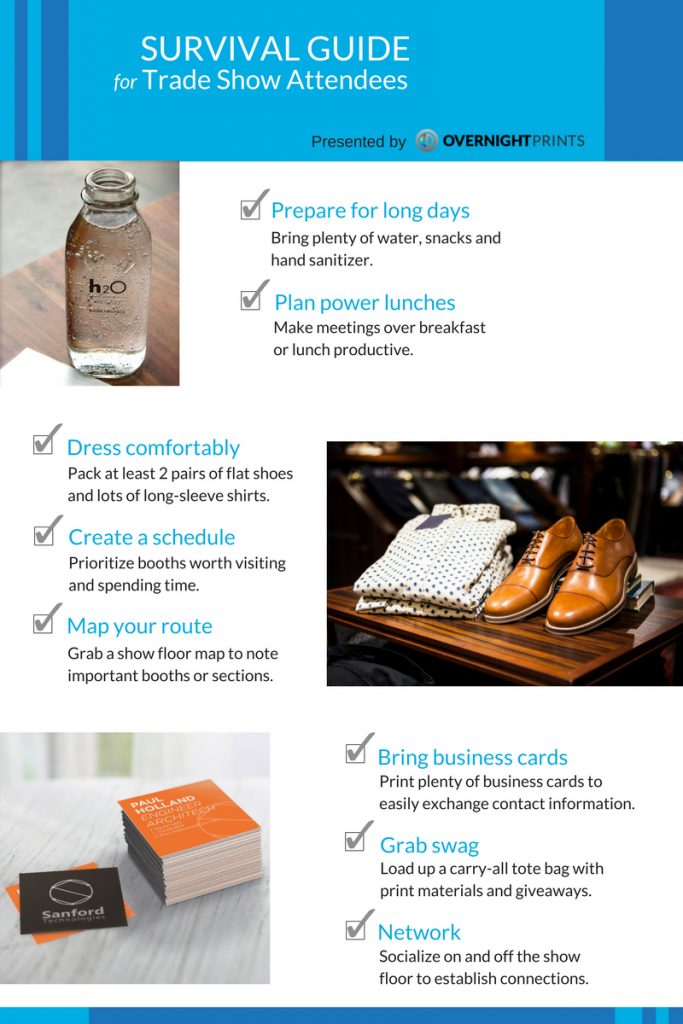 1. TLC
Attending a trade show can be a serious strain on your health. From all the handshakes to the hours of being on your feet, your immune system might take a hit and your legs will be left sore for days. Prepare by stretching and packing a few essentials like energizing (and healthy) snacks, water bottles or a refillable container, and hand sanitizer. Some exhibitors very smartly and thoughtfully offer sweet treats or comfortable seating for attendees to get a little R&R, so keep a lookout when you feel low on energy.
2. Fuel Up
Don't forget to eat! Oftentimes attendees are so busy squeezing in as many booths as possible or scheduling back-to-back meetings that lunchtime seems more like a disruption rather than a welcome break. Instead, plan meetings around meals. It is less helpful to skip eating and lose stamina by the afternoon than to schedule breakfast meetings or power lunches. This way you can fill your belly and your sales funnel at the same time!
3. Dress Appropriately
While a trade show is a business event, heels and fancy pearls aren't required. Keep outfits simple and comfortable since show floor hours can feel like a non-stop marathon. Switching between two pairs of flats or dress shoes every other day can help relieve sore feet and legs. Long sleeve tops, button-ups, cardigans and pants are good staples to pack since meeting rooms and convention halls tend to be on the colder side.
4. Plan It Out
Two approaches to planning a detailed itinerary are by location or by priority. For large or co-located shows, it is a good idea to dedicate half-days to different sections or convention halls. Walk the entire aisle and make note of booths worth stopping by first or not at all to maximize your time. For the second approach, use the show floor map to mark booths as must-sees and want-to-sees. This ensures you don't get too distracted and miss any important booths. Also, loosely plan how much time to spend at each booth, from a quick 5-minute chat or a half-hour block for more in-depth conversations.
5. Map It Out
Knowing where you're going is half the battle at trade shows. The massive show floor can seem daunting, especially at large shows like the annual SHOT Show in Las Vegas, which spans over 630,000 square feet with 12.5 miles of aisles. When you arrive, pick up a printed map so that you can verify your schedule and refer to the show floor layout long after your cellphone battery dies.
6. Business Cards
Stock up on business cards before you arrive. This is your key to closing important deals and unlocking potential profits. Many trade show and conference badges have openings or pockets that you can use to hold your business cards for quicker and easier contact information exchange. If you happen to run out during the show, find a trusted online print provider who can fulfill your order overnight with convenient pickup service.
7. Load Up
There will be a lot of print marketing materials and giveaways distributed on the show floor. Bring a good quality tote bag that you can carry with you. Stuff it with swag that you can sort through when you get back to your hotel room. Tote bags are also good for bringing essentials like water, snacks, phone charger, aspirin, change of shoes, show floor map and extra set of business cards.
8. Socialize
Sometimes business at a trade show is actually conducted at the bar. Networking events and after parties are not only a chance to wind down and relax, but also a second chance to reconnect with those you met on the show floor. This presents a good opportunity to make connections on a more friendly basis.
EXHIBITOR CHECKLIST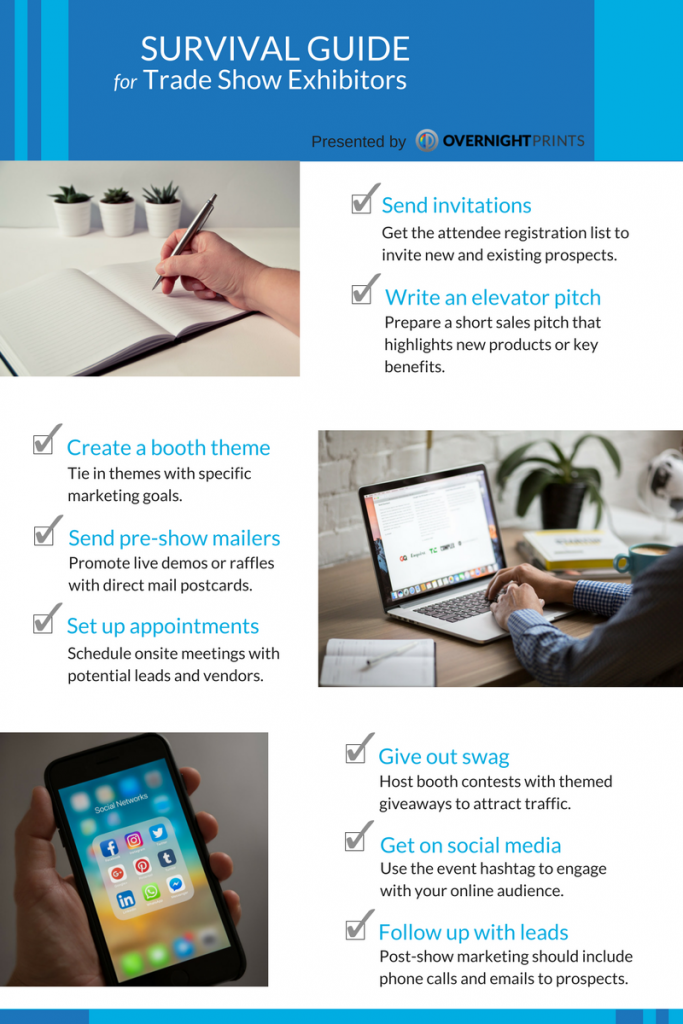 1. Study Up
Know your audience. There are two major groups to target at trade shows – current and potential prospects. Use the opportunity to connect with those already on your email list or in the sales pipeline; you can offer live product demonstrations or free event registration. To reach new prospects, obtain the attendee registration list from the show organizer. This list might or might not be paid. If so, it is worth the investment to be able to make first contact and qualify attendees ahead of competitors.
2. Elevator Pitch
Your elevator pitch is more than just something to recite. It should be based on specific marketing goals for building brand awareness, generating leads or other metric. The 30-second to 1-minute pitch should reflect the nature of the trade show itself. In some instances, you'll want to tout a new product or your recent sales success, and in others you'll want to differentiate yourself by highlighting unique features and benefits instead. Have booth staff practice scenarios with each other so that the elevator pitch becomes second nature and easily adjusted based on possible inquiries.
3. Title & Theme
Booth themes should be based on marketing goals, just as the elevator pitch. All other print and digital marketing should relate to and revolve around this central aim. Before drawing up a grand plan, review last year's show theme and exhibitor booths to get an idea of how far you can push the envelope. Outlandish themes might work if they attract the right attention and tie in appropriately with the original marketing goal.
4. Pre-show marketing
Approximately one month prior to opening day is a good time to send out press releases and direct mail postcards to create awareness and incentivize attendees to stop by. Mailers can promote free registration, contests, raffle drawings or other giveaway that requires the attendee's presence at the booth. Create an email drip campaign that targets potential prospects with exclusive offers or marketing materials. Also update email signatures and phone messages with your booth number to let contacts know where to find you at the show. Finally, engage your online audience by posting or tweeting often with the event hashtag. Email and social media platforms can be used for last-minute reminders and announcements.
5. Appointments
Since many industry professionals will likely be flying in for the event, take advantage and set onsite appointments to meet with hot leads or important clients and vendors during the show. Holding a lot of important meetings in the booth draws attention and ensures you use your time at the trade show wisely.
6. Games & Giveaways
What attendees brag most about is the swag they received at a show. Whatever you give out, be sure it's branded with your company name or logo. Everyday items are more useful and more likely to be back in the suitcase than odd tchotchkes that are only fun to look at. Examples include water bottles, good quality T-shirts, phone chargers or pens. For more coveted products, limit this to qualified leads, attendees who provide full contact information, or even a prize wheel. To drive traffic, host a contest or raffle drawing for which attendees must be present to win. No matter what their schedule, attendees will make time for a chance to win a free vacation or expensive electronic.
7. Social Media
Take to Twitter and other social media platforms before, during and after the show to support your booth presence. Ahead of the event, give attendees a sneak peek of new products or the booth design to pique interest, especially if you're debuting a new look. While on the show floor, engage with attendees and even fellow exhibitors by announcing presentation times or prize winners, sharing thoughts on the keynote speech, and plenty of other conversation starters. After the show closes, thank booth visitors and show organizers for another successful year. The number of shares, likes and click-throughs are all real measurements of how well your brand established its presence.
8. Post-show marketing
The ideal time to follow up with prospects is one week after the show. Doing so while it is still fresh in their memory helps your sales team establish a good rapport. Mailing out a handwritten note to contacts adds a nice personal touch that's hard to ignore. For direct communication, call hot leads to schedule more in-depth discussions, email booth visitors to thank them for stopping by the booth and send a "Sorry we missed you!" email to attendees who didn't make it by. Including some sort of material materials or free white paper can keep you top of mind long after the show has ended.