It's officially the time of year where our mailboxes become over-stuffed with greeting cards of just about every shape, size and style you can possibly imagine.  You're going to be getting greeting cards with photos, long letters, one line signatures, funny designs, and just about everything else.  No matter what they look like, when the Holiday season is officially over, we're all left asking the same question: What do we do with them now?!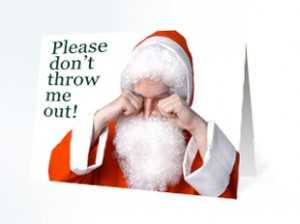 I'm glad you asked.  The good news is, there is a plethora of things you can do to help keep those wildly creative and well-designed business cards out of the trash can, out of the landfill and help do your part to keep what's left of this green planet, actually green.  Here are my favorite 5 recycle options for those old greeting cards from the much bigger list of 15…head over and check them all out for even more tips on how to green up your post-Holiday clean-up plans.
"Holiday Place Card Settings. Cut down your greeting card to a 4″ high by 3″ wide size. Fold and score the card in the center, making a 'tent' shape. You can write the guests name inside the card.
Beverage Coasters. Cut your card to a 4″ square size. You now have disposable beverage coasters for your next party. If you would like permanent coasters, seal the design in clear contact paper.
Tree Ornaments. Cut out 3″ and 4″ diameter designs. Hole punch a hole near the top center. Use ribbon to make a hanger.
Bookmarks. Cut your card to a 1 1/2″ by 7″ size. Use a hole punch to punch a hole near the top edge. Attach a ribbon or tassel through the hole.
Recipe Cards. Cut down your card to measure 3″x 5″ in size. Write your favorite holiday recipes on the blank backside. You can hand them out at your holiday party or at your cookie exchange party."
There you have it!  There's no way you can not find some idea in there that will empty your trash can a bit, while doing a whole lot of good for the environment.  If you haven't even purchased your greeting cards yet, now is the time to head over and start designing your own!